Pan Am HostCo Swaps Track and Field, Soccer
The Pan Am track and field events will be hosted in Toronto, while soccer is moving to Hamilton.
By RTH Staff
Published July 29, 2010
It's official: after reports surfaced last night about concerns raised by Athletics Canada, the Pan Am Games commission has decided to move the track and field events from Hamilton to Toronto, and in turn move soccer from Toronto to Hamilton.
According to a report in the Star, a multi-lane track around the football field would cause a "lack of intimacy", and Athletics Canada feared that the track would be ripped up to accommodate football.
Athletics Canada also objected to the long commute from the athletes' village in West Don Lands, where the Don Valley Parkway meets the Gardiner Expressway, to Hamilton.
This new development comes during a political furor in Hamilton over the stadium location, after the Hamilton Tiger-Cats announced at the last minute that they would not play in the selected West Harbour location.
Michael Fenn, the facilitator brought in to broker a compromise, proposed a Provincially-owned site on the East Mountain instead, and the Ticats moved quickly to endorse this location. Council voted to study the two locations side-by-side and will make its final decision on August 10.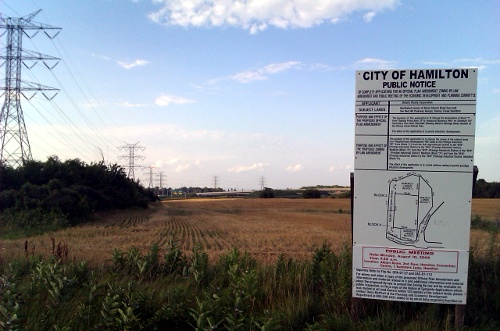 The proposed East Mountain stadium location
Pan Am HostCo CEO Ian Troop said today that his organization's requirements for a new track and field facility are that it can accommodate all the events (including the warm-up track), has close access to public transit, and will leave a legacy facility.
Meanwhile, moving soccer to the Hamilton stadium means it will be as simple as repainting the lines on the field to convert the stadium between its two planned uses, a change that seems to please the Ticats.
They announced in a press conference today that they have secured the permission of the national, provincial and local soccer associations to apply for a pro soccer team licence at an East Mountain stadium, and propose to build an on-site soccer academy.
The Ticats also propose diverting $7 million of the Future Fund money, plus $1.5 million from the Ticats and their corporate partners, to build a 3,500 seat amphitheatre and the Pan Am velodrome in a "Pan Am Park" at the West Harbour. $5 million of that money is already allocated to the velodrome.
The Ticats would also invest up to $100,000 a year to maintain the park, which they suggested would play host to 20-25 concerts a year in partnership with Live Nation, as well as church services on Sundays.
Post a Comment
You must be logged in to comment.