Why Doesn't the Heritage Committee Designate More Buildings?
The Heritage Committee knows that without Council support, they are wasting their time trying to save heritage buildings from demolition.
By Ryan McGreal
Published December 21, 2012
Whenever the City of Hamilton issues a demolition permit, we invariably learn that the building in question is a "property of interest" being followed the Municipal Heritage Committee but was often not designated formally as a heritage property.
Accusations fly about the Heritage Committee being "reactive" or "caught flat-footed", and that it's too late to start thinking about trying to save the building.
Unfortunately, the legal, political and institutional realities of heritage protection in Hamilton sharply constrain the Heritage Committee's ability to protect buildings.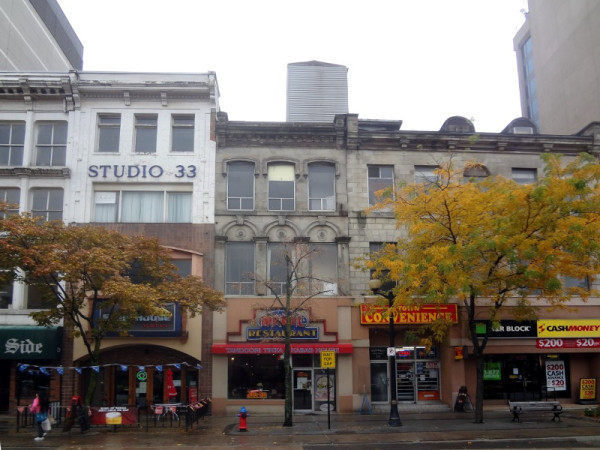 18-28 King Street East, slated for demolition (RTH file photo)
Municipal Heritage Powers
The Ontario Heritage Act offers two levels of protection for heritage properties: a municipal Council can designate a building as a municipal heritage property or the Ontario Government can designate it as a provincial heritage property.
At the municipal level, a Municipal Heritage Committee exists to advise Council on heritage issues so that new developments are consistent with maintaining cultural heritage. It includes both representatives from Council and at least five citizens appointed by Council.
The Heritage Committee maintains a register of properties of heritage value or interest, listing the address, owner and heritage value of each property. This register can include both properties that have been designated municipally or provincially and properties that have not been designated but are considered "of interest".
For buildings that are not designated, the owner must only advise the city of an intent to demolish. However, a demolition permit can be voided if the Council subsequently votes to designate the building.
For buildings that are designated, the owner may not demolish the building without first obtaining the consent of Council. Council has up to 90 days after receiving a demolition request to approve the demolition (with or without conditions) or to deny it. If Council does not respond in 90 days, consent is then implied.
If Council refuses the demolition request, the owner can appeal the decision to the Ontario Municipal Board, which has the power to overturn Council's decision.
Heritage Committee and Sanford School
When the Hamilton-Wentworth District School Board (HWDSB) announced its intention to demolish Sanford School, Councillor Brian McHattie - a member of the Heritage Committee - lamented that the Committee was not made aware of the Board's intention to demolish until it was too late to do anything about it. He said the Committee needs to become more proactive about getting heritage properties onto the registry.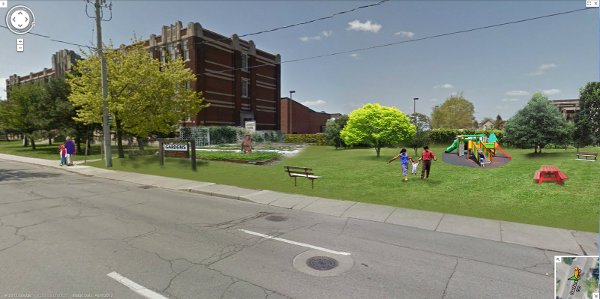 Rendering of Sanford School with neighbourhood green space
Unfortunately, that is much easier said than done. Sanford was on the Committee's radar as early as March 2012 [PDF], when the Committee express concern about the "uncertain" future of the building, which "may be demolished to add additional green space to the community."
The building was then added to the City's list of buildings of interest.
In April 2012 [PDF], the Committee received an update that the School Board intended to hold onto the property and use it as green space.
In August 2012 [PDF], the Committee formally asked the Planning Committee to "put a hold on any demolition permit respecting Sanford Avenue School...until further discussion with the School Board can occur."
They also asked Council to "direct staff to meet with School Board officials to discuss holding an Expression of Interest (EOI) regarding the adaptive reuse of Sanford School".
The Planning Committee received the motion on September 5, 2012 [PDF] and sent it on to Council. Council received the Planning Committee report on September 12, 2012 but simply referred it back to the Planning Committee [PDF].
So Council had a chance to put a hold on the demolition of Sanford School back in September but chose not to act.
Since the Board Trustees decided not to put a hold on their plans at their December 17, 2012 meeting, the demolition will likely go ahead in January.
Political Inertia
The Heritage Committee could have voted to designate Sanford School as a heritage building. They could also have voted to designate 18-28 King Street East, the pre-Confederate streetwall at Gore Park that its owner, Wilson-Blanchard, plans to demolish next year.
However, those votes need to be ratified by Council, and we have a Council that does not regard heritage as a priority. According to Councillor McHattie, the "prevalent mood" in Council is "in favour of development at any cost - in this case protection or adaptive re-use of heritage buildings."
That lack of a sense of urgency is reflected in the Planning Department's priorities. "There are far too few City staff in the heritage planning department so any request for designation takes one to two years to process. Consequently there are properties waiting to be evaluated with report dates into 2015-16, hence a hesitation to add many more given the timelines."
If there was more interest from Council, McHattie argues, "more money could be added to the department to get this done. The Planning Department knows Council has no interest and therefore do not take any more action than they need to - having been shot down in flames at the Planning Committee many times."
McHattie notes that the only reason the Lister Building was saved from demolition was that McHattie appealed to the Ontario Ministry of Culture to intervene. Council was perfectly happy to ignore the Heritage Committee's recommendation [PDF] and approve the demolition request - even though the Lister was municipally designated - but a last-minute deal brokered by the Province saw the building restored instead of demolished.
Since then, according to McHattie, "Nothing has changed at Council. There is still a war on heritage buildings."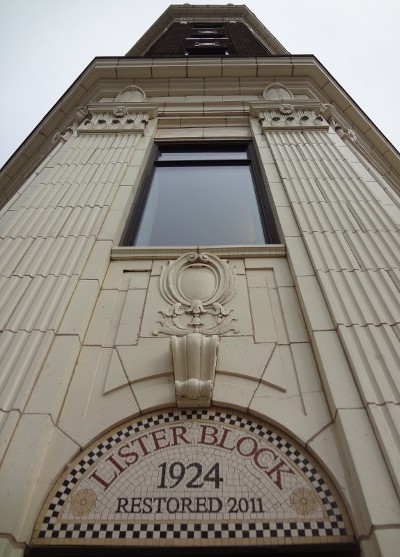 Lister Block: Council voted to demolish it
Post a Comment
You must be logged in to comment.