Lack of Heritage Designations Not Reasonable or Understandable
The problem is not the complexity of the task, but a lack of political will.
By Nicholas Kevlahan
Published September 06, 2013
By now you have probably read yesterday's depressing Spectator editorial on heritage designation, which basically serves an apology for City inaction and downtown speculators.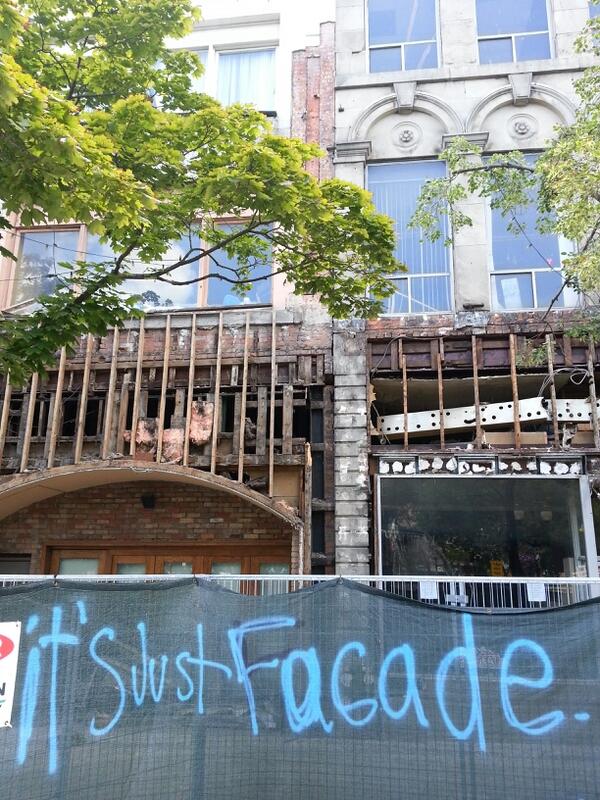 Graffiti sprayed on the fencing in front of 18-28 King Street East (RTH file photo)
The idea that no heritage designations in five years is somehow a reasonable and understandable outcome of a prudent bureaucracy and city Council, and that it doesn't mean the City doesn't value heritage, is laughable.
All we need need to do is compare our record with those of smaller neighbouring cities like Oakville, as well as other Ontario cities like Ottawa - let alone places that really value their heritage like Paris or London. (It is important to remember that even in the UK, with a much longer history than us, over one third of listed buildings are 19th century or newer.)
Not So Complex
The claim that heritage designation is a highly technical and difficult process that involves huge amounts of staff time doesn't stand up.
We went through the process of having our house designated [PDF] in 2003. The process required one site visit, a bit of background research and a couple of pages of descriptive write-up.
The "reasons for designation" staff report is less than 800 words. I could have done it myself in an afternoon, and I can't imagine the whole process would take more than three or four days of work for a trained staff member.
Nevertheless, when I followed up after not hearing anything for over six months I was surprised to hear that the process was slow due to the high work load - three designations that year!
Three designations a year would seem a very small number for a city of over half a million that is almost 200 years old.
Lack of Will
The problem is not the complexity of the task, but a lack of will. Staff know that heritage is not a priority for Council, and so it is not a priority for them.
As Councillor Brian McHattie said last year, "There are far too few City staff in the heritage planning department so any request for designation takes one to two years to process. Consequently there are properties waiting to be evaluated with report dates into 2015-16, hence a hesitation to add many more given the timelines."
If council supported heritage, McHattie said, "more money could be added to the department to get this done. The Planning Department knows Council has no interest and therefore do not take any more action than they need to - having been shot down in flames at the Planning Committee many times."
Please indulge another anecdote to help underscore my point. A few years after our house was designated (at our request and after much follow-up from me) we were told at a ceremony in Ancaster that our house would be given a plaque.
Over a year later the plaque still hadn't arrived, so we followed-up again. The City contacted the plaque maker and we set a time to install it.
When he arrived for the job he said his workshop is full of uncollected historic designation plaques! I'm pretty sure that if we had not followed up, we would never have gotten the plaque and it would still be gathering dust in the plaque-maker's shop.
Can't-Save-Everythingism
One interesting thing in the editorial is that it credits the Spectator for reporting that the city has not designated any buildings in five years. But CBC Hamilton's Paul Wilson already reported this back in June, and RTH has been digging into these heritage issues for several months.
The worst part of the editorial is that it rehashes the false claims that heritage designation is necessarily costly and deters investment. Heritage preservation can sometimes be more expensive, but it actually delivers a strong return on investment. It reflects an approach to property management that is based on creating value, not cutting costs.
The editorial also predictably warns, "we can't save everything," as if the great danger in Hamilton is that we are preserving too many buildings. Here in Hamilton, only 61 buildings have been individually designated - and we lose several heritage buildings every year in the downtown core alone.
We can't even manage to protect unique pre-Confederation buildings in the most visible part of the city: Gore Park. By way of comparison, 2 percent of the entire UK building stock is listed, or about 500,000 buildings!
Post a Comment
You must be logged in to comment.