Ontario Liberals Confirm 100 Percent Capital Funding for 'Rapid Transit', Whatever That Means
The Ontario Liberals are promising 100% capital funding for "rapid transit" in Hamilton but won't confirm whether "rapid transit" means light rail transit.
By Ryan McGreal
Published May 07, 2014
Glen Murray, the Ontario Liberal candidate for Toronto Centre and recently Transport Minister, caught Hamilton's attention yesterday with a series of tweets committing a Liberal government to 100 percent capital funding for "rapid transit" in Hamilton.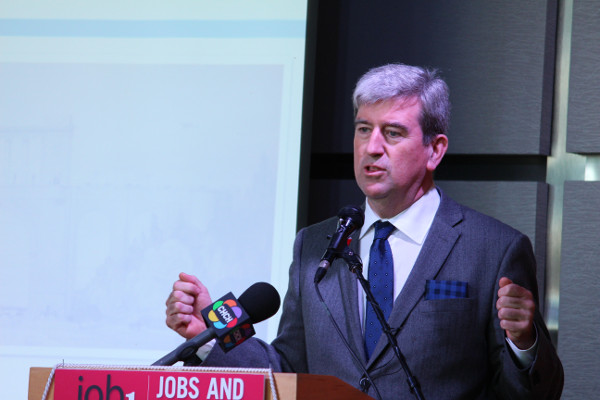 Glen Murray speaking at a February 28, 2014 Hamilton Chamber of Commerce luncheon (Image Credit: Richard Allen)
However, he has not responded to multiple requests to clarify whether "rapid transit" means light rail transit (LRT) or bus rapid transit (BRT). Last week, the Liberal Government released a 2014 Ontario Budget that specified "LRT" for Mississauga-Hurontario and "bus rapid transit" for Dundas Street but just "rapid transit" for Hamilton.
On the same day the budget was released, Ontario NDP leader Andrea Horwath announced that her party would vote against it and Premier Kathleen Wynne asked Lieutenant Governor David Onley to dissolve the legislature and call an election on Thursday, June 12.
Murray's statements, posted yesterday on Twitter, come in the early days of a provincial election campaign.
Murray also committed to providing all-day two-way GO Train service running every 15 minutes to the new GO station on James Street North, which is currently under construction.
He referenced his recent speech at a Hamilton Chamber of Commerce luncheon, in which he stopped just short of saying Hamilton would be crazy not to commit to LRT, saying it would be inappropriate to tell Hamilton what to choose between LRT and BRT.
However, the Hamilton City Council has already chosen LRT.
Council Chose LRT
In February 2013, the City submitted its comprehensive Rapid Ready transit plan to the province. The centrepiece of the plan is an east-west LRT line running from Eastgate Square to McMaster University combined with improved bus service and, in the longer term, a north-south rapid transit line running on James Street and Upper James from the waterfront to the airport.
The Rapid Ready plan is based on the assumption of full capital funding for the LRT line, which was the basis on which Metrolinx was developed to coordinate Greater Toronto and Hamilton Area (GTHA) regional transit projects.
The Province promised to fund rapid transit in Hamilton in June 2007, when they released the original MoveOntario 2020 plan.
The Ontario Liberals reiterated that promise in a pre-election press release that September, when they more specifically warned that "two light rail lines across Hamilton" would be "at risk" if the Progressive Conservatives won the election.
Ever since the 2011 Provincial election, Liberal candidates in Hamilton ridings hedged their words when asked whether they would honour the commitment to fund LRT, noting the Liberals would "work with the city to move this project forward" once the Rapid Ready report was complete.
Five years in the making, that report was unanimously approved by Council in Februay 2013 and submitted to the Province, but Premier Kathleen Wynne surprised Hamilton LRT advocates this past February when she indicated she did not know whether Hamilton has chosen BRT or LRT.
Political Football
Now LRT has become a political football being kicked around both the current Provincial election and the upcoming Municipal election.
This past April, before the Ontario Budget was released, a spokesperson for Ontario NDP leader Andrea Horwath confirmed that Horwath "reaffirmed her longstanding support for a LRT for Hamilton." (Horwath is the MPP for Hamilton-Centre.) The NDP have not yet released a platform outlining a timeline or funding arrangement.
The Progressive Conservative Party, in contrast, opposes LRT in Hamilton. Instead, they would spend $1.5 billion on a mid-peninsula highway running from Fort Erie across Hwy 403 in Hamilton to connect with Hwy 401 or 407 noth of Burlington.
Locally, Councillor Brad Clark (former Progressive Conservative Transport Minister under Mike Harris) voted to support LRT throughout the planning process from 2008 to 2013. Now, as a Mayoral candidate, Clark opposes LRT, saying he is "reading the tea leaves" and believes the Province will only fund BRT.
Councillor Brian McHattie, also a mayoral candidate but an LRT supporter, wants the Province to clarify what it means by "rapid transit". He is also calling for the City to increase its public engagement on LRT after the consultation period ended in 2011. (Disclosure: I have done some volunteering with McHattie's campaign.)
Former mayor and mayoral candidate Fred Eisenberger also supports LRT but is calling for the city to "hit the reset button" on rapid transit planning and establish a citizens' forum made up of residents from across the city to evaluate the evidence and compare options.
The city already established a rapid transit citizens' advisory committee (RTCAC) with 23 residents from across the city, which held meetings from September 2010 through late 2011 and made recommendations as part of the rapid transit planning process.
Post a Comment
You must be logged in to comment.