Integrity Report on Councillor's Assault a Sad Day for Hamilton
Council voted to accept the report finding that Councillor Ferguson violated the Council Code of Conduct by assaulting a journalist, despite the fact that it recommended no reprecussions.
By Gail Berberick
Published February 26, 2015
Yesterday was a sad day for the citizens of Hamilton, and today is even sadder.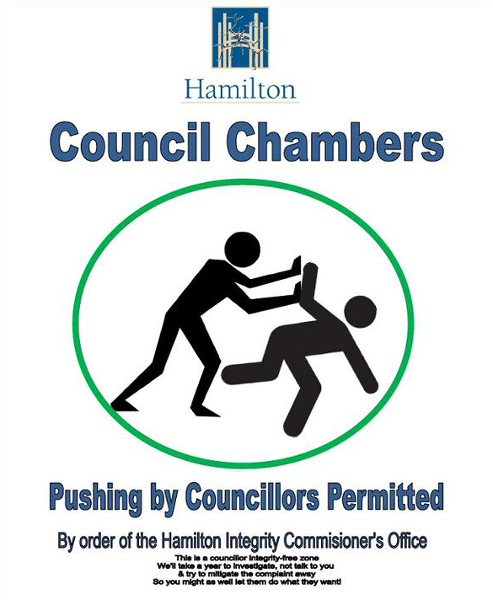 Sign: Pushing by Councillors Permitted (Image Credit: Paul Glendenning)
With the exception of Councillors Matthew Green and Scott Duvall, our Mayor and Council voted to accept the report from Integrity Commissioner Earl Basse on the incident in which Councillor Lloyd Ferguson grabbed and shoved journalist Joey Coleman
This is despite the fact that the report found Councillor Ferguson guilty of breaking Council's Code of Conduct but recommended no repercussions.
Notwithstanding that it was a long and contentious day of meetings from 8:20 am until 10:45 pm, Councillor Ferguson should not have made physical contact with Mr. Coleman and as a result Councillor Ferguson is in violation of Section 45 (a) and (b) of the Code of Conduct.
Our council is willing to accept Ferguson's behaviour because he had a bad day.
Assault is assault. Many parents have been banned from organized sports events for these kinds of actions. Husbands, wives, boyfriends and girlfriends are held accountable. They do not get forgiven because they apologize, they pay the price for their actions.
Then, to add insult to injury, we find out Ferguson is on the committee to hire the new Integrity Commissioner.
This is appalling.
Someone, please help me understand what message Council is trying to send to the citizens of this great city.
This article is adapted from a letter to Council.
Post a Comment
You must be logged in to comment.