Would an Urban, Mixed-Use Box Store Development Work in West Harbour?
By Jason Leach
Published February 27, 2012
Walmart is trying to open an urban store in the funky college town of Athens, Georgia. Some of you may not have heard of Athens, but you'll certainly remember R.E.M.'s album Automatic for the People.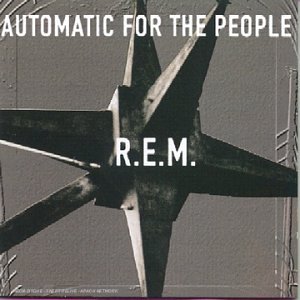 R.E.M. - Automatic for the People (Image Credit: Wikipedia)
R.E.M. comes from Athens, and this album cover comes straight from Weaver D's, an Athens diner that still lives on today.
Now Walmart wants to move to Athens. Renderings of the proposed mixed-use concept by Selig Enterprises show pedestrian-oriented buildings with public plaza spaces, patios and upper floor apartments.
So here's my question to our Hamilton readers - would you support such a development on our West Harbour lands, even if it meant a big box chain locating there?
Keep in mind that our new West Harbour guidelines don't allow for a store of more than 60,000 square feet, with a minimum of two stories and no surface parking.
That would mean the single-storey 'anchor' store showed in the Athens site plan wouldn't be acceptable. Adding one or more floors of apartments or offices on top of the anchor store, however, would put the proposal in line with our guidelines.
In fact, most of these renderings from Athens seem to indicate exactly the scale and type of development that we have made room for in the new Setting Sail guidelines for Barton-Tiffany.
A proposal similar to this could very well make an appearance here in the future with sights set on our West Harbour. How would you feel about it?
(h/t to MyStoneyCreek for forwarding the Salon link)
Post a Comment
You must be logged in to comment.