Bike Helmet Debate Heats Up
By Ryan McGreal
Published October 01, 2012
A September 29 article in the New York Times explores the controversy over bicycle helmets in the context of bike share programs and other attempts to get more people riding bikes.
In the United States the notion that bike helmets promote health and safety by preventing head injuries is taken as pretty near God's truth. Un-helmeted cyclists are regarded as irresponsible, like people who smoke. Cities are aggressive in helmet promotion.

But many European health experts have taken a very different view: Yes, there are studies that show that if you fall off a bicycle at a certain speed and hit your head, a helmet can reduce your risk of serious head injury. But such falls off bikes are rare - exceedingly so in mature urban cycling systems.

On the other hand, many researchers say, if you force or pressure people to wear helmets, you discourage them from riding bicycles. That means more obesity, heart disease and diabetes. And - Catch-22 - a result is fewer ordinary cyclists on the road, which makes it harder to develop a safe bicycling network. The safest biking cities are places like Amsterdam and Copenhagen, where middle-aged commuters are mainstay riders and the fraction of adults in helmets is minuscule.
The article compares bike share programs in Melbourne, Australia and Dublin, Ireland. The former city is flat and temperate with wide streets but has a mandatory helmet law, and cycling use is low; whereas the latter is cold and wet with narrow cobble-stoned streets but no helmet law, and the system has 5,000 rides a day.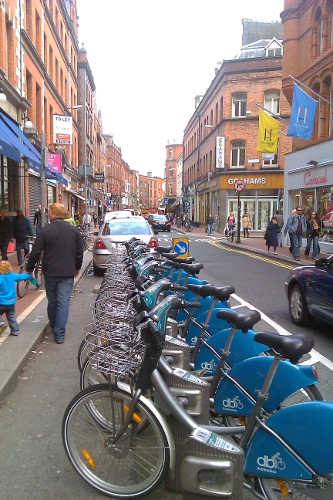 Dublin Bike share station (RTH file photo)
People are a lot less willing to participate in a bike share if they have to wear a helmet - particularly a shared helmet worn by other people.
Evidence from bike share programs in Montreal, Washingon and Minneapolis finds that while helmet use among people using these programs is lower than cyclists in those cities using their own bikes, the accident rates are also "really low" and participants report getting more exercise than before the shares were available.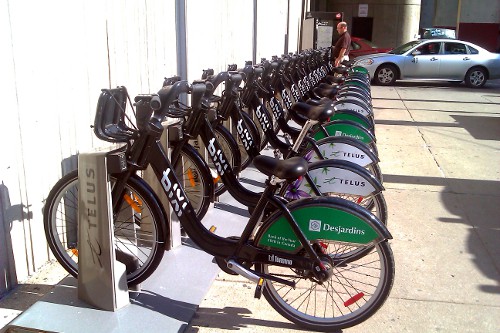 Toronto Bixi bike share station (RTH file photo)
Growth in Cycling
The most bicycle-friendly cities, like Amsterdam and Copenhagen, go out of their way to avoid even mentioning bike helmets. Instead, they focus their regulatory efforts on maximizing the number of cyclists.
Essential to that goal is a continuous network of dedicated bicycle lanes so that people feel safe taking a bicycle instead of an automobile.
Earlier this year, the Ontario Coroner's Report on Cycling strongly recommended a provincewide "complete streets" policy that provides for the safety of all street users - pedestrians, cyclists, public transit users and motorists - instead of optimizing for motorists.
The study also explored the bike helmet controversy, treading a careful line between the evidence that a cyclist has a better chance of surviving a crash with a helmet with the evidence that a cyclist has a lower risk of crashing in the first place on a more mature, well-used bicycle network.
A fact sheet by the European Cyclists' Federation concludes that higher rates of bicycle use result in lower numbers of casualties - for the simple reason that cycling is safer when more people do it. The effect is so profound that significant increases in the number of cyclists can actually result in an absolute reduction in the number of injuries.
Between 1980 and 2005, the Netherlands experienced a 45% increase in cycling coupled with a 58% decrease in the number of cycling fatalities. Similarly, London has experienced a 90% increase in cycling since 1990 coupled wiht a 33% drop in casualties from 1994 to 1998.
Similarly, since 2000, cycling has quadrupled in New York City while the risk of injury has fallen by three quarters.
Post a Comment
You must be logged in to comment.