Under the Apple Tree
By Bryan Boodhoo
Published July 24, 2018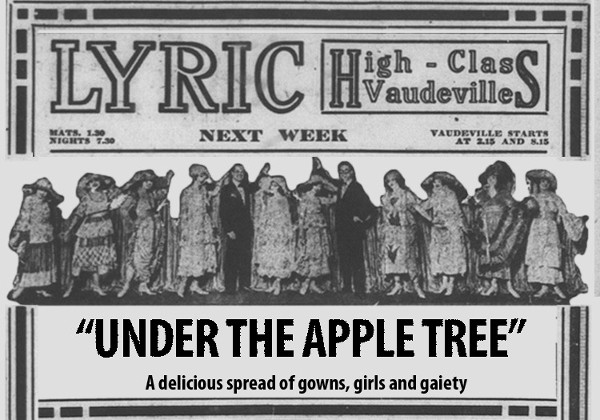 Under the Apple Tree
Directed and Written by: Brian Morton
Songs composed by: Darl MacBoyle & Walter L. Rosemont
Stage Managed by: Valerie Van Landschoot
Cast: Susan Robinson, Chris Cracknell, Michelle LaHaise, Claire Shingleton-Smith, Erynn Garland, Brian Morton, Larry Smith
Show Type: Musical, Theatre
Audience: Parental Guidance
Running Time: 59 minutes
Brian Morton's play "Under the Apple Tree" is an important piece of local Hamilton theatre. On the surface, it is the story about the killing of Cecile Bartley by John Grubb. Cecile Bartley and John Grubb were real people who worked together in a musical comedy vaudeville act that toured in the early 1920's.
We quickly learn, however, that the real story is about the telling, and re-telling of the story. The play re-tells the Grubb story three times from very different viewpoints, all in an effort to find the elusive truth. These numerous iterations are held together by a framing narrative of Cecile Bartley's daughter traveling to Hamilton from Chicago to discover her ancestral past.
Go one layer deeper that the re-telling of stories, and there's still more insight to be found. At its core, this play is a nostalgia piece: the setting of the play is a theatre that is now a downtown parking lot; the Grubb story is lost to time; and even the death of Bartley reminds us of the fading of something that was once young and beautiful.
But Morton's play will not let us wallow in sorrow. There is singing. There is dancing. There's even photos of old Hamilton that are part of the background. In fact I heard one member of the cast comment that she couldn't be in a show with such a dark subject matter, except for the undeniable moments of levity. It's quite a treat to see Hamilton on stage...and I'm not talking about the president.
Standout performances were by Larry Smith as Spike Moriarty (yes, there is a real-life person called Spike Moriarty), Claire Shingleton-Smith who is almost instantly endearing to the audience as Cecile Bartley and Brian Morton as John Grubb. Smith in particular embodies the ethos of over-the-top vaudeville comedy and is a pleasure to watch.
Under the Apple Tree is a local gem, and is great value for the price of a fringe ticket. "Under the Apple Tree" is an ambitious show, and for the most part pulls it off. If Morton does decide to pursue this show further, the show would benefit from dedicated experts in voice coaching, choreography and videography to take it to the next level.
I had a chance to have a beer with Morton at the Fringe club, and it's obvious that he has a firm grasp on the history of Hamilton theatre, especially from the Vaudeville era. Admittedly, I have known this for a long time, given that Morton did go to theatre school at McMaster with my mother, many years ago.
Still, if you do see Brian at the Fringe club (and perhaps buy him a congratulatory drink after one of his shows), he is very generous about sharing his time and local knowledge, particularly with those who appreciate the craft that he spends considerable effort creating. If you do have a chance to speak with Brian, it's unlikely that you'll ever look at a downtown Hamilton parking lot the same way again.
Post a Comment
You must be logged in to comment.