Warning: Possibly Occupied Residence
Drivers need to behave at all times as if they fully understand the difference between themselves and pedestrians, and that someone on foot is at a distinct disadvantage in any encounter with a car.
By Michelle Martin
Published May 23, 2010
Our youngest daughter is hearing impaired. She has learned to listen and speak with the aid of a cochlear implant, and is able to keep up with grade-level work in school. A few extra things besides the implant are in place in order to ensure her success.
Her teacher speaks into a microphone that is on the same FM frequency as a receiver which plugs into the speech processor attached to her implant.  She is seated towards the front of the class, but behind and beside peers who are good students, in order to be able to follow their actions (like turning to the correct page in the textbook) at those times when she doesn't hear the teacher correctly.
When she's not wearing her speech processor, she still does pretty well with the residual hearing in her other ear, as well as by lip reading and making use of context to understand what is being said to her, especially by people whose tones and cadences are familiar.
Among her biggest challenges is discerning what she needs to hear when there is ambient noise. In her grade one classroom this is lessened a little with the use of the FM system, and by the installation of hush-ups on the legs of every chair.
In gym class, though, it is more difficult for her to follow directions-they haven't yet invented hush-ups for squeaky sneakers, and all voices including her own reverberate between the hard floor, the concrete block walls and the high ceiling.
On the softball field, she manages by paying extremely close attention to visual cues, even though she is able to wear her speech processor while playing.  Outdoors there are a lot of competing noises- wind, birds, barking dogs, airplanes, leaf blowers, and traffic. 
Traffic Signs
Which brings me to traffic signs. Specifically, to those DEAF CHILD traffic signs the city of Hamilton will install outside a house if requested.  I've seen them in a couple of places, and when Sophie was younger I wasn't sure how I felt about them.
I mean, if a driver is proceeding and sees a young child who is not hearing impaired and who is on the sidewalk playing with a ball, is he or she supposed to just honk to be heard and keep proceeding as usual, at ten kilometres an hour above the speed limit? And would this behaviour actually prevent a tragedy?
Or is said driver supposed to drive the way any defensive driving course would recommend: slow right down, proceed past the child cautiously, and be prepared to brake if necessary?
Are those DEAF CHILD signs telling drivers that this is the only time and place when they really need to behave as if someone might not be aware of their approach? Would they even notice the sign in time to slow down adequately or stop?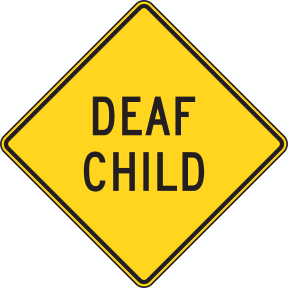 DEAF CHILD sign (source: Wikimedia Commons)
What if they saw a senior citizen? How are they supposed to behave then? Do they need a warning that says: POSSIBLE EARLY ONSET ALZHIEMERS: TEST RESULTS PENDING, or STUBBORN GREAT AUNT WHO REFUSES TO WEAR NEW HEARING AIDS?
There are all kinds of people who might not be paying close attention to a moving vehicle or who may behave unpredictably while walking.
Perhaps the city should make signs available that say IPOD WEARING TEENAGER, HABITUALLY DISTRACTED MID-LEVEL EXECUTIVE, HUNGOVER PERSON and GIGGLY GIRL.
What about HEARTBROKEN EX-BOYFRIEND, RECENTLY LAID-OFF EMPLOYEE or ABSENT-MINDED PROFESSOR?
Hell, given the behaviour of some motorists, maybe every house in the city needs some kind of yellow warning. You know, something basic. Something like: POSSIBLY OCCUPIED RESIDENCE.
Drive As If Every Child is a Deaf Child
We've chosen not to ask the city for a sign. As our daughter gets older and can play with a decreasing amount of supervision, her self-consciousness about being different from her peers increases. It's been difficult enough for her to realize that the speech processor is not something she will grow out of. A big yellow sign (of dubious use) in reference to that fact, posted at the end of the driveway, just rubs it in.
We've decided instead to teach her to be extra careful, and to insist that her brothers and sisters continue to look out for her like they have been. I know that opinions on these signs among parents of hearing impaired children are divided, and that we are not alone in our approach.
Either a motorist is careful and attentive to pedestrian behaviour, or a motorist is not. If he or she is not careful, then a sign (should it even be noticed) is not going to help.
In fact, the city of Jacksonville, Florida does not install them:
A deaf child or blind child sign does not describe to the motorist where the child might be. Most streets within a residential neighborhood have children who react in the same way, and each driver must be aware of all children within a residential neighborhood.
Drivers need to behave at all times as if they fully understand the difference between themselves and pedestrians, and that someone on foot is at a distinct disadvantage in any encounter with a car. Maybe they simply need to drive on city streets as if everyone walking is a deaf child, or as if a deaf child is playing nearby.
It would be a start.
Post a Comment
You must be logged in to comment.