Ontario Squanders Early Pandemic Sacrifice
The goodwill Premier Ford earned this past spring has evaporated as his government has reverted to prioritizing business interests over public health in the intervening months.
By Ryan McGreal
Published November 18, 2020
Way back in the hazy mists of time, i.e. September 23, I penned a warning that low COVID-19 hospitalization numbers in Ontario were no cause for complacency. Noting that human brains are not good at intuitively understanding exponential growth functions, I cautioned, "It's hard to appreciate just how suddenly those tiny numbers can snowball into gigantic numbers."
When I wrote that, there were 88 hospitalized COVID-19 patients in Ontario, up from a low of just 39 patients earlier that month. As of today, less than two months later, there are 529 people in hospital, of whom 127 are in intensive care.
According to the most recent modelling from Public Health Ontario, ICU occupancy by COVID-19 patients will exceed 150 "under any scenario within two weeks". At that point, it will be necessary to start cancelling scheduled surgeries again.

Chart: Ontario Daily Hospitalization Details (Data Source: Public Health Ontario)
As I also warned back in September, hospitalization and death are lagging indicators of infection. They are a signal from the past, not the future. The people in hospital today got infected a week or two ago, and the people dying today got infected up to a month ago.
So the alarming rise in new daily infections - from less than 400 a day in late September to more than 1,400 a day this week - forebodes proportionately higher numbers of hospitalizations and deaths in the weeks to come.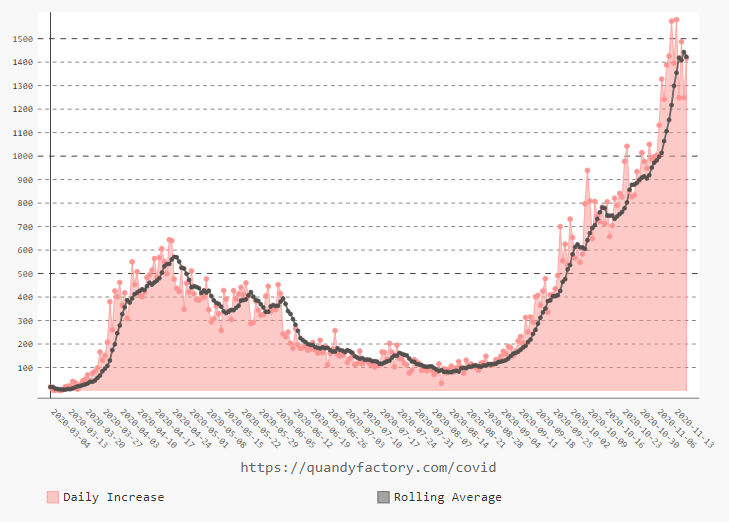 Chart: New Daily Known Cases with Rolling 7 Day Average (Data Source: Public Health Ontario)
Indeed, it is likely to be worse, since the age distribution of people getting infected is shifting toward older patients who are at higher risk of serious complication and death.


Chart: Weekly % Positivity by Age Group (Image Credit: Ontario Public Health)
We're Not Taking it Seriously Enough
Despite the Ontario Government moving all of the GTHA into the "Red Zone" as of this past Monday, I remain concerned that they are still not taking this seriously enough. They still seem to think they can keep inherently high-risk businesses like gyms and restaurant dining rooms open, despite having lost control of new infections in the general community.
As a province, we can't seem to process more than 40,000 tests a day, limiting our ability to know how many cases there really are. As it stands, some 24 percent of tests provincewide already take more than two days to get a response. Meanwhile, the percentage of tests that comes back positive keeps trending up, which is a bad sign.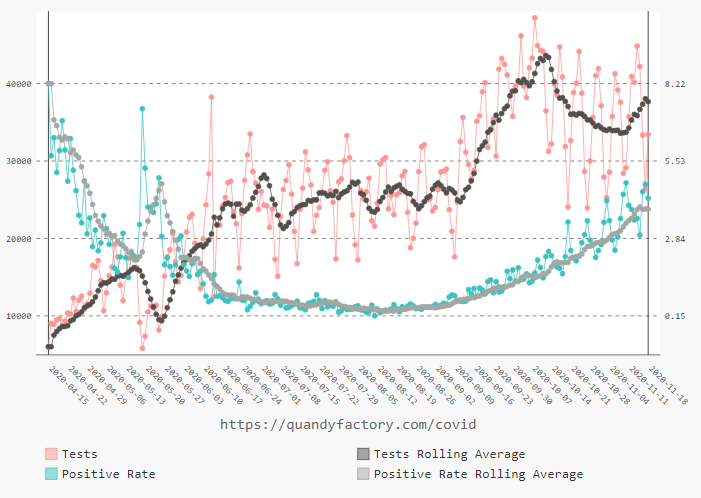 Chart: Daily Tests and Percent Positive with Rolling 7 Day Average (Data Source: Ontario Public Health)
Likewise, our public health units don't have the capacity to contact trace all the cases that come in, which means we are at least partially flying blind in terms of knowing where infections are even coming from.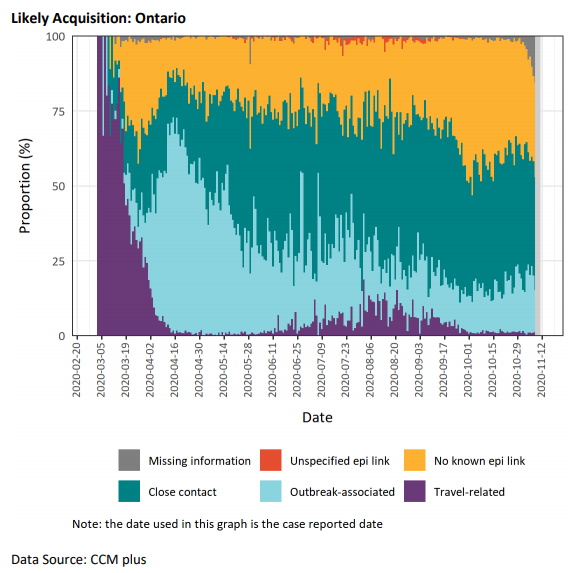 Chart: Proportion of New Cases by Likely Acquisition (Image Credit: Public Health Ontario)
In Toronto, 62 percent of new cases have no known epidemiological link.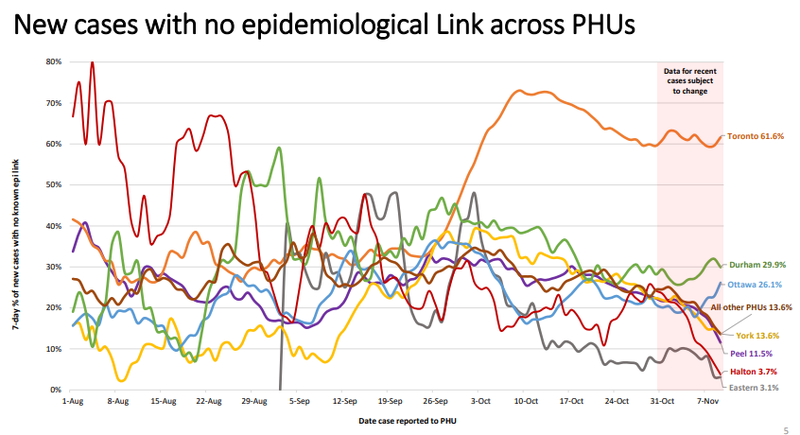 Chart: New Cases with No Epidemiological Link by Public Health Unit (Image Credit: Public Health Ontario)
The decision to reopen schools was based on the premise that if we kept community transmission low, it would be reasonably safe to send large groups of students and teachers into indoor congregate environments with poor circulation for several hours a day - even though the Government decided to ignore the SickKids recommendations on physical spacing and class size limits. But with community transmission out of control, that assumption is no longer safe either.
The the latest modelling shows that we'll be at 6,500 new cases a day by the middle of next month if we don't change the trajectory of case growth.
The average effective reproduction rate (Rt) provincewide has been above 1.0 since mid-August. As long as it remains above 1.0, exponential growth of new cases is inevitable.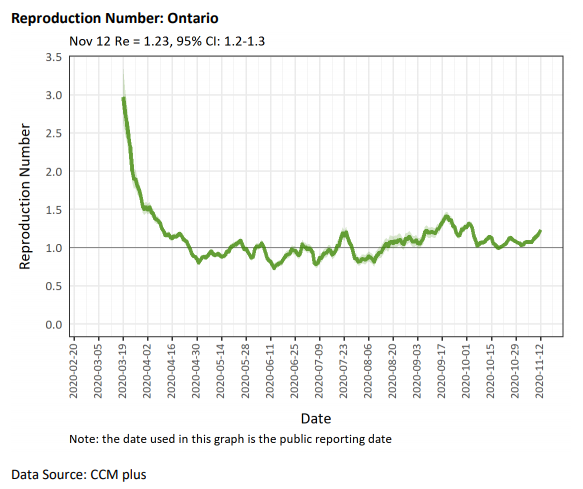 Effective Reproduction Number (Rt) in Ontario (Image Credit: Ontario Public Health)
So what do we do now? Is it time for another lockdown? If so, the sooner we commit, the better. Or stated differently, the longer we wait, the more difficult and painful it will be to get transmission back under control again when we finally do act, and the more people will get sick and die in the meantime.
I'm not a public health expert and none of this should be taken as anything more than the musings of an obsessive amateur, but I can't shake the perception that playing Whac-A-Mole with the novel coronavirus is not working out so well.
Squandered Sacrifice
What pisses me off is that a lot of people made a lot of painful sacrifices in the spring to get this under control, only for the Ontario Government to squander our progress by ignoring the Public Health experts and opening too much too soon while spending too little on distancing, testing, tracing and mitigation.
In August, we were down to fewer than a thousand active cases, fewer than a hundred new cases a day, and fewer than 40 people in hospital. Then, instead of stamping out community transmission altogether, the Ontario Government essentially decided to just give up.
We reopened schools without adopting the SickKids recommendations on distancing and class size limits. As I write this, there have been 3,518 confirmed cases in Ontario schools, with cases reported in 670 out of 4,828 total schools, or 14 percent of the total.
We reopened restaurants and bars and gyms and salons and casinos and convention centres (while telling people they're not allowed to meet each other at home).
But the Provincial guideline we adopted for adopting restrictions is four times more lax than what Public Health recommended.
In the face of Toronto, Peel and Ottawa escalating rapidly into hotspots, the Province actually made the threshold for tightening restrictions even higher before belatedly backtracking this week under fire from the public.
We are up to 3,415 total fatalities, with 32 new deaths in the past day and 122 in the past week. The escalating number of new cases has already baked in hundreds more fatalities in the coming weeks.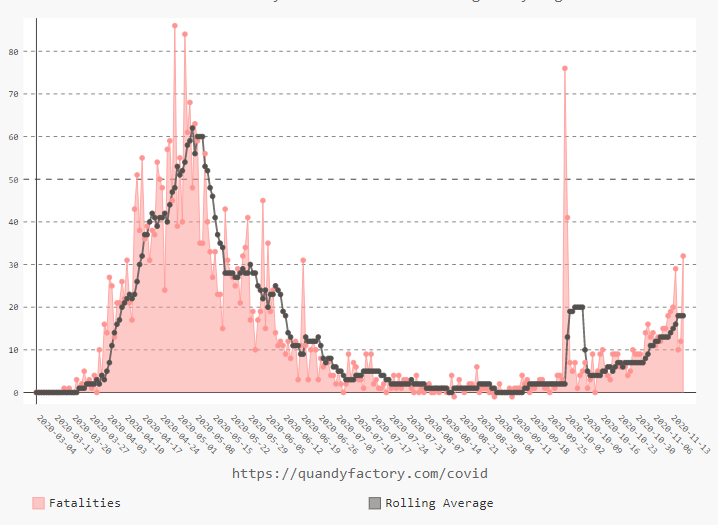 Chart: Daily Deaths with Rolling 7 Day Average (Data Source: Ontario Public Health)
The Ontario Government and Premier Doug Ford earned a lot of cross-partisan goodwill in the Spring when they decided to take the pandemic seriously and implement emergency health measures to control the spread of COVID-19 - measures, we must note, that cut sharply against Ford's ideology of tax cuts, deregulation and cuts to public health spending.
Unfortunately, that goodwill has gradually evaporated since the summer, as a series of decisions calculated to prioritize business interests over public health have undermined the progress we made so painfully during the spring.
Premier Ford can complain all he wants about groups of "yahoos" flouting emergency health measures, but it is his government that has lost control of this pandemic: an entirely predictable result of putting politics ahead of public health.
As so many people have tried to warn this year, when you trade public health for the sake of the economy, you end up sacrificing both.
Post a Comment
You must be logged in to comment.