No City Benefits in Latest Ticat Proposal
To re-establish Hamilton as a great city, we need jobs that will keep people here, and a vital and successful downtown core to act as the economic, social and cultural centre that defines our city to the outside world.
By Jonathan Dalton
Published November 10, 2010
This morning the Hamilton Tiger-Cats' president Scott Mitchell unveiled their latest plan for a "stadium precinct", thus explaining their intentions for the $10M of land they had offered to buy at the Aberdeen and Longwood stadium site.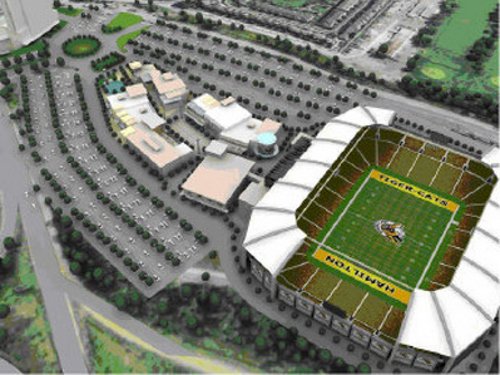 According to the advance press release sent to the Hamilton Spectator, this parcel of land adjacent to the stadium would contain a 150-room hotel, a conference centre, restaurants and other businesses. Ticat planning consultant Don May hinted at the possibility of townhouses to "attract young buyers, helping to keep them in the city".
When I heard about this meeting and press release, I wondered if it might contain some hint of the long-awaited and much anticipated private sector component of the estimated $160M stadium cost. Sadly (or gladly, depending on your point of view), no such luck. This proposal is contains no new financing for the stadium itself, and we are still facing a shortage in the tens of millions.
The purpose of the "stadium precinct", whether it's a hotel, a 6,000 car parking lot, or a hot dog stand, is to provide a secondary revenue stream to offset operating losses on the Ticats' core business of sports entertainment.
While we are interested in the ongoing financial viability of the football team, we must not confuse this with the broader goal of the stadium deal. Since the stadium is publicly funded, the primary concern is that the taxpayer is getting good value for their money.
Let's make this clear - now that the Ticats and Council have agreed on a location for a stadium, their problem is how to beg, borrow or steal $50M to pay for it.
An additional proposal from this football team-turned-developer should be evaluated on its own merits, and the City should treat them no differently than any other developer, like Smart!Centres, Trinity, or Harry Stinson.
A new hotel might make money for the Ticats, but what does it do for the rest of the city?
Good Development Partners?
During the last Committee of the Whole meeting about the Aberdeen site, Ticat planning consultant Don May stated that the reason there was no private sector funding for the stadium was that it was planned for an urban location and there was only money to be made in the suburbs.
He generalized that downtown investment amounts to benevolence and that developers and investors need greenfields to make money. This is not only categorically false, it is toxic thinking for a city that is trying to revive the financial productivity of its downtown core after decades of disinvestment.
Mr. May might want to ask these people why they were so generous with their money as to locate and invest in downtown Hamilton:

Benevolence? We are blessed indeed. (photo: Mulberry Street Coffeehouse)
Those projects were undertaken in the last year, all the while the Ticats have repeated the same old tune: that downtown is a hopeless investment and smart money only goes to the suburbs.
This attitude betrays their fear and misunderstanding of downtown and their unwillingness to take part in its resurgence. I would not want the City to be in partnership with any developer that holds that view.
Hotel and Convention Centre at Aberdeen?
Downtown Hamilton suffers from a low demand for hotels. One of our cornerstone buildings, the Royal Connaught, sits vacant and remains on the market for that reason. Before we approve another hotel outside of the downtown core, let's examine its potential effect on the already weak hotel market.
There is a vicious cycle involving hotel and convention facilities. The City-owned facilities, Copps Coliseum and the Hamilton Convention Centre, host major events that periodically fill the downtown core with visitors. Those people stay at hotels like the Sheraton and spend money at downtown restaurants and shops. This brings direct revenue to the City as well as spinoff benefits for downtown business.
However, many large events must turn down Hamilton because, despite the generous facilities offering better value than say, Toronto, there isn't enough space in our existing hotels to accommodate the visitors. Thus, Hamilton is losing the potential revenue of thousands of conference guests spilling out into our streets on a more regular basis.
More conventions downtown would also be good news for a restored Connaught Hotel or a new Hilton Hotel, which unfortunately don't exist yet because the market is not yet there.
They cannot exist until the market improves, and the market will not improve until the hotels are there - this is the vicious cycle.
To break this cycle, we must work hard to attract convention business and keep the existing facilities viable. We must also build a healthy market for hotels that is not convention driven, and we do that by building a downtown that people want to visit.
The effect of more facilities in an already weak market should be obvious. The Careport Centre at McMaster Innovation Park has already proven to be a challenge to the downtown convention business. Fortunately, MIP has better plans for this facility. We do not need another convention centre outside of the downtown core.
City Benefits
This latest proposal from the Ticats changes nothing. The challenge remains of how to raise adequate financing to build a stadium for the Pan Am Games and the team, and to do it in such a way that satisfies the mandate of the Future Fund and provides good value for the citizens of Hamilton.
If we are going to entertain this proposal, we must do so on the grounds that it is beneficial for the City in terms of economic opportunities and quality of life, and that does not appear to be the case. Townhouses beside an empty stadium will not keep people in the city, as the Ticats ludicrously suggest.
To re-establish Hamilton as a great city, we need jobs that will keep people here, and a vital and successful downtown core to act as the economic, social and cultural centre that defines our city to the outside world. The Ticats' proposal offers none of these benefits.
Post a Comment
You must be logged in to comment.