Ten Favourite Hamilton Moments of 2010
As Hamilton slowly but steadily comes back to life, here's a quick look at Jason's ten best news stories of the past year.
By Jason Leach
Published January 05, 2011
Hamilton continues to evolve and slowly come back to life. 2010 was another interesting year with several ups and downs. Let's forget about the downs for now - they already receive plenty of press. Here I present my ten favourite moments in Hamilton in 2010, in no particular order.
Condos and Lofts
A number of new condo and loft projects were announced and are selling quickly:
Stinson School Lofts
I've separated this project at 200 Stinson St. from the others due to the much-needed attempt by developer Harry Stinson to create an urban village at the site. Old homes across the street will house lofts and hopefully a ground floor cafe.
Many other cities have neat little villages tucked into various neighbourhoods. I've always loved the Beaumont Village in Portland, one of many urban neighbourhoods with coffee roasters and small shops, and the little cafes set up throughout residential neighbourhoods in Ithaca, NY.
I hope Stinson succeeds in bringing a nice neighbourhood node to Hamilton.
Farmers Market/Library renovations
With the York Blvd streetscaping complete, Central Library already re-opened, the Farmers' Market vendors moving back after this Saturday, we can finally start to fully enjoy a revitalized downtown street.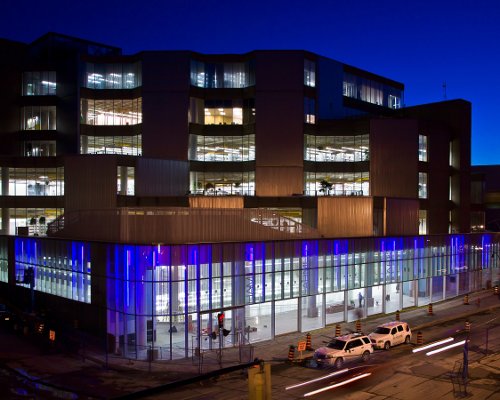 New Central Library/Farmers' Market Facade (Photo Credit: Jeff Tessier)
Click on the image to view larger
Two-Way Conversions


Sections of York/Wilson and Park Street being converted to two-way
A modest few blocks of York Blvd and Park St were converted to two-way traffic and streetscaped, but it will make a world of difference in creating a new environment for people and future shoppers of the Farmers' Market when it re-opens. Slowly, we're allowing life to spring up in downtown Hamilton instead of just treating it as a shortcut to somewhere else.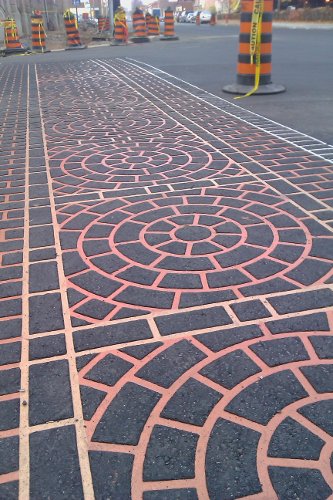 New crosswalk detailing at York and MacNab (RTH file photo)
City Hall Renovation
Expensive and contentious, I know, but this is the only building of its kind in Canada. It was worth saving in my opinion and turned out quite nice as our seat of government.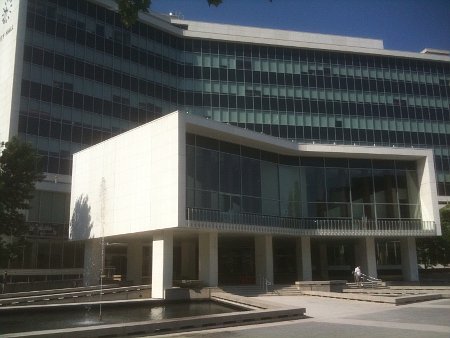 Renovated City Hall (RTH file photo)
Lister Block Renovation
Another expensive project, but again, I'm glad to see this building is being saved. It was rescued at the 11th hour and will be a great symbol of the new Hamilton upon completion.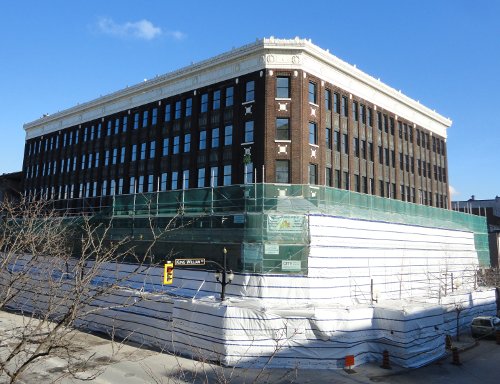 Lister Block under renovation (RTH file photo)
New MacNab Transit Terminal
This project has turned out wonderfully. A very modern, comfortable place to connect with the HSR - and it now allows us to proceed with the pedestrianization of Gore Park, which is much needed.

Hamilton's new MacNab Transit Terminal in action (Image Credit: MechaTwiggy, Flickr)
The Stadium
Ahh, the stadium, perhaps the most talked-about story of 2010. My kudos go to former Mayor Fred Eisenberger and his strong stance defending our city. Hamilton has been pushed around for too long and shot itself in the foot too often.
It was a breath of fresh air to see a mayor stand up for us, the people of Hamilton.
Locke Street
This great neighbourhood retail district continues to impress with new venues such as the Earth to Table Bread Bar, Sweetness Bakery and Cheese Shop on Locke. This great area continues to improve.
Strathcona Business Startups
Perhaps a tad selfish as I live in Strathcona, but 2010 finally saw a couple of new dining options open within the neighbourhood. For years the residents have longed for more local development, including local options to grab a bite or a coffee without always having to trek over to Locke South or Downtown. Stonewalls Restaurant and Rolly Rockets BBQ have been great additions to the neighbourhood and offer a wide range of special events, live jazz, community meetings and most of all, great food.
Congrats to both businesses. We hope to see you prosper for many years.
---
Happy New Year, Hamilton! Here's to an even better 2011!
Post a Comment
You must be logged in to comment.