How Paris Decided to Become a Bicycle-Friendly City
We are where we are today because of a long series of decisions that reflected our values and priorities. If we want our future to look different, we need to make different decisions. It's that simple.
By Ryan McGreal
Published July 07, 2011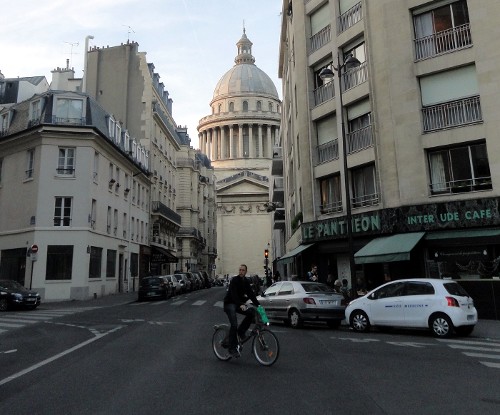 A cyclist in Paris
There's a prevailing idea that cities, whether great or middling or desperate, are inevitably so. Great cities are renowned for their iconic architecture, lively streets, vibrant economies, famous amenities, rich arts communities - indeed, it is these things that make them great. One begins to assume they spring fully formed, like Athena, from the foreheads of their founders, operating under the aegis of their masterful design.
This line of reasoning gives underperforming cities an excuse not to try doing great things. As CHML's Bill Kelly said when a group of citizens wanted their residential street taken off the city's truck route, "Seems like there's an anti-truck or anti-vehicle feeling out there. C'mon, this isn't Copenhagen, it's Hamilton!"
That's self-fulfilling defeatism. Great cities are great because they choose to be great - not just once or twice at the beginning, but over and over again in a constellation of choices, both large and small, that constantly refine and redefine the public vision of what the city can be.
It begs the question to suggest that Copenhagen is bicycle friendly because it has all those bike lanes. Where did the bike lanes came from? Like most cities, Copenhagen was designed and built aggressively for motorists right up until the 1970s, when the OPEC oil shock awoke that city's leaders to the insecurity of being dependent on imported oil. They chose to make the city bicycle-friendly, and then they did it.
In a recent Raise the Hammer piece, Nicholas Kevlahan noted that French government employees once parked in the Louvre courtyard in Paris - right until the construction of I. M. Pei's pyramid in 1989. Think of it: just a couple of decades ago, the sumptuous courtyard of the world's most famous art museum was used as a parking lot - in Paris, no less!
Kevlahan concluded, "The moral of this story...is that urban design is not some sort of innate genetic code. Paris is the way it is today because of a whole series of conscious decisions."
Paris: Bicycle City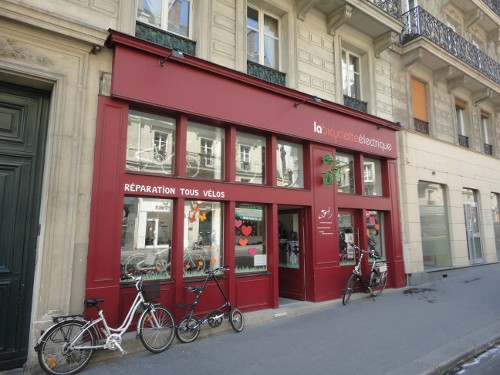 A Paris bicycle repair shop
Paris has undergone another remarkable transformation in the past two decades: against nearly everyone's expectations, Paris has transformed itself into a bicycle-friendly city. The story of how that happened is worth repeating because it disabuses the notion that history is destiny and showcases how a place can, with bravery and creativity, overcome even the most intractable obstacles to change.
Back in the mid-1990s, cycling in Paris was exactly the kind of white-knuckled, take-your-life-in-your-hands macho excursion with which North American cyclists are intimately familiar. Sidewalks were for pedestrians, streets were for automobiles and there was little room for any other nonsense.
The case against cycling in Paris seemed overwhelming: the tangle of narrow, medieval streets left no room for bike lanes, and in any case the prevailing conservative car culture was hostile to the very idea.
Another challenge was the fact that Paris is more or less uniformly composed of 150-year-old, six-storey buildings that were later retrofitted with tiny elevators. For most residents, simply getting a bicycle in and out of their apartment presented a logistical nightmare.
Despite this, the city's leaders decided that Paris should be a cycling haven on par with Amsterdam, Copenhagen and Lyon. Starting in 1995, spurred on by a wave of public sector strikes that shut down the Paris Metro, they began making the choices that would transform Paris into a cycling city.
Decision Followed by Action
In 1996, under the leadership of then-mayor Jean Tiberi, the city installed the first 50 kilometres of bike lanes. By the end of 1997, the city installed another 50 kilometres with plans to expand still further.
Cycling advocates were delighted. Others scoffed, wondering why the city should spend money on a bicycle network when so few people rode bicycles. A coalition of Champs-Elysées business owners managed to block a section of bike lane that was supposed to go on the city's most famous boulevard.
However, momentum was building toward a robust, continuous bike lane network. A 1996 study found that 400 Parisians died every year from poor air quality caused by vehicle emissions, galvanizing support for the plan.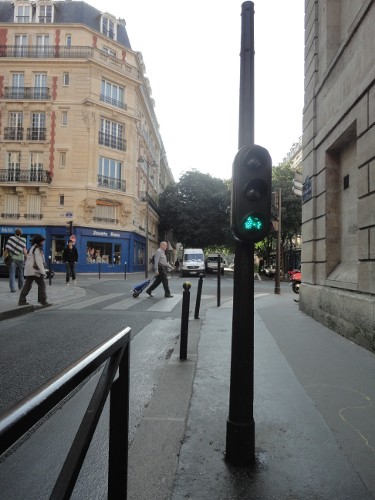 Paris even has cyclist traffic signals
In 2001, newly-elected mayor Bertrand Delanoe introduced Paris Respire, or "Paris Breathes": Sunday and holiday road closures in the city centre, which drew out the city's latent cyclists, skateboarders and in-line skaters in droves.
By 2010, Paris had a 440 kilometre cycling network that spanned the city. Still another 260 kilometres are scheduled to be installed by 2014, for a total of 700 kilometres.
(Contrast Hamilton's 2010 cycling plan, which installs 300 kilometres of urban bike lanes and shared lanes over a period of 20 to 40 years. So far, two councillors have already exercised vetoes over bike lanes in their wards.)
Vélib'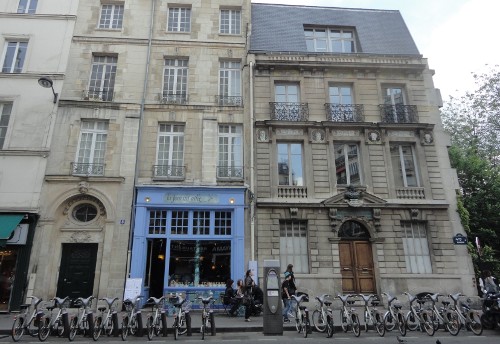 Vélib' station in Paris
A major milestone was the July, 2007 launch of Vélib' (a portmanteau of vélo liberté, or "bicycle freedom"), a short-term rental service for utility bicycles.
With a fleet of over 20,000 bicycles in 1,800 stations across the city and a rate system that promotes circulation, Vélib' is a particularly elegant solution to a major problem: the difficulty of owning and transporting a bicycle in a Paris apartment.
Using Vélib', a commuter can rent a bicycle in the morning, ride to work, drop the bicycle off, and pick up another bicycle to ride home in the evening. The service is available 24 hours a day, every day of the year - and the first half-hour is always free.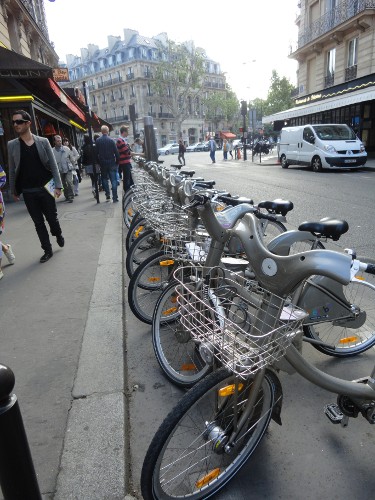 1,800 Vélib' stations are scattered across the city
Over 160,000 Parisians have annual Vélib' subscriptions - these long-term subscriptions make up three quarters of the total - and the service averages 100,000 rentals a day. This past April, less than four years after launching, Vélib' surpassed 100 million total trips. JCDecaux, the company that administers Vélib', calculates that the service has saved 40,000 tonnes of CO2 equivalent.
There is an important lesson for Hamilton: we are not at the mercy of our own past choices. We are where we are today because of a long series of decisions that reflected our values and priorities. If we want our future to look different, we need to make different decisions. It's that simple.
One thing is for certain: we can no longer accept the fatalistic sneer "This is Hamilton!" as a legitimate reason not to do something.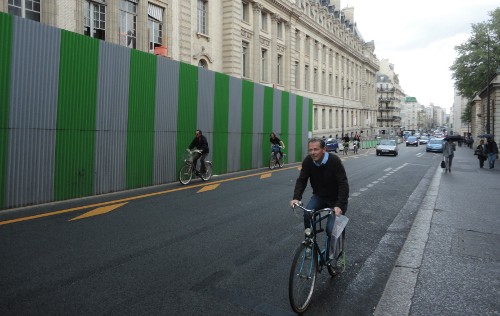 It can be an uphill struggle to create a bicycle-friendly city
This article was first published in the July, 2011 issue of Urbanicity.
Post a Comment
You must be logged in to comment.