Vranich Shares Details of Downtown Development Plan
Darko Vranich plans to add five storeys to the Revenue Canada building and convert it into condos, as well as adding a multi-level garage and attracting a drug store, LCBO and grocery store at street level.
By Eric McGuinness
Published April 30, 2012
The business interests of Darko Vranich and his family include the Sheraton Hamilton Hotel and a lot of real estate from there to Hess Village. Just last week, city council rejected his bid to expand and run the Hamilton Convention Centre, and he's having trouble with city staff over a parking lot he's putting in on Queen north of King.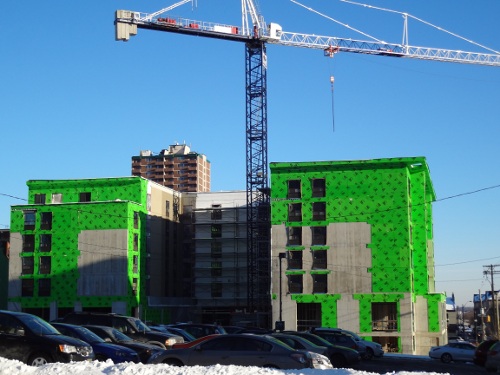 Construction of the Staybridge Suites hotel at George and Caroline (RTH file photo)
In my time as a Spectator reporter, I recall speaking to him only once, so I welcomed the opportunity to chat on Sunday when he approached me as I watched diggers excavating the former HMP property beside the old federal building on the block bounded by Main, Bay, Caroline and George streets.
The Spec has reported that he has big plans for the block, but I wasn't clear on the details, which he seemed happy to share.
He pointed proudly to his Staybridge Suites hotel nearing completion on the northwest corner of George and Caroline and the tower crane recently relocated from that project to a site just east of the partly demolished federal building.
Vranich said he is adding five storeys to the old Revenue Canada building at Main and Caroline and converting it to condos. Beside it, he's building a 450-car garage, both above and below ground. Next to that, a 16-storey condo and, finally, a hotel at Bay and Main. He said two more tall cranes will soon join the one already erected.
He said the garage would be finished by September and the condo tower by Christmas, which seems fast.
The developer also said plans are proceeding for a multi-level garage on the block bounded by Main, Hess, Caroline and George.
At street level, he proposes a Shoppers Drug Mart, LCBO outlet and a grocery store, which he'd like to see occupy two storeys. He believes those services and the new McMaster health centre at Bay and Main will make his condos more attractive.
Post a Comment
You must be logged in to comment.