The Mystery of the Missing Gridlock: Induced Demand, Generated Traffic and Misleading Models
Accurate traffic forecasting must take into account the feedback effects of spare capacity (to increase demand) and congestion (to reduce demand), as well as the broader land-use implications of roadway design.
By Ryan McGreal
Published June 21, 2012
A common theme quickly emerged in the objections to the recent new vision for Main Street West with one lane in each direction, curbside parking and dedicated bike lanes: among detractors both civil and snarky, the big fear is that we'll have 'gridlock' and 'traffic chaos' if we significantly reduce lane capacity on Main.
After all, if the same number of cars are trying to drive on fewer lanes, it seems reasonable to predict that those lanes will become congested.
However, the assumption that the number of cars will remain the same turns out to be false. When we look at what happens when cities actually reduce lane capacity, a significant share of traffic simply "disappears".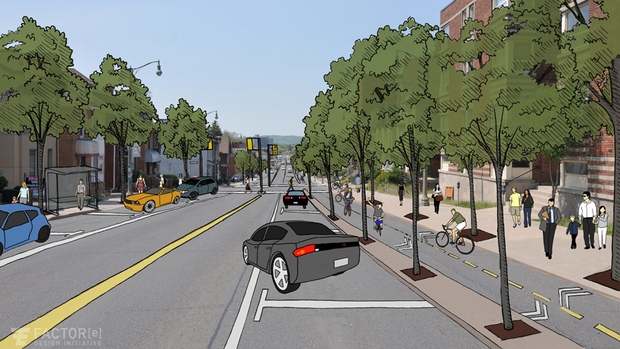 A reimagined Main Street with one traffic lane in each direction
Induced Demand and Generated Traffic
In economics, induced demand is the general principle that when the supply of a product increases, demand for it will also increase.
It should not come as a surprise that this principle also applies to the supply of automobile lane capacity. Decades of research have demonstrated that demand for traffic lanes tends to increase to fill the available supply.
Todd Litman, a transportation planner based in Victoria, BC, explains the elastic nature of traffic in a 2011 report [PDF link] titled "Generated Traffic and Induced Travel: Implications for Transport Planning":
Traffic congestion tends to maintain equilibrium. Congestion reaches a point at which it constrains further growth in peak-period trips. If road capacity increases, the number of peak-period trips also increases until congestion again limits further traffic growth. The additional travel is called "generated traffic." Generated traffic consists of diverted traffic (trips shifted in time, route and destination), and induced vehicle travel (shifts from other modes, longer trips and new vehicle trips). Research indicates that generated traffic often fills a significant portion of capacity added to congested urban road.
In short, generated traffic is the portion of total traffic that only exists because it is easier to drive. Litman goes on to note that planners need to take generated traffic into consideration when evaluating the benefits of expanded lane capacity:
Generated traffic has three implications for transport planning. First, it reduces the congestion reduction benefits of road capacity expansion. Second, it increases many external costs. Third, it provides relatively small user benefits because it consists of vehicle travel that consumers are most willing to forego when their costs increase.
When planners ignore the phenomenon of generated traffic and expand road capacity on the prediction that demand will increase, the expanded road capacity itself generates the additional demand that fills the expanded capacity. Litman calls this "self-fulfilling predict and provide planning".
Reduced Demand
It's essential to understand that the law of demand on traffic works in reverse as well: if you reduce lane capacity, some of the generated traffic simply disappears.
A major study commissioned by London Transport and the British Department of the Environment, Transport and the Regions was published in 1998 and analyzed the evidence from 60 cities in North America and Europe that had reduced lane capacity. Here's an excerpt from a summary of the study [RTF link] by its authors, titled "Evidence on the Effects of Road Capacity Reduction on Traffic Levels":
Many cities, either not provided with dissuasive modelling forecasts, or disbelieving them, have introduced measures to reallocate road space away from cars.

In general, they reported that there has often (but not always) been a fairly short period of traffic disruption, but that 'gridlock' or 'traffic chaos' are rare, and never last longer than a few days, as traffic adjusts relatively quickly to new conditions. Sometimes there has not even been a short-term problem.

Two characteristic comments from local transport planners are: 'it'll be all right by Friday', and the ubiquitous 'the traffic has disappeared and we simply don't know where it has gone to'.
The authors note that the biggest real reductions in overall traffic occur when:
Total lane capacity is actually reduced rather than just shifted around; and
There is not so much existing spare capacity that the network can continue to accommodate existing volumes of traffic.
This, of course, is entirely consistent with what happened when Hamilton converted James and John Streets to two-way. There was no disruption at all following the conversion of James and John North, and only a temporary disruption for a few days following the conversion of James and John South.
This is despite the widespread predictions of doom that flowed from the common, but false, assumption that total traffic volumes would not decrease.
Misleading Models
Induced demand and generated traffic are well-established principles of transportation networks. Unfortunately, the standard tools for modelling traffic are generally based on the assumption that traffic flows will remain constant if lane capacity is changed.
As a result, traffic models tend to produce erroneous predictions. A 2006 study of traffic forecasts [PDF link] by the Department of Development and Planning at Aalborg University, Denmark concluded:
If techniques and skills for arriving at accurate demand forecasts have improved over time, as often claimed by forecasters, this does not show in the data. ... For 50% of road projects, the difference between actual and forecasted traffic is more than ±20%; for 25% of road projects, the difference is larger than +/-40%.
A major source of error is that traffic modelling generally does not account for the network effects of induced and reduced demand, in which transportation choices are shaped in part by the availability of lane capacity.
A 2001 study [PDF link] of generated traffic and implications for traffic planning using EMME, the industry standard modelling software, found:
In recent years, there has been a wealth of theoretical and empirical evidence collected on generated traffic and its impacts. As a result, there is an emerging consensus among transport professionals that generated traffic and induced travel are real phenomena that must be considered for accurate transport forecasts and economic analysis.
The authors explain, "Traditional transport models assume traffic volumes must flow through the transport network like water through pipes. But in many urban situations, traffic flows are more like a gas - they expand or retract to fill the available space."
Like most engineering models, these transport models work well for small changes to the current situation, but fail for large changes like two-way conversion of a one-way street. Accurate forecasting must take into account the feedback effects of spare capacity (to increase demand) and congestion (to reduce demand), as well as the broader land-use implications of roadway design. But as the authors note:
[M]ost transport models treat land-use development patterns as an exogenous impact unaffected by transport decisions. Models without full feedback give inaccurate predictions of traffic congestion and travel speeds, and so cannot accurately evaluate transport policies and projects.
Hamilton Today
According to Kelly Anderson, spokesperson for the Public Works Department, the City of Hamilton uses EMME (version 2) for traffic modelling at a macro level, as well as Synchro and SimTraffic (version 7) for micro-level traffic signal modeling.
These tools allow planners to plot traffic lanes and intersections, enter volumes of traffic and generate models of how the traffic will flow through the network. Steve Molloy, manager of environment and sustainable infrastructure in the City's Public Works department, notes that EMME and Synchro/SimTraffic "have been primarily used as 'industry standard' over the past several years."
However, these tools were not designed to model the feedback effects of significant changes to street design. They can only model how a given volume of traffic will move through a given traffic network.
The City does not have a specific policy on traffic growth assumptions, but planners "typically take into account existing traffic volumes, historical traffic growth, projected traffic based on nearby developments, as well a specific development itself" when modelling changes to the traffic network.
Planners can manually change the assumed volume of traffic. Molloy points out that the Transportation Master Plan provides "overall direction on how we want the transportation network to operate.
How these programs typically operate is that different scenarios are identified and then "modeled" to identify potential outcomes along the transportation network (i.e. traffic reduction assumptions associated with other modes based on targets and traffic diversion, which makes assumptions on travel patterns associated with adjustments to the road network (road widening/new roads)).
He adds that the city works with consultants "as the experts to provide us with the support using good planning and engineering judgement and up-to-date best practice approaches."
For example, the forecasting conducted by Steer Davies Gleave for the City's B-Line LRT planning assumed a 20 percent decrease in automobile traffic due to a modal switch to LRT, based on the city's Transportation Master Plan target.
I hope this is a sign that the City's baseline assumption about traffic volumes is changing. As recently as 2009, the default approach was to assume that traffic volumes would remain constant or actually increase.
Hart Solomon, the City of Hamilton's former head of traffic engineering (now retired), defended his decision to reject a pedestrian scramble from the York Boulevard Redevelopment plan on the grounds that it would be "inefficient" for vehicular traffic.
Solomon confirmed that he was assuming traffic volumes would remain constant. Indeed, he argued that this assumption was "likely conservative", given his belief that more traffic would be diverted onto York as a result of the proposed east-west Light Rail Transit line.
There was nothing in Solomon's response to suggest that he took into account the fact that the very act of reducing lane capacity would also reduce the total volume of traffic. Instead, he assumed total traffic volumes would go up as a result of reducing lane capacity on other east-west streets.
Agent-Based Traffic Modelling
Traditional modelling systems like EMME/2 forecast traffic based on the state of the transportation network and the choice of paths for a given set of activities. They are the industry standard today, but the past two decades of empirical research clearly demonstrate that this is not an accurate reflection of how people plan and undertake trips.
If we want better decisions about how to design and redesign our streets, we need to follow a more evidence-based approach to traffic forecasting.
A number of applications developed in the past decade seek to improve on the status quo. The most promising approach is an agent-based system that models the behaviour of individual agents navigating a transportation network.
This work is coming out of engineering research facilities like the Integrated Land Use and Transport Modelling (ILUTE) program at the University of Toronto, and has already produced working applications, such as Multi-Agent Transport Simulation Toolkit (MATSim) and Travel Activity Scheduler for Household Agents (TASHA).
Agent-based tools operate on the assumption that individual trips arise dynamically out of personal circumstances, and that individuals make travel choices based on the choice of destinations, modal availability (including congestion) at a given time of day, and the timing requirements of their activities.
Agent-based tools simulate the behaviour of individual agents, rendering microsimulations for each person making choices: not only about which route to take, but also about when to take a trip and what transportation mode to use.
These systems generate complex supply/demand interactions that incorporate land use, demographics, modal share, capacity/congestion, population shift, and other factors that interact with each other. As such, they can make behavioural predictions about individual choice that more closely reflect how people actually make transportation choices.
A growing body of comparative research already demonstrates that agent-based microsimulation systems have considerable advantages over traditional activity-based systems at predicting how traffic changes in response to changes in the transportation network.
It's time for traffic planning departments to start incorporating agent-based modelling in their traffic projections so we can make more evidence-based transportation planning decisions, instead of the self-fulfilling "predict and provide" approach that has driven the steady increase in per-capita lane capacity over the past several decades.
Post a Comment
You must be logged in to comment.