Mohawk Redeems Wallace Experiment, Mac Saves Braley Parking Lot
Mohawk College has restored the sculpture Educational Experiment by George Wallace. Meanwhile, McMaster has protected a parking lot from development.
By Shawn Selway
Published August 07, 2012
Thanks to the efforts of a group of concerned citizens and Mohawk College apparatchiks, George Wallace's Educational Experiment has been reinstalled on campus, this time in a setting more conducive to its long term survival.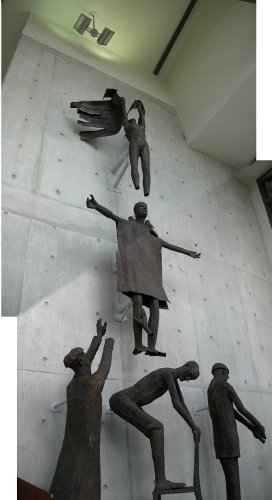 George Wallace, Educational Experiment
Wallace left about twenty large figurative works scattered around the formerly ambitious city, of which two were installed at Mohawk during its construction in the late sixties.
One of these, Educational Experiment, was placed outdoors where its welded Corten steel construction did not weather well.
James North crawlers may recall seeing membra disjecta of this work spread out on the floor of Bryce Kanbara's YouMe Gallery a couple of years back. The sculptor's technique was to build up his forms by welding long strips of metal into a shell both tough and delicate.
However, in the case of Experiment, the uncoated surface did not perform as expected and after some years corrosion threatened to separate the several parts of the piece.
Mohawk authorities had the thing taken down and placed in storage, whence it was eventually rescued by Wallace admirers.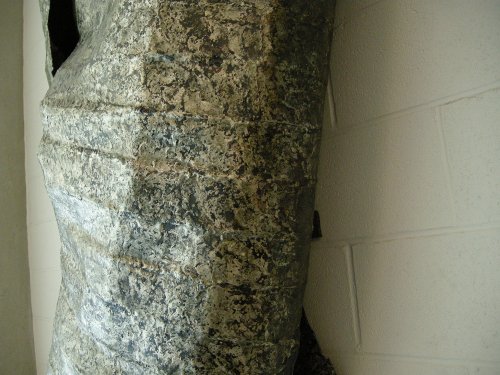 The Wallace hand: metal strips welded to structure a three dimensional fabric with a gorgeous surface.
The expected layer of tenacious oxides did not develop on the surface of Educational Experiment; instead, each layer was washed away by rain, allowing fresh corrosion to occur.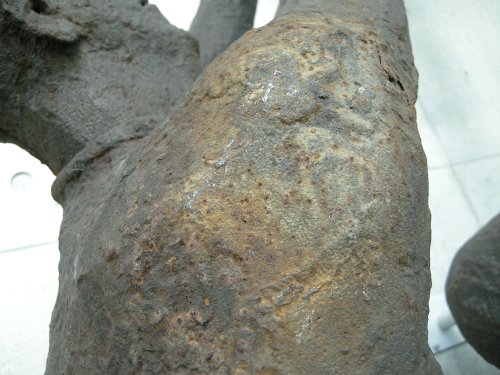 Fresh corrosion
Two years later, disheveled and disoriented and minus the acrobatic verve of the freestanding original, Wallace's people are back - but this time under shelter and firmly fastened so as to preclude any unscheduled flights.
About forty turned out last Wednesday afternoon to toast the return of the sculpture and the memory of its maker. One of the attendees even sported a scapular bearing an image of the Old Boy, who seems to have made a sizable dent in the consciousness of his students.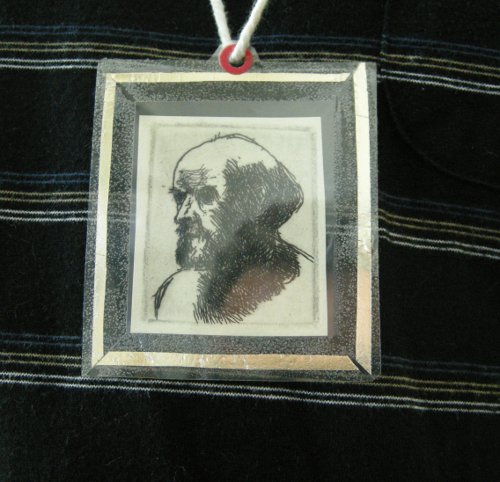 Saint George by George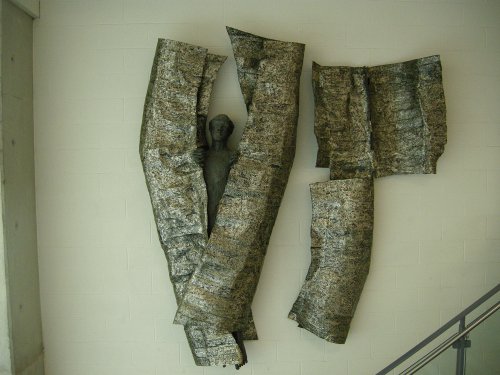 Futureready! Except, um, are you supposed to emerge from the chrysalis with the blindfold on?
Both Experiment and its companion, Educational Experience, are now on view together, each at an end of a long corridor in the newly built i Wing (sic) of the College.
Parking Lot Saved
Meanwhile, downtown, McMaster health professionals have managed to save the Senator David Braley parking lot, as well as their continuing access to the Senator's wallet.
This 175 space lot, which includes a number of well established trees and a prefab four-seasons kiosk, was threatened by talk of preserving the marble-clad structure to the south.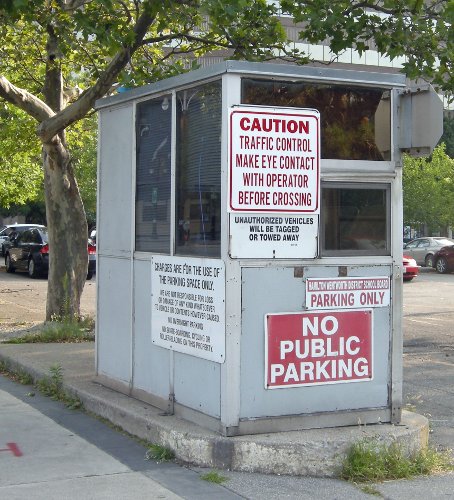 Commemorative kiosk on the Senator David Braley Surface Parking Amenity
McMaster Health Sciences, working closely with the Board of Education and Hamilton City Council, have arranged to demolish the menacing five story structure and so save the historic lot.
Its dense, undulating mantle of tar and pea gravel, relieved by concrete curbing, is a fitting monument to their faithlessness.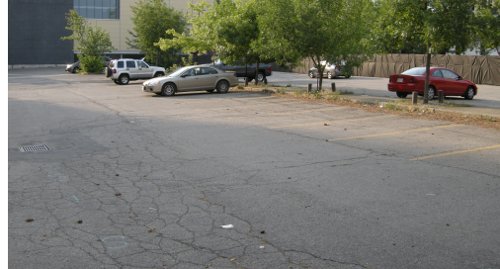 The Senator David Braley Lot in Central Hamilton
Post a Comment
You must be logged in to comment.