No New Information in Metrolinx Announcement
Our political leaders need to champion the cause of a fair deal for Hamilton, take the long view on Hamilton's return on investment and shepherd this project to a successful completion.
By Ryan McGreal
Published November 30, 2012
Metrolinx CEO Bruce McCuaig reaffirmed at a press conference yesterday that Hamilton's east-west LRT line is still a priority for the regional transportation coordinator, but that the city will be expected to come up with some share of the capital funding.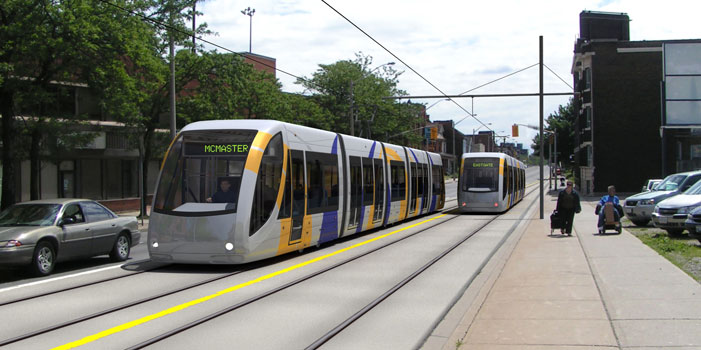 Rendering of B-Line LRT
The first phase of regional transportation projects, including the Sheppard East LRT, Etobicoke-Finch West LRT, Eglinton-Scarborough Crosstown LRT and a replaced Scarborough RT in Toronto, is already in progress and has been fully funded through the initial Metrolinx funding envelope of $16 billion.
The next phase will start with a Downtown Relief subway line for Toronto and a northern extension of the Yonge subway line to Richmond Hill. It will also include Hamilton's LRT line, LRT in Mississauga and Brampton, and bus rapid transit (BRT) in Durham, Toronto, Peel and Halton. The GO Train network will be expanded with additional all-day service, a rail link to Pearson International Airport and electrification of the Lakeshore lines.
However, the funding for this next phase has not yet been determined. Metrolinx plans to deliver an investment strategy next June that will outline funding sources for the remaining $34 billion in projects.
Hamilton's Share Unknown
Asked to confirm whether Hamilton will have to pay one third of the approximately $1 billion cost of the LRT, McCuaig demurred.
What I can tell in Hamilton and for all the other communities is that first we need an investment strategy that sets out, here are the revenue tools. Some of those tools could be provincial, some of them could be local. What the actual split between provincial and municipal, I don't think I can give you that information at this point in time.
However, he did confirm that municipalities will be expected to contribute something.
I think there's an expectation, there's going to be use of both what are normally considered to be provincial funding tools and municipal funding tools. What those tools are and what the spread between and the rates are, we'll have to see as we come up with our final advice in June.
This follows the August announcement by Transport Minister Bob Chiarelli that Hamilton would have to contribute something toward the capital cost of its LRT line.
Hamilton's east-west LRT, called the B-Line, was identified in the 2008 Regional Transportation Plan as one of the top transit priorities to be completed in the first 15 years.
No New Information
Essentially, yesterday's announcement merely reconfirms what we already knew - or rather, already didn't know - about the provincial status of the B-Line. It has been difficult to get straight answers out of Metrolinx or the Ministry of Transport on a commitment and funding for Hamilton's LRT, and the essential questions remain unanswered.
We already knew Hamilton's LRT would be part of the next phase of projects after the initial $16 billion ran out, we already knew Hamilton would have to come up with some unknown portion of the capital cost, and we already knew that these questions will not be answered until after Metrolinx delivers its investment strategy next summer.
None of these have changed with yesterday's announcement.
We also knew that the decision making process for Metrolinx funding has shifted from the arms-length transit body to the Ministry of Transport and has therefore become political. The City of Hamilton needs to make sure we are doing the political leg work to ensure Hamilton's LRT gets the biggest possible financial commitment from the Province.
After all, the LRT lines in Toronto are 100 percent capital funded through Metrolinx and Hamilton deserves a similar deal to the extent possible, given the new fiscal picture at the provincial level.
The city should also press hard for the tools it needs to generate its share of the money. Those might be new taxing powers or the ability to borrow via tax increment financing.
Council Needs to Stay the Course
The most important thing right now is for Council not to panic. We don't know any more today than we knew yesterday, and Council should stay the course on completing the design work that is underway while continuing to lobby the Province for a fair financial commitment.
It has always been understood that Hamilton would have to assume some share of the capital cost. As early as November 2008, then-Metrolinx Chair Rob MacIsaac said Metrolinx would be prepared "to pay the lion's share" of the B-Line, implying that Hamilton would have to contribute something.
LRT is too important to the city's future to abandon when a viable funding model is still in sight. Even with some capital contribution, Hamilton stands to benefit tremendously from new assessment growth around the line and increased viability of its urban core.
We just need our political leaders to champion the cause of a fair deal for Hamilton, take the long view on Hamilton's return on investment and shepherd this project to a successful completion.
Video Streams
Joey Coleman recorded live streams of yesterday's press conference.
Bruce McCuaig Speech
Media Scrum after Speech
Interview with Richard Koroscil
Richard Koroscil is Hamilton's representative on the Metrolinx Board.
---
Update: Metrolinx has provided a bit more detail on the implications of yesterday's announcement for Hamilton.
Post a Comment
You must be logged in to comment.