More Consultant Crap vs. Change By Us
If Council decides that civic engagement in the modern era requires people willing to learn new ways and do things differently, they will get the support of people who can do the work: quickly, cheaply, efficiently and locally.
By James Arlen
Published January 09, 2013
this article has been updated
I'm a pretty engaged Hamiltonian - proud to be one actually, largely because I chose to move here with my family seven years ago. I don't have the built-in anti-Hamilton issues that plague our community.
The creative local reaction to the Our Voice, Our Hamilton fiasco - via Twitter hashtag #TellOHEverything - represents an enormous number of engaged Hamiltonians doing our best to make something positive out of such an incredible train wreck.
Council is probably sick of hearing "but Joey Coleman said...", but in this case, they really need to listen.
I'm not sure who's responsible for the recent bout of procurement activities at City Hall, but with regard to the ones around technology, it's time to take a closer look. In short, we just got taken to the cleaners by a consulting firm. We need to stop being taken to the cleaners like this.
Change By Us
In the next week, a group of citizens will meet and launch a Hamilton version of Change By Us - a program designed by the City of New York in partnership with its citizens.
The program is open source and can be launched at no charge in other cities after the original NYC version. Here's the version in Philly and the version in Phoenix. Chicago and Memphis plan to launch city-supported versions as well in the next few weeks.
Please notice something about NYC and Philly's site - they have strong municipal leadership support.
Professional Web Technology Consultant Services
What Hamilton is doing is simply insane. It's even more insane in light of the other procurement disaster that is about to land on our lap. It would be very wise for Council to have a look at Request for Proposals Notice C2-09-12, "Professional Consultant Services Required for Web Technology Assessment" which is closing on 2013-01-22.
You can find a very limited abstract of this on Biddingo.
By the way, I can see how happy Biddingo is to have our business - they're charging fees to receive documents that could just as simply be made available on the city's website via a free blog package running on a virtual machine. These are fees that the city pays - indirectly via the bid winner charging back - for something that is approximately free. The actual cost of a decent virtual machine with unlimited internet connectivity is ~$100 year, or the cost of three bid downloads from Biddingo.
Problems with RFP Process
Let's start with the obvious:
1) The City wants $31 + fees for a PDF of the procurement request.
2) If I want a copy, I'm welcome to pay $46 in person for a printout of a PDF.
3) Holy crap, I had no idea that the new City Hall wasn't built to handle all of the critical operating components of the government!
4) I'm sure that "available for viewing" means that I can look at it for free, right? Since I'm fairly certain that it was prepared using taxpayer dollars and I'm still a citizen and all.
And then we're going to add onto that all of the ridiculous Biddingo stuff from above, and in a word: WhatTheCrap!
As an aside, I'd strongly encourage Council to look into the details of the Biddingo deal and make sure that it's not going to blow up in their faces the way the Dialogue Partners deal has.
Likely Outcome
On the topic of the actual consultation, I'm fairly certain we can all agree with some simple statements of fact:
1) The existing City website is terrible.
2) Leaving anyone who was responsible for the existing website involved would be a critical error in judgement.
3) The skills necessary to do much better work exist in Hamilton and are one of the city's greatest export commodities. I spend here and live here and telecommute to my job in Seattle - I'm a job creator dammit!
4) The City is going to spend goodness only knows how much money on a consultant who is going to tell us what the staff looking after our IT assets want to hear.
5) We will end up with a similar piece of crap website delivered beyond the budget and in a time frame that will ensure our great-grandchildren have a Hamilton City website to be proud of.
Dismissing the 'Usual Suspects'
I was actually putting together the idea of doing a consortium bid for the work using a number of local folks who are highly qualified and engaged almost entirely in work beyond the borders of Hamilton. And then I realized that we'd be deemed "The Usual Suspects" and tossed out of consideration.
This makes me sad - to think of how easily the city would simply disregard our effort.
If Council takes this opportunity to stand up and say that civic engagement in the modern era requires people who are willing to learn the new ways and perhaps do business differently, they will have the support of people who can do the work: quickly, cheaply, efficiently and locally.
---
Update: I decided to go ahead and put together a consortium bid, and learned that Biddingo takes $34.60 - more than the $30.66 the city gets. Here's a screenshot of the invoice: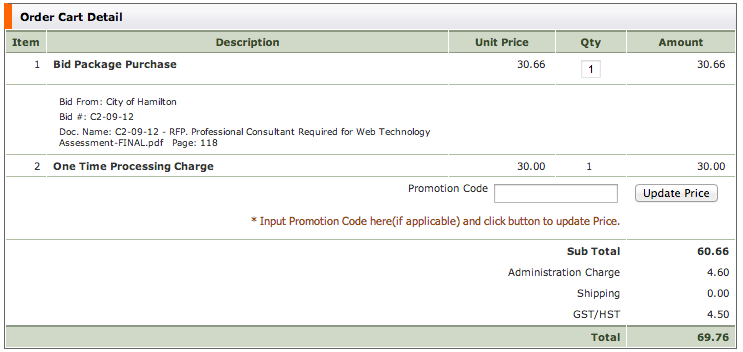 Biddingo RFP bid invoice
Post a Comment
You must be logged in to comment.