Billions at Stake in LRT Project
Why isn't Council up in arms over the flouting of their decisions and directions to staff on their support for light rail transit with full provincial funding?
By Nicholas Kevlahan
Published February 18, 2013
This past Saturday, Spectator columnist Andrew Dreschel wrote an article about Metrolinx dropping the "L" from Hamilton's LRT project.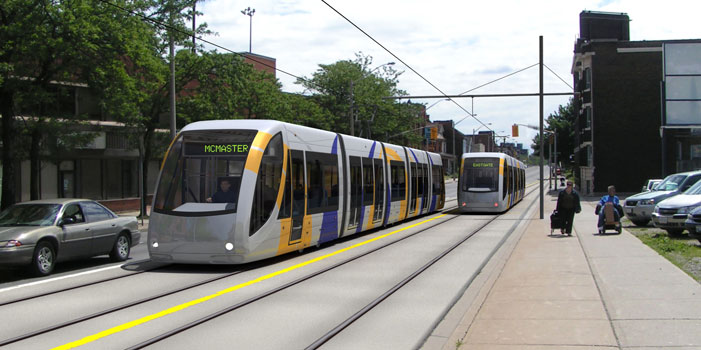 Rendering of LRT in Hamilton
It's interesting that Dreschel picked up on my concerns about the change from LRT to RT, and did some extra digging.
It really is appalling that Metrolinx is now saying they made the change secretly back in November after 'consulting' city staff, but they refuse to reveal who they consulted. Yet they expect Hamiltonians to donate hundreds of hours of their time to help promote the Big Move regional transportation plan in the various 'consultation' sessions.
What legitimate reason can there be for not revealing who they are talking to at the City, and for not keeping Don Hull, Chris Murray and Council informed about the change in the way they view Hamilton's LRT project?
Mixed Messaging
The mixed-up messaging continues at the highest levels, with Gary McNeil claiming that the change is just because Hamiltonians don't know what LRT means, and that LRT is still the goal, while other Metrolinx staff are now saying that LRT is just one option.
In an email response to RTH, Metrolinx spokesperson Malon Edwards wrote:
In discussions with City of Hamilton staff at the end of last year, a decision was made to change the language from "LRT" to "RT" because the scope and nature of the project is still being determined.

Again, it should be noted that, while planning is still in progress for LRT technology, no final decisions have been made on technology. Metrolinx remains committed to bringing rapid transit to the City of Hamilton.
As recently as the November 29, 2012 release of the Big Move phase 2, Metrolinx was still officially calling Hamilton's plan "LRT":
Light rail transit (LRT) in Mississauga, Brampton and Hamilton, and bus rapid transit (BRT) in Durham, Toronto, Peel and Halton, will reduce congestion and serve as a catalyst for development across the GTHA.
Today the other lines are still being called "LRT" and "BRT", respectively, while Hamilton's name has changed.
Consultation with Unknown City Representatives
In a phone interview with RTH on Sunday, Mayor Bob Bratina's Chief of Staff Peggy Chapman said she didn't know who Metrolinx had consulted. "Our office doesn't deal with Metrolinx directly. All relationships are from a staff level."
Chapman added, "From our office, we don't have a big connection. We speak to Metrolinx more based on GO. ... I'm not involved in messaging or even the details of stuff. We deal with Metrolinx at a higher level."
She did confirm that Rapid Transit, in this case, is understood to mean LRT. "People whose hearts are fully dedicated to LRT will find [the name change] shocking, but in the official documents, for rapid transit in Hamilton, LRT is the priority."
Chapman stressed that Councillors will receive a staff report on February 25 that provides an update on Hamilton's LRT plan and gives Councillors an opportunity to approve the next stage of LRT planning.
The official statement from the mayor is:
Council's direction is to have staff prepare and present a report on transit options which includes Light Rail Transit as a preferred option. The report will be presented shortly upon which Council will decide on a transit plan.
Council Support
Council has affirmed its support for LRT several times, most recently on October 17, 2012, when Councillors approved a motion [PDF] to establish a task force in partnership with the Hamilton Chamber of Commerce to "encourage Senior levels of Government (Provincial and Federal) to fund LRT in Hamilton," and for the Mayor or designate and three councillors to represent the City on the task force.
Despite this, Bratina still refuses to champion full funding for LRT in Hamilton. Chapman argues that the Mayor does not have "Council direction" to do so.
She notes that the General Issues Committee questioned Metrolinx vice president John Howe about full funding on October 13, 2011 (you can watch the city's video [requires Silverlight plugin] - starting at 3:17).
Councillor Lloyd Ferguson asked Howe, "Is the Province on - is Metrolinx on to fund 100 percent of this?"
Howe answered, "100 percent capital funding is the current Metrolinx funding assumption. And I think it was depicted clearly in the York Region example. That's our current funding assumption model for the Hamilton LRT project."
Chapman says Hamilton is doing its job politically. "Everyone's mad with our Mayor for not championing 100 percent funding, but he doesn't have to. It was asked on record in Council and Metrolinx answered it. That message at Queen's Park has been clear for a long time. That's the way the government works - not what's in the Spectator but what's in the official reports."
Billions at Stake
How can someone from the City tell Metrolinx to change LRT to RT, directly contradicting Council's wishes as first expressed four years ago and repeatedly confirmed since then, most recently in October?
Why isn't Council up in arms over this flouting of their decisions and directions to staff?
I hope the Mayor and Council keep in mind that this is worth $1 billion in direct investment, and many billions more in indirect investment and tax income over the coming decades.
It will also affect Hamilton's competitiveness and attractiveness compared with other communities in the GTHA and Kitchener-Waterloo.
Worse, if Hamilton doesn't get LRT but Mississauga, Brampton, Toronto and K-W do, any new revenue tools that the Province agrees to will result in Hamilton taxpayers unfairly subsidizing transit development and the associated economic growth in competitor municipalities.
In June, when the Metrolinx investment strategy is released, we may wake up to find that Hamilton has been shut out of any major investment, and that the City, as well as Metrolinx, has wasted millions of dollars studying and doing the engineering design for LRT.
As I have already argued, Mississauga Mayor Hazel McCallion is a canny politician. If she is aggressively pursuing LRT for Mississauga with full provincial funding, this is certainly a better strategy than passively waiting for Metrolinx to make a decision.
The strategy McCallion is pursuing has already been endorsed for Hamilton by our Council. There is no reason we can't do the same thing!
(With files from Ryan McGreal)
Post a Comment
You must be logged in to comment.