20 Jackson Street West Slated for Demolition
Wilson-Blanchard has submitted a demolition permit request for 20 Jackson Street West.
By Ryan McGreal
Published September 11, 2013
After months of rumours about the possible demolition of 20 Jackson Street West, we now have confirmation that a demolition permit has been submitted to the City for the commercial building on Jackson just east of MacNab.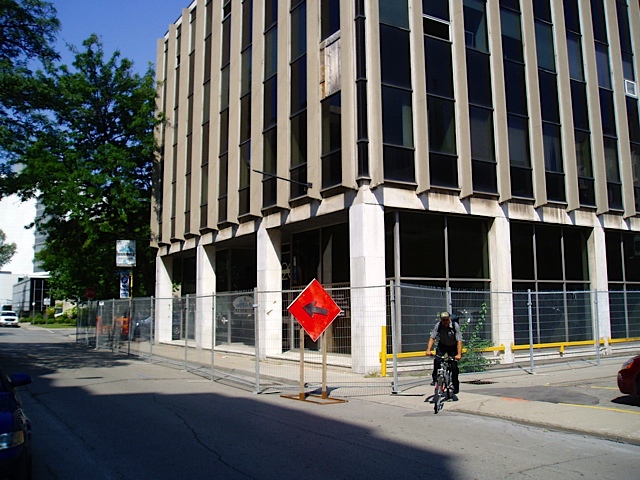 Fencing around 20 Jackson Street West (Image Credit: Eric McGuinness)
According to Ed VanderWindt, chief building official for the City of Hamilton, the building is owned by Wilson-Blanchard and a demolition permit application was submitted to the city. "In speaking with the Building Engineer we do not have any of the required service disconnect forms yet. Robert Miles told the inspector today that the forms will be submitted next week."
Because the building is commercial rather than residential in use and is not designated under the Ontario Heritage Act, the City has no recourse to deny a demolition permit.
Earlier this summer, the tenants of 20 Jackson were evacuated from the building, including the coffee shop on the main floor. A mobile decontamination unit has been removing asbestos from the building since late August, work that does not require a permit from the city.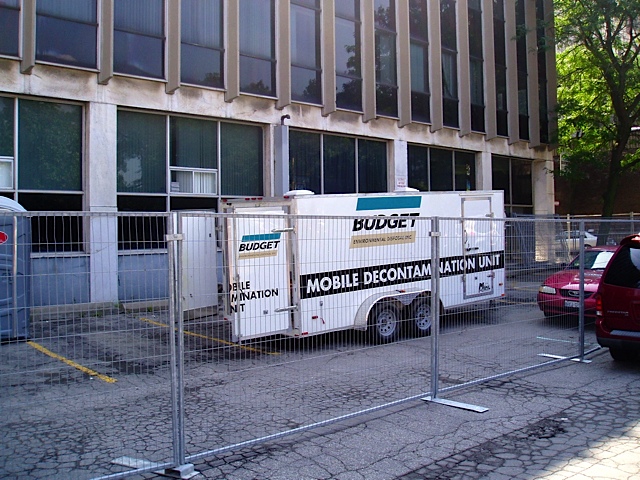 Mobile decontamination unit at 20 Jackson Street West (Image Credit: Eric McGuinness)
It is not yet clear what, if anything, the property owner has planned for the spot after the building is demolished. According to VanderWindt, "There has been no submission for anything else on the property."
The persistent rumour is that it is to be used for parking. Back in May, Ward 2 Councillor Jason Farr wrote, "They would never be able to put a surface parking spot there. As you know, we have a moratorium. I would never endorse a surface lot if they asked for an exemption."
A multi-level parking structure may be a different story. Last year, Council approved a downtown parking study update, but the study has not yet been presented to Council. According to Farr, "We will likely require a parking structure when the Parking review comes back, but we'll cross that bridge when we come to it. That will likely be in July."
It is difficult to comprehend how a review of parking in downtown Hamilton could possibly conclude that there is a need for new parking structures, when so much of downtown (an area bounded by Cannon, Wellington, Hunter and Queen Streets) continues to remain as undeveloped surface parking and vacant lots.
According to an earlier parking review conducted for the Downtown Transportation Master Plan Five Year Review [PDF] in 2008, "The recommendations of this review are generally consistent with the directions set out in the 2001 DTMP, including a recommendation that lower parking standards be applied across the Downtown." It emphasized providing business parking over employee parking, and discouraged long-term parking in favour of short-term parking.
Post a Comment
You must be logged in to comment.