A Yes We Cannon Victory is a Victory for Us All
Last week at Hamilton City Hall, an amazing thing happened. Our elected officials unanimously approved a forward-thinking, community-building, grassroots idea: protected two-way bike lanes on Cannon Street.
By Dave Heidebrecht
Published September 13, 2013
In only a few short months, the citizen-led Yes We Cannon campaign succeeded in rallying thousands of Hamiltonians to support the installation of separated bi-directional bike lanes along a central east-west corridor in the lower city.
Proposed as a crucial link between the future James Street North GO Station and Tim Horton's (formerly Ivor Wynne) Stadium, and with council having recently approved the exploration of a bike share program, the campaign argued that supporting the installation of two-way bike lanes would be a positive and necessary step forward for Hamilton environmentally, economically, and culturally.
The campaign's success is also another victory for the growing complete streets movement that has taken off in Hamilton in recent years. Evidently, the foundation that has been built by such efforts as Raise the Hammer, the tactical urbanism movement and Open Streets Hamilton (to name a few) have created an atmosphere that supports change for the better.
A Fruitful Summer
Launched in May, the Yes We Cannon campaign petition for two-way bike lanes along Cannon Street gained over 500 signatures in the first 24 hours alone. Over the summer months, a well-executed grassroots outreach strategy of community-focused events and coordinated social media efforts saw the campaign gain widespread community support seemingly overnight.
In the four months since the campaign's launch, taking advantage of local events such as the monthly Art Crawl, the petition grew to include over 2000 signatures by September.
Using this growing support to garner media attention, and through ongoing and targeted advocacy efforts to City Council over the summer months, the campaign quickly won the hearts and minds of Hamiltonians, culminating with the motion for a three-year pilot project put forward by Ward 2 Councillor Jason Farr being passed unanimously at last Thursday's General Issues Committee meeting.
Yes We Cannon made strategic use of social media - both Facebook and Twitter - to reach a wide audience in a short amount of time.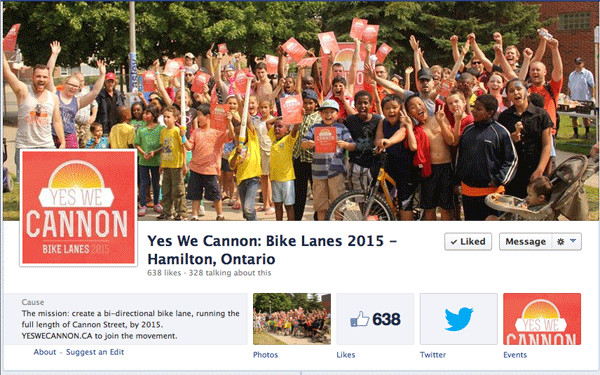 Yes We Cannon Facebook page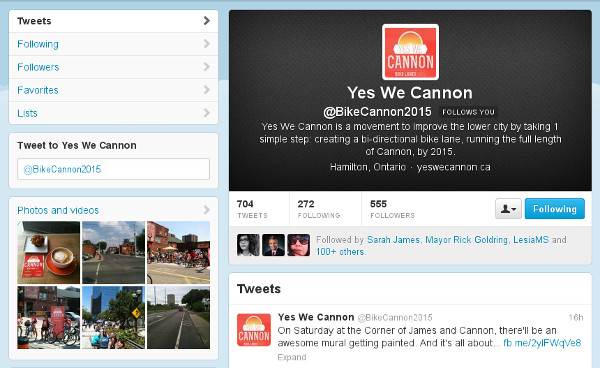 Yes We Cannon Twitter page
Widespread Benefits
In yet another display of the ongoing cultural shift that is taking place in Hamilton, the motion was brought forward and supported by delegations representing a variety of downtown interests. Arguments made included the benefits that two-way bike lanes would bring to real estate, business, city planning, health, active transportation, and safe neighbourhoods.
Most importantly, as organizer Justin Jones noted, installation of two-way bike lanes in other North American cities has led to a decrease in injuries not only of cyclists and pedestrians, but also of drivers.
With ten different schools located within one or two blocks of the proposed stretch, and in a city that promotes the vision "to be the best place in Canada to raise a child", the value that such change will bring to child safety is reason enough in itself to say yes.
However, as Jones and fellow organizers Leshia Knopf and Dave Stevens reiterated, the real genius of the plan is that it benefits everybody.
Not only will a concerted shift towards creating safe bike routes downtown see a dramatic increase in cycling in the core (thereby reducing greenhouse gas emissions and encouraging healthy lifestyles), but as Cannon's lane capacity is very low compared to similar routes in the city, travel times will remain close to the same while aggressive driving will be reduced.
In short, creating a safe way for everyone to get around the city is at the heart of the matter. Two-way bike lanes are a victory for us all.
A Shifting Tide at City Hall?
Councillors-voting-on-Yes-We-Cannon
In a sign of solidarity, councillors stood together to have their support for the Yes We Cannon motion counted. Thanks to Joey Coleman for providing the livestream of City Council proceedings.
After many councillors applauded the Yes We Cannon team for their advocacy, and in a move that may signify a shifting attitude towards forward-thinking urban planning in City Hall, councillors in attendance at last Thursday's General Issues Committee stood in unanimity to say "Yes We Cannon" together, for the benefit of us all.
The vote to implement a three-year pilot program along three kilometres of Cannon Street (from Sherman Street to Bay Street) was the culmination of the tireless efforts of the Yes We Cannon organizers, and was supported by a great diversity of community groups throughout the city.
On the surface, this decision may seem like a great victory for cyclists (which it is), yet as was argued in front of City Council, the implementation of two-way bike lanes - and the general atmosphere of support for heading in this direction - is a victory for all Hamiltonians who want to live in a safer, healthier, and more prosperous city.
Looking ahead, it may also be a signifier of the shifting winds at City Hall, perhaps ushering in a new era of openness to innovation and forward-thinking ideas that has all too often been absent in council chambers in recent years.
As Hamiltonians still struggle to comprehend the debacle that resulted in Ivor Wynne Stadium getting a glorified 90 degree turn upgrade (and a new corporate identity), and in the same calendar year as the #tellOHeverything PR fiasco, this decision is an about-face from the politics that many have come to expect from City Hall.
For one, our elected representatives should be applauded for taking true leadership in what we may look back on as a groundbreaking shift in urban planning and city-building in Hamilton.
Second, the organizers of Yes We Cannon (and their many co-conspirators) deserve a hearty salute for a well-organized, well-publicized, and well-argued plan of action that serves as an excellent example for any grassroots movement looking to gain traction.
Finally, those thousands of signatories and supporters of the campaign deserve a round of applause for getting involved, speaking out, and supporting an idea that will be of benefit to us all.

Cannon Street today (Image Credit: Jeremy Johnson)

Cannon Street reimagined with two-way protected bike lanes (Image Credit: Jeremy Johnson)
A Victory for Us All
It's truly amazing to see democracy in action, but it didn't happen overnight. It took open-mindedness and a willingness to compromise from all of our City Councillors. It took countless hours of volunteer efforts to raise awareness about an issue that we can all benefit from. It took strategic planning to frame the issue in a way that makes sense to those involved and those with no obvious connection to the issue.
Most importantly, it took the voices of thousands of Hamiltonians speaking out together to demand that smart, sustainable, long-term change guides the collective future of the city with the vision "to be the best place in Canada to raise a child."
Here's to that vision. Here's to the courageous change that Yes We Cannon and others continue to call for. And here's to continually working together to improve our city for everyone who calls Hamilton home.
To learn more about progress of the implementation of this plan (details are still being discussed with Council and city planners), you can visit the Yes We Cannon website, or follow Yes We Cannon on Facebook or Twitter.
First published on Dave Heidebrecht's website
Post a Comment
You must be logged in to comment.