We Need Better than Half-Measures for our Cycling Network
As a relative new comer to this city, I can only conclude that Hamilton's commitment to alternative transportation is mostly hollow.
By Sean Hurley
Published October 22, 2013
I am resident in Ward 3 and recently received a letter from Councillor Bernie Morelli indicating his support for a bike lane "pilot project" on Cannon Street. This bi-directional bike lane will run from Sherman Avenue in the east to Bay Street downtown. Great.

Rendering of two-way bike lanes on Cannon (Image Credit: Jeremy Johnston)
Currently, I cycle from near Ottawa Street to Longwood Road South. I am not sure when this pilot project is scheduled to start, but it already excludes more than half of my daily commute.
More recently, another "pilot project" for transit - apparently Hamilton only does things in half measures when it involves bicycles and transit - will create a bus lane for a short distance along King Street West.
Bicycles will not only be excluded from that lane, but even worse, the City is telling cyclists to "use parallel routes north or south of King Street."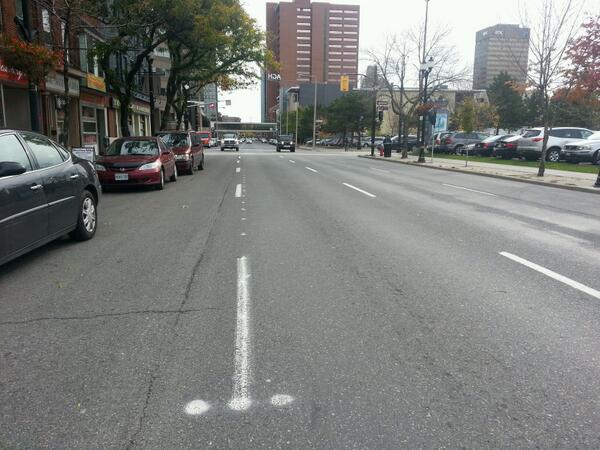 Markings on King West for the transit lane (RTH file photo)
What parallel routes would the City of Hamilton have me use, exactly?
If my morning commute begins at Kensington Avenue and Dunsmuire in the east end, and completes at Longwood Road South, what route would the City have me take?
Surely if The City is to advise me not to use a road that my tax dollars support to the same extent as any other taxpayer, just because my mode of transportation lacks an internal combustion engine (the apparent sole and exclusive reason for the existence of Hamilton's governance), then certainly there is some onus upon The City to provide me with these so-called parallel routes that exist within the snakes and ladders approach to Hamilton's one-way road system.
I have been traveling this route since last fall and there is no alternative route that I am aware of that will allow me to complete my commute as quickly and as safely as King Street.
If Hamilton's road department in its infinite wisdom can provide me with a better route that I may have missed, I would be very grateful.
I would like to mention that I have read through Shifting Gears, Hamilton's Master Cycling Plan and I am left wondering why its scarce public resources are devoted to efforts to which the City has such a lukewarm commitment.
And, yes, I support the Cannon bike lanes, but they are, again, a half-measure to be realized at some point in the future while I am commuting by bicycle now.
As well, when I look at plans that shows signs of realization within my working life, rather that a continuous network of bike lanes there is instead a broken and fractured disconnected facsimile of a network.
When new road work lends itself to improving cycling infrastructure, whether it be the repaving of King Street or the redevelopment of Longwood Road South, the city routinely fails to add continuous new cycling infrastructure.

King Street repainted without bike lanes (RTH file photo)
As a relative new comer to this city, I can only conclude that Hamilton's commitment to alternative transportation is mostly hollow.
In the meantime, I will patiently await the options for parallel cycling routes as identified by City of Hamilton staff that will neither increase my commute time nor place me at greater risk (and greater risk is why I don't cycle on Cannon, presently).
Post a Comment
You must be logged in to comment.