The Choice We Face: Easy Motoring or a Prosperous City
We need to do better than knee-jerk opposition to change because it may create some short-term disruption in travel patterns that, frankly, have not been good for this city for a long time.
By Ryan McGreal
Published November 01, 2013
While automobile commuters and some politicians continue to complain about traffic moving more slowly on King Street during rush hour now that the transit lane is in operation, an Ottawa Citizen columnist offers a different take on our love affair with fast arterial roads. In a piece on the recent Coroner's Report on pedestrian fatalities (you can read RTH coverage), the author writes:
So-called arterial streets are the [worst for pedestrian fatalities], home to about 75 percent of the fatal accidents.

There were some interesting findings about speed. The report quoted an earlier analysis that said a pedestrian has an 85 per cent chance of dying when struck at 50 km/h, but only a five per cent chance at 30 km/h.

[...]

The chief coroner suggested cities take a "complete streets" approach that would also include lowering speed limits to 30 km/h on residential streets and 40 on many others.

It likely won't happen, of course. Everyone is in a screaming hurry to get anywhere, except the dead, who now have all the time in the world.
This will be familiar to regular RTH readers, of course, but it raises the central question: should our downtown streets cater mainly to automobile commuters who want to cut through the city as fast as possible, or should they be optimized for safety, comfort and broad accessibility?
Thriving Downtowns
We keep hearing the argument that downtown businesses will suffer if people can't drive easily to them - but we have spent the past half-century making it as easy as possible to drive through downtown and it coincides with the long and tragic decline of the core.
When we look at cities that have lively, thriving downtowns, they are invariably places with constrained lane capacity - places where most of the street is given over to sidewalks, parallel parking, bike lanes and other public pedestrian amenities rather than abundant through lanes.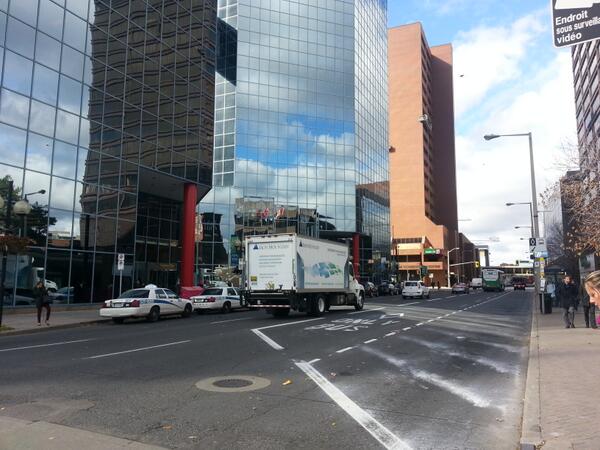 New transit lane on King Street (RTH file photo)
It's too early to determine how the addition of a transit lane on King will change people's patterns of movement, but we do know that the complaints by motorists started pouring in before the lane was even in place. For many Hamiltonians, the ability to drive at or above the speed limit anywhere at any time is considered a right, not an entitlement.
I've made a point of driving and cycling on King Street as much as possible over the past week. This is necessarily anecdotal, but from what I've been able to observe so far:
Traffic Speed
Automobile traffic does slow down during rush hour, but it flows at or near 50 km/h the rest of the day. This is entirely normal for an urban street in a medium-sized city.
It is profoundly unhealthy to have so much excess lane capacity that traffic can flow freely during rush hour, because it means the street is grossly overbuilt the other 22 hours of the day, when most of the people on the street are local drivers and pedestrians rather than cut-through drivers.
King Street has gone from a de facto expressway into a normal city street, like any number of arterial streets on the Mountain that also slow down during rush hour. As a city, we need to re-calibrate our expectations about how fast we think we can drive during rush hour.
Cycling
Riding a bike on King has gotten a lot worse since the transit lane was added. Drivers have become a lot more hostile, following too closely and passing more aggressively.
When the street was overbuilt, it was easy for a confident cyclist to take a lane and let cars change lanes to pass. With only two travel lanes, lane-blocking leads to honking and aggressive driving. However, outside of rush hour the traffic still moves far too quickly for even an experienced cyclist to keep up.
This problem would be easy to solve, except the City has decided not to allow cyclists in the transit lane. I hope they will change their minds about this as the pilot project progresses.
Business
One business owner on King Street has already announced that he is closing his restaurant this weekend. He claims that the lane has not driven him out of business but rather he is making a "business decision" to close because he believes the lane will prevent him from being able to succeed.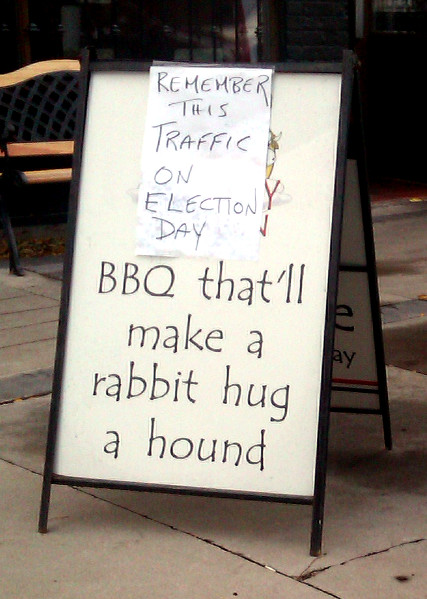 Transit lane sign on King Street East (RTH file photo)
The business owner has a checkered history of stoking media controversy to draw attention and has posted a steady stream of anti-transit lane signs in front of the restaurant.
In other words, this is an anecdote - and a dubious one at that - rather than evidence that the transit lane is failing. Again, the evidence from every city with a successful core is that slowing automobile traffic and improving transit are the most reliable ways to support local retail business.
Priorities
For too long in Hamilton, we have prioritized driving over the other ways of getting around, to such an extent that other ways of getting around have not even been viable options. As a result, most people are forced to drive for most trips, even though large majorities of Ontarians (especially younger people) consistently say in polls that they would rather drive less and walk/cycle more.
Another important consideration is financial sustainability. After decades of building our city around the assumption that almost everyone will drive for almost every trip, we have a legacy of road infrastructure we can't afford and an urban area vastly under-performing its potential.
In other words, building a city for driving has simultaneously driven up our costs and driven down our revenues. We simply cannot afford to keep doing that, as evidenced by year after year of large annual deficits in our infrastructure maintenance budget.
Of course, shifting more trips from driving to walking, cycling and transit also reduces air pollution and improves public health, reducing health care costs and raising quality of life. Indeed, for several years Hamilton has had the dubious distinction that more than half of its air pollution comes from automobiles - a direct legacy of our commitment to making it as easy as possible for people to drive anywhere at any time.
And as noted at the start of this essay, faster automobile traffic leads directly and predictably to a higher risk of pedestrian collisions and fatalities.
We Need to Do Better
We need to do better than capitulate to the narrow, selfish desire to drive faster - a desire every one of us shares. We need to recognize that in a large, complex system like a city, there are important trade-offs between the convenience of easy motoring and the vitality of a thriving local economy; between the speed of four- and five-lane thoroughfares and the safety of complete streets that meet a broader set of needs.
We need to do better than knee-jerk opposition to change because it may create some short-term disruption in travel patterns that, frankly, have not been good for this city for a long time.
This is not about downtown versus the suburbs. It's about choosing between the unhealthy status quo and a city that is financially sustainable and economically prosperous.
If you pay property taxes, you will benefit from a city that can balance its budget without deferring its infrastructure maintenance year after year.
If you currently commute out of the city to work, you will benefit from a local economy with a larger number and diversity of jobs, where people have more money to spend because they're spending less money and time on long commutes.
If you are tired of the downtown not 'pulling its weight' in generating tax revenue, stop demanding that the downtown continue to deform itself in such a way that it repels the influx of people and investments it needs to thrive again.
Post a Comment
You must be logged in to comment.