Longwood Road Should Follow Complete Street Guidelines
According to Chicago's complete streets design guidelines, Longwood Road is an excellent candidate to be one lane in each direction, not four lanes with a centre turn lane.
By Ryan McGreal
Published January 10, 2014
As we have written several times, the redevelopment plan for Longwood Road through the McMaster Innovation Park District between Aberdeen Avenue and Main Street continues the City's practice of prioritizing automobile traffic over more sustainable transportation choices, a human-friendly environment and even the economic success of the Innovation Park.
City staff are entrenched in their position that the automobile traffic on Longwood will require four wide travel lanes plus a dedicated centre turn lane.
An otherwise commendable plan to build an off-street cycle track depends on Council's willingness to spend millions of dollars on a second bridge across Highway 403. In the meantime, the plan is to build a cycle track that goes as far as Frid Street and then dumps bicycles into mixed traffic on the street.
It's completely unnecessary. Longwood Road carries 18,000 cars a day, making it an excellent candidate for one travel lane in each direction with a dedicated centre turn lane.
City staff argue that once you take turning movements into consideration, having just one lane in each direction would produce an unacceptably poor level of service. Even with a dedicated left turn lane, drivers will have to wait behind people making right turns if they don't have a second passing lane in each direction.
Chicago Guidelines
Compare the City of Chicago's Complete Streets Design Guidelines [PDF], which specify that a so-called "Connector" street with less than 25,000 vehicles per day should be - wait for it - one vehicle lane in each direction.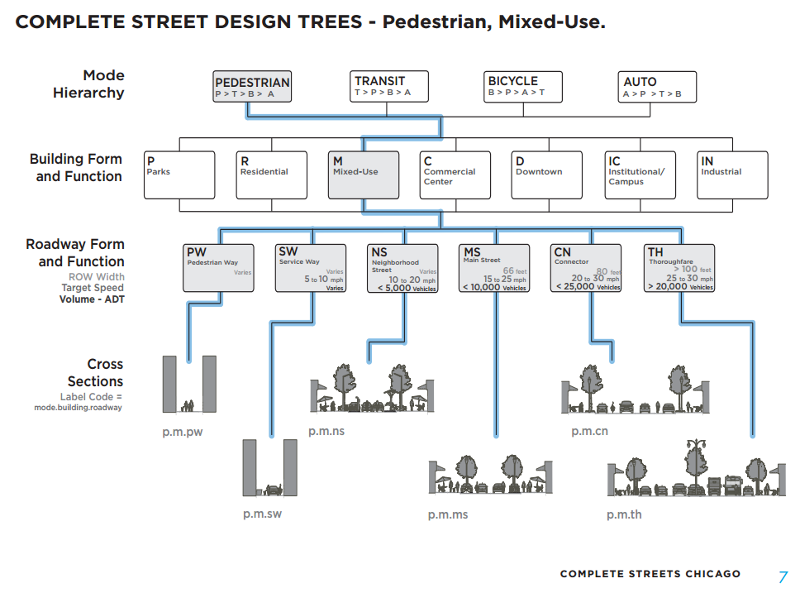 Chicago Complete Streets Design Guidelines by roadway form and function
Again, there is no good reason to make Longwood Road four vehicle lanes plus a centre turn lane. It will significantly overbuild the lane capacity, which will encourage more driving and increase dangerous vehicle speeds.
It will also force the addition of millions of unnecessary capital dollars (plus lifecycle costs of a new bridge) to provide a cycle track - or, more likely, put off the construction of a continuous cycle track indefinitely. That, in turn, will deter people from choosing to cycle to MIP, forcing more automobile trips in self-fulfilling predict-and-provide prophecy.
It will also undermine the mixed, pedestrian-friendly character of the innovation economic growth district. (Astonishingly, the administrators of MIP seem to support the five-lane Longwood Road design.)
Declining Automobile Traffic
City staff assume that, like background radiation, automobile traffic volumes will continue to grow year after year. However, overall traffic volumes across North America stagnated nearly a decade ago and have been falling steadily ever since.
That holds true in lower city Hamilton, where traffic volumes fell significantly between 2000 and 2010 according to the City's own data.
Daily Traffic Volumes, 2000 and 2010

| Location | 2000 Volume | 2010 Volume | Change | % Change |
| --- | --- | --- | --- | --- |
| Cannon E of Sherman | 16,000 | 10,800 | -5,200 | -32.50% |
| Cannon W of Sherman | 11,000 | 9,100 | -1,900 | -17.27% |
| Cannon near James | 18,000 | 16,700 | -1,300 | -7.22% |
| Bay N of Main | 15,700 | 12,400 | -3,300 | -21.02% |
| James S of Herkimer | 30,000 | 18,700 | -11,300 | -37.67% |
| Main at Dundurn | 41,100 | 37,300 | -3,800 | -9.25% |
| Main E of Bay | 31,000 | 28,400 | -2,600 | -8.39% |
| Main near Kenilworth | 32,000 | 20,300 | -11,700 | -36.56% |
| Queen S of Charlton | 13,000 | 12,200 | -800 | -6.15% |
| Hunter W of John | 11,000 | 7,500 | -3,500 | -31.82% |
Policy in Hamilton needs to embrace and drive that trend into a future in which the demand for transportation is met by a complete, balanced, multi-modal approach that increases the share of walking, cycling and transit trips and reduces the share of driving (especially single-passenger-vehicle) trips.
We need only look at models like Vancouver, which has managed to reduce automobile traffic by 20-30 percent on downtown streets while its downtown population has boomed.
Longwood Road is particularly well-suited to this approach, given the economic development strategy of this innovation-based, urban-form employment cluster.
Chicago's guidelines are to have one travel lane in each direction for any Connector street with under 25,000 vehicles per day. Longwood Road, with only 18,000 vehicles per day, is a shoo-in.
Let's do the right thing instead of letting a great opportunity to make a positive, transformational change slip by.
Post a Comment
You must be logged in to comment.