Broad, Extensive Public Engagement for Cannon Street Cycle Track
Residents in Wards 2 and 3 are tired of consultations that go nowhere - they've spoken loud and clear on numerous occasions already. Now is the time for action.
By Justin Jones
Published March 21, 2014
Andrew Dreschel is correct, in some regards, in his column published in the Hamilton Spectator today. City Staff didn't send out information notices to everyone in the City, no Public Information Centre was held to hear people's thoughts, and no additional 30-day discussion period for the Cannon Street Cycle Track project was approved.

Cannon Street Cycle Track rendering (Image Credit: Jeremy Johnston)
I certainly wish that Mr. Dreschel, before publishing his article, would have reached out to us, however, to hear our perspective.
It's what most journalists have done through this entire process, and it's what has earned Yes We Cannon the respect and the trust of both City Councillors and City Staff: we're open and transparent about what we do, about what our goals are, and about how we aim to accomplish them, and we're more than happy to talk about it any time, to anyone.
What Mr. Dreschel is talking about is, in most respects, Consultation 1.0. You put out a public notice, you host an open house, you set up in a church or recreation centre or city hall room, and you wait for people to come to you to tell you what they think. You generally hear from those who have strong opinions on either side of the issue, since those are the only people who bother to come out.
Consultation 2.0
What we did as an organization was more what I would call Consultation 2.0 - we took the message to where people are. From attending neighbourhood association meetings to community barbecues, from volunteer events to Art Crawls and all sorts of events in between, we took our message to more than 20 events.
And while we certainly had an agenda - we wanted to see these lanes get built - we prided ourselves on taking the time to talk to those who weren't in favour or weren't sure about the proposal, and finding out what their concerns were and addressing them.
Along the way, we engaged more than 2,500 people who signed our petition, we have received more than 300 individual written statements in support of this project (all subsequently sent to both Councillors and City Staff), and we have seen overwhelming support in the neighbourhoods that will be affected by this project.
I'll reiterate the 300 statements part, because I think that those are the most significant. That's over 300 people who took the time to actually write a personal message in support of this project to council.
We heard from a very wide cross-section of individuals - parents with young children, seniors, new immigrants, business owners, students, long-time cyclists and people who haven't ridden in years, primarily because of a lack of safe cycling infrastructure.
Time to Act
The time for more consultation and dithering has long passed.
The project has been widely publicized in Hamilton since being approved, including coverage in every single media outlet in Hamilton, including a front page placement on the Hamilton Spectator from the day after the September General Issues Committee meeting where staff was directed to develop an implementation plan for the project.
If council thought that meaningful public engagement on the project was still required, that would have been the time for it. Not now, when the bulk of the design work has already been done.
I think it's also notable that Mr. Dreschel conveniently ignores the public consultation regarding Cannon street that was done in the traditional sense - the One-Way to Two-Way Study Group that started off as an implementation group before being watered down by council.
The study group was public, it was city-organized, and guess what the number-one recommendation out of that study was? Bike lanes.
Councillors Engaged their Constituents
I'm also disappointed that Mr. Dreschel belittles the work that Councillor Farr and the late Councillor Morelli did to talk with their residents about this project, implying that because they support this project that their work with their constituents is somehow not valid.
As if concern for the health, well-being and economic vitality of their neighbourhoods, not to mention their rapid response to an overwhelming chorus of their constituents demanding change is somehow to be viewed as a negative?
Mr. Dreschel, Councillors Farr and Morelli certainly supported this project on a personal level, but their willingness to commit significant amounts of money from their Ward Area Reserves towards the project didn't come from their own personal affinity for the project - any good politician knows that is political suicide.
They took that stance because their residents were speaking very loudly and very clearly: this is something that the community supports, it is something that the community needs, and the sooner we get it done, the better.
Studied to Death
Cannon street has been studied, consulted on, and analyzed to death, all while the residents who live on or near it keep telling everyone who will listen the same thing: please do something.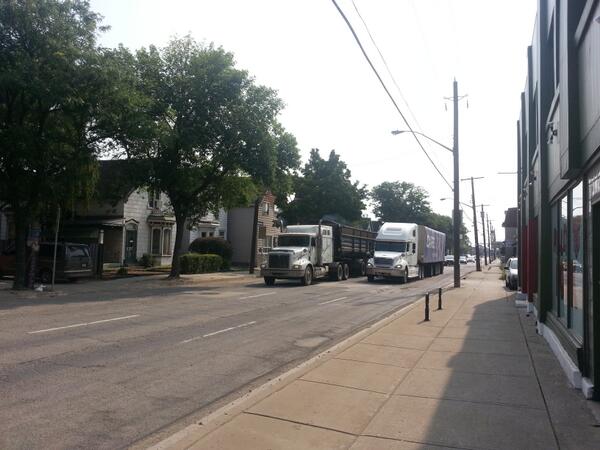 Transport trucks barreling double-file down Cannon Street (RTH file photo)
The whole point of the Cannon Street Cycle Track being installed as a pilot project is to get ongoing, real-world feedback. To assess how it actually impacts the neighbourhood, not how people think it may impact them.
That's the beauty of a pilot project. It's meant to be done quickly, to have robust data collection and analysis, and to provide rapid change to an urban system that we all acknowledge isn't working very well.
This whole consultation argument is exactly the reason Yes We Cannon came about in the first place - the consult, analyze, consult, analyze, consult, analyze, repeat ad nauseum way of doing business in Hamilton doesn't fit with how significant some of the challenges facing our city are and how rapidly it is changing.
We launched with the goal of engaging as many people as possible in the shortest time, of giving people a different avenue to make their voices heard. We did so in a way that hasn't really been seen in Hamilton before, but is becoming more and more common around North America - consultation 2.0 leading to advocacy 2.0, where citizens play an active role in engaging their neighbours and in engaging city staff and council.
It's a much more adaptive, flexible and resident-friendly system and, most importantly, it gets things done.
Residents in Wards 2 and 3 are tired of consultations that go nowhere - they've spoken loud and clear on numerous occasions already. Now is the time for action. Let's get these lanes built, let's make our neighbourhoods better, and then let's assess the real-world impacts from there.
Post a Comment
You must be logged in to comment.