Participate in the Your CBC Hamilton Survey
Now is a good time to engage citizens again on how well the CBC digital service is serving Hamiltonians and how it might improve.
By Sonja Macdonald
Published May 21, 2014
The future of the Canadian Broadcasting Corporation (CBC) has been in the news of late.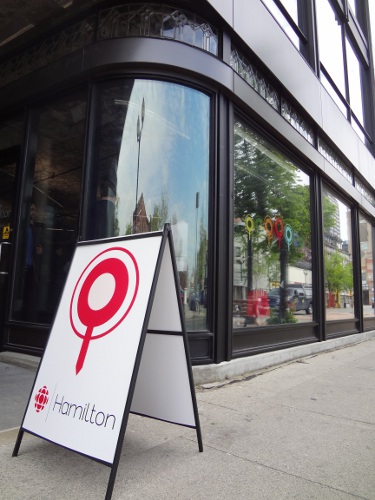 CBC Hamilton office on James Street North (RTH file photo)
The debate about the value and purpose of the CBC at a national level is being waged within the CBC and in the national media among journalists, academics, pundits and politicians, all presenting differing views about the CBC's future. Additionally, the CBC itself is engaging the Canadian public about its future.
While this national conversation is certainly valuable, it is also important to engage in a discussion about how well the CBC is serving local communities, including the Hamilton region.
This is a timely discussion because in May 2014 CBC Hamilton marked its second anniversary in the community. The push to get CBC in Hamilton has been underway for a long time. This is an example of a successful community effort to ensure Hamilton's needs are addressed by a national institution that was virtually absent from the city.
CBC in Hamilton
Going back to 2004, Hamiltonians voiced their interest in seeing CBC provide local service to this region, the largest underserved market [PDF] in Canada without a local CBC radio station.
Local political leadership at the municipal and federal levels took on the issue before the federal regulator and at parliamentary committees. In a 2008 parliamentary report [PDF] that reviewed the CBC's mandate, Hamilton was singled out for its lack of local CBC service.
Finally, as part of CBC's local expansion plan, service to Hamilton was announced in 2011, but due to the current lack of available radio frequencies, CBC launched a local digital service in May 2012.
While a good start, the digital service is only a first step in providing Hamilton a CBC service that is on par with other communities. The long-term goal continues to be a local CBC radio station.
In addition, Hamiltonians continue to have an interest in CBC as part of their city. An article published on Raise the Hammer in October 2012 generated significant discussion, presenting a range of opinions about how well CBC was serving the community.
With that in mind, and in light of the second anniversary, now is a good time to engage citizens again on how well the CBC digital service is serving Hamiltonians and how it might improve.
Your CBC Hamilton Survey
In an effort to make the discussion as useful as possible, we are launching the Your CBC Hamilton survey.
The Your CBC Hamilton survey is seeking input from citizens about their experience with CBC Hamilton. This 5-10 minute survey is important as it will help gauge the opinions and expectations of citizens on CBC's efforts locally.
This is an independent project of the Centre for Community Study (CCS), a local urban research organization. All information shared as part of the survey will be kept confidential and will be used only for this study.
A summary of results will be released to the public in a report by the CCS, and the summary will be shared with the CBC to help improve future service to Hamilton.
To take the survey click here: http://fluidsurveys.com/s/yourcbchamilton/
Post a Comment
You must be logged in to comment.