Let's Go Dutch Part IV: Ontvlechting
An important but problematic cycling connection in Hamilton could be fixed easily with wayfaring signage at each end and a curb cut.
By Kevin Love
Published January 26, 2015
The Dutch word ontvlechting translates into English as "unravelling" or "unbundling." It refers to one specific tool in the toolbox for implementing the Dutch traffic safety methodology of Duurzaam Veilig or Sustainable Safety.
In a traffic safety context, ontvlechting means separating the routes taken by people to travel from the routes taken by motor vehicles to travel. This results in reducing the dangerous conflict that occurs with the movement of people and the movement of motor vehicles in the same space.
How it Works
How does ontvlechting work in The Netherlands? The way that ontvlechting is typically implemented in The Netherlands is through a combination of:
1. Local access to residential neighbourhoods. Almost all residential streets in The Netherlands do not allow cut-through car drivers. Through traffic is only allowed to cyclists and pedestrians.
2. Car-free main cycle routes. These are no longer simply cycle paths that parallel car routes. In The Netherlands, such cycle paths are now considered old and inferior.
Note how even the "old, inferior" infrastructure would be a big improvement on Hamilton!
The Dutch goal is to take a step up from existing cycle paths along car roads that only separate people from motor vehicle traffic on a road basis. Instead, the entire cycle route is unbundled from car traffic. This provides for main cycle routes that go directly from A to B in a safe and pleasant environment.
What about Hamilton?
How could ontvlechting work in Hamilton? Several other proposals have been made for main cycle routes that would separate people from motor vehicle traffic on a route level.
I have a few ideas myself along these lines. But since I am writing an article, not a book, I'll only look at one specific neighbourhood local access that I use quite frequently: the connection from Jackson Street West to Dundurn Street South.
Notice the following:
Wayfaring gives false information. Anyone travelling westbound on Jackson Street will confront this sign at Poulette. This is, of course, completely false information. As we are about to see, there most certainly is an exit to Dundurn Street.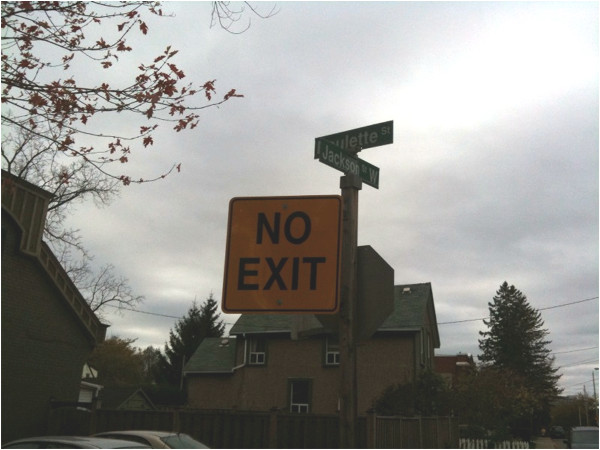 No Exit sign on Jackson at Poulette
Here is the exit to Dundurn: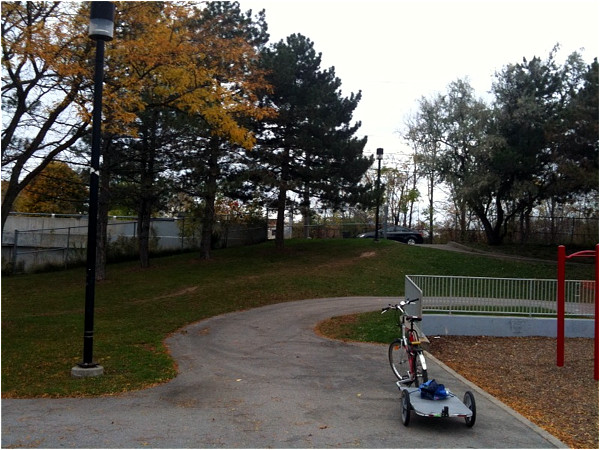 Exit from Jackson to Dundurn
But when we get to the Dundurn Street bike lane, there is another serious problem: no curb ramp from the path onto Dundurn.

No curb ramp on Dundurn access to Jackson
That is quite a formidable curb! Since I am a rather large and healthy man, I can lift my bike and bike trailer over the curb. But even for me, when the trailer is loaded with groceries, this is very difficult, inconvenient and just plain nuisance.
Not everyone is a large and healthy man. For them, a curb like this can mean the difference between a route that is useable and one that is not.
Notice also the total lack of wayfaring signage. From Dundurn Street, there is no way of knowing that this is the connection to Jackson.
Easy to Fix
These problems are all easily and cheaply fixable. All we need is wayfaring signage at each end and a curb cut.
Dutch cities used to have this sort of neglect of cheap and easy ways to fix cycling problems. They changed. We can too.
Post a Comment
You must be logged in to comment.