First Place: A Place of Firsts in Hamilton
The corner of King and Wellington has a history going back hundreds of years.
By Joachim Brouwer
Published April 15, 2015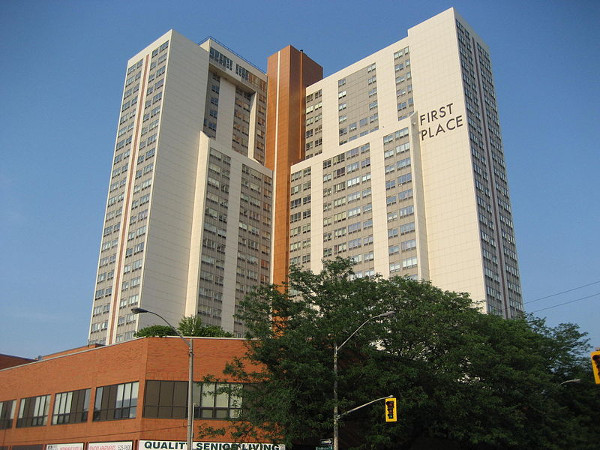 First Place, King and Wellington (Image Credit: Wikipedia)
Our fair city of Hamilton is part of a larger geographic unit called The Head of the Lake. In the Silurian Age, a mighty falls called Erigen plummeted hundreds of feet into an ancient sea, populated by creatures of enormous size.
By the time of the last Ice Age, this sea had become a more manageable body of water called Lake Iroquois, part of whose shoreline stretched from Burlington Heights, going across present day Victoria Park and ending at the foot of escarpment at John Street.
Acres of nondescript pavement and the right angles of concrete towers have forever erased the jagged irregular lines of the verdant forests and swamps that was Hamilton. The continuous whir of motor traffic, that seeps even into the deepest back alleys has stilled the sweet warble of song birds and baleful howls of coyotes.
By 1815, the winds of war which blew so fiercely at the Head of the Lake, making it the very pivot of survival of British North American had subsided.
Shortly, George Hamilton and Nathaniel Hughson would each donate a parcel of land for the building of a jail, registry office and courthouse at Main and John in the new settlement called Hamilton in the District of Gore.
The dusty corner of James Street (named after Hughson's son) and King Street would soon become the mercantile center of Hamilton.
But one mile to the east, the broad corner at Wellington/Victoria and King, where an sinewy inlet reached all the way up, from what was then known as Macassa Bay was a more important junction in the region, a crossroads steeped in history.
King Street was a long-distance native trail that winded its way to points far east and west. The many jogs this major artery makes today is evidence of this.
At Wellington Street, another trail came up from the bay. It has even been conjectured that the final vanquishing of the indigenous Neutral Nation by the Iroquois' Confederacy took place just off this trail in a great battle in 1651.
The builders of future St Patrick's Roman Catholic Church had to go down eight feet to establish a solid foundation because of the cedar swamp located here.
It was even proposed that the watercourse, which came to be known as Land's Inlet after the first settler in the region, be dredged and a turning basin dug to allow shallow draft vessels come inland.
At the corner of King and Wellington, where the Freeway Café is today, Smith's Tavern served travelers various needs for many years.
It was at this way station that the first charted organization in Hamilton region was birthed: 'The Barton Lodge of Ancient and Free Order of Masons'.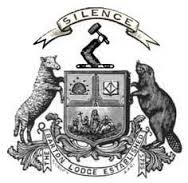 Barton Lodge insignia
Various Masonic groups, including the Scottish Rite, who lodged themselves in tobacco king George Tuckett's palatial home at Queen and King Street all spring from this humble beginning.
Diagonally across from Smith's Tavern was the first church built in Hamilton (1824)- the Methodist 'White' church, a model of which can be seen today at Pilgrim's United Church at 200 Main East.
A graveyard holding many of the co-founding patriarchs of The Barton Lodge and The First Methodist Church was located next to the modest frame structure.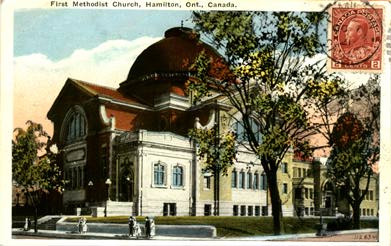 First Methodist Church of Hamilton postcard
The Methodists of Hamilton would jettison the circuit riders, camp meetings and 'fire and brimstone' sermons and come to erect a cathedral style edifice at King and Wellington, a great domed structure which melted down to runny sap in a suspicious fire in 1969.
It is important to remember that almost all Protestant faiths in North American were closely aligned with Freemasonry. The dedication of public buildings and funerals of public figures in Hamilton in the 19th century incorporated Masonic rituals.
Masonic groups were set up in re-consecrated churches, such as Dufferin Lodge on #8 highway in Flamborough, which exists to this day.

Masonic marker in Hamilton
The Church of England knew the importance of the Wellington/Victoria/King nexus and in 1870, St. Thomas at West and Main, now Charisma evangelical church, became the third Anglican church in Hamilton.
In 1875, Bishop Peter F. Crinnon, the second bishop of the twenty year old Roman Catholic diocese of Hamilton purchased, for the princely sum of $10,000, a plot of soggy land from Ephraim Land, the youngest son of Robert Land.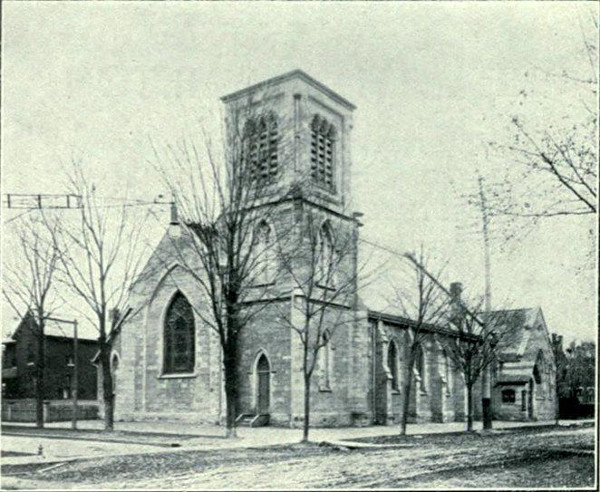 Saint Thomas Church
Crinnon had the foresight to realize that Hamilton to the west would grow eastward. Successful merchants Ebenezer and Thomas Stinson were building houses along Main Street, all the way to Wentworth and King.
One of these commodious house, at the southeast corner of East and Main where 'Connect Hearing' is today would become St.Patrick's Parish Hall.
Bishop Crinnon's lowly Irish countrymen were well settled in Corktown, to the west of 'first place' by 1875. Their little 'workers' cottages were tended with great pride. Many of the Emerald Isle's émigrés had found employment in Hamilton and Lake Erie Railway and its workshops and yards.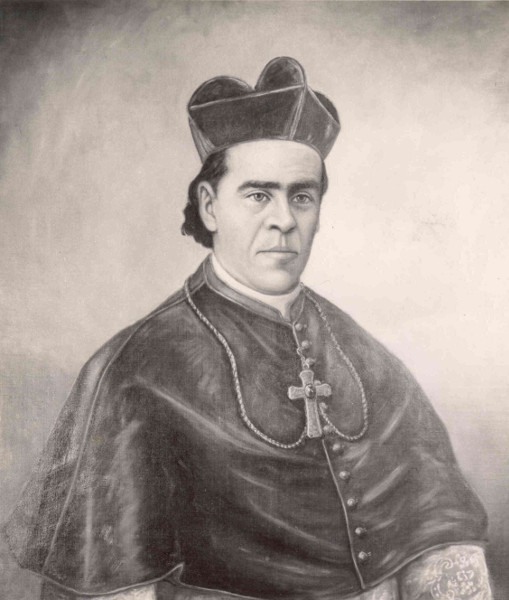 Bishop Peter F. Crinnon
Others would later find work on the Toronto, Hamilton and Buffalo(THB) Railway which had a switching yard, where Corktown Park is today.
Bishop Crinnon and the first pastor of St. Patrick's, Peter Lennon, lived in the diocese's first presbytery on Hunter St. at East Ave. The Catholic bishops of Hamilton have always given St Patrick's special attention in their ministrations.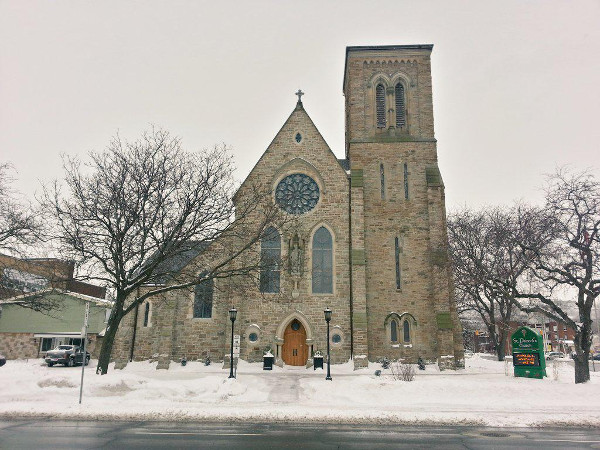 St. Patrick's Church, King and Victoria (RTH file photo)
In fact, from 1927 to 1933, St. Patrick's was the Cathedral Church of the diocese until 'Christ the King' Cathedral in the west end was constructed.
In summation, First Place at King and Wellington/Victoria is truly aptly named.
References
1. Edited by Bailey, Melville Thomas. Dictionary of Hamilton Biography, Volume 1. W.L. Griffon Canada,1981.
2. Campbell, Marjorie Freeman. A Mountain and a City: The Story of Hamilton. McCelland and Stewart Limited TO/Montreal, 1966.
3. Donovan, Dean. A Short History of St Patrick's Parish, 1927.
Post a Comment
You must be logged in to comment.