Rapid Transit 2.0: Toward a Successful Plan for Hamilton
We need to harness and re-invigorate the rapid transit planning process and send a strong message to the province that we get it, we want to stop sprawling and start intensifying in a serious way, we're all in on your vision for the region and are willing
By Chris Higgins
Published April 29, 2015
Dearest Hamilton, city I call home, your rapid transit plan sucks.
I mean, a lot of great work went into it over the last eight years, but it has clearly failed to capture the imagination of residents, the support of council, and the attention of the province.
I propose an intervention - a planning and thought exercise. One that can hopefully re-ignite the rapid transit file here. What follows is a long list of thoughts and strategies we can use to really make this project happen. They are broken out over 7 topics and are, of course, just my humble opinion.
Background
A State of Confusion
First, let's summarize 9 years of rapid transit planning in Hamilton since the McGuinty Liberals promised to build the the A- and B-Line LRTs: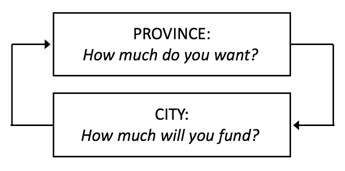 LRT funding circle
What has transpired is an apparent state of confusion among all parties.
On the province's side, it has been consistent in repeatedly noting that it would fund 100% of a rapid transit project for Hamilton.
Previous minister of transport Glen Murray said it, current minister of transport Steven Del Duca said it, Premier Kathleen Wynne said it, and the new provincial budget allocates money for 'rapid transit' for Hamilton with vague shading indicating it won't get off the ground for at least a few more years.
That is RT, not LRT or BRT. To affix a B or L to the RT, the province has made it pretty clear in the past that we need to decide what our priorities are. If we want LRT, they've argued that serious work still needs to be done to solidify the LRT business case.
On the City's side, it spent $3 million of provincial money to plan for LRT. A litany of reports were produced, many public consultations took place and the line was planned to a state of 30 percent - implementation-ready when funding became available.
Then in 2011, priorities apparently changed to focus on all-day GO service instead and all work on LRT outside of the minimum required by the province was suspended. Manager of the project Jill Stephen resigned for greener pastures shortly after, and her replacement Justin Readman followed suit in 2013.
Still, to make its case for LRT, the City submitted the 'Rapid Ready' report to the province back in 2013. Then this past January council voted to kill the Metrolinx-funded King Street bus lane pilot project, sending a nice signal about how suburban councillors in particular view transit in the core.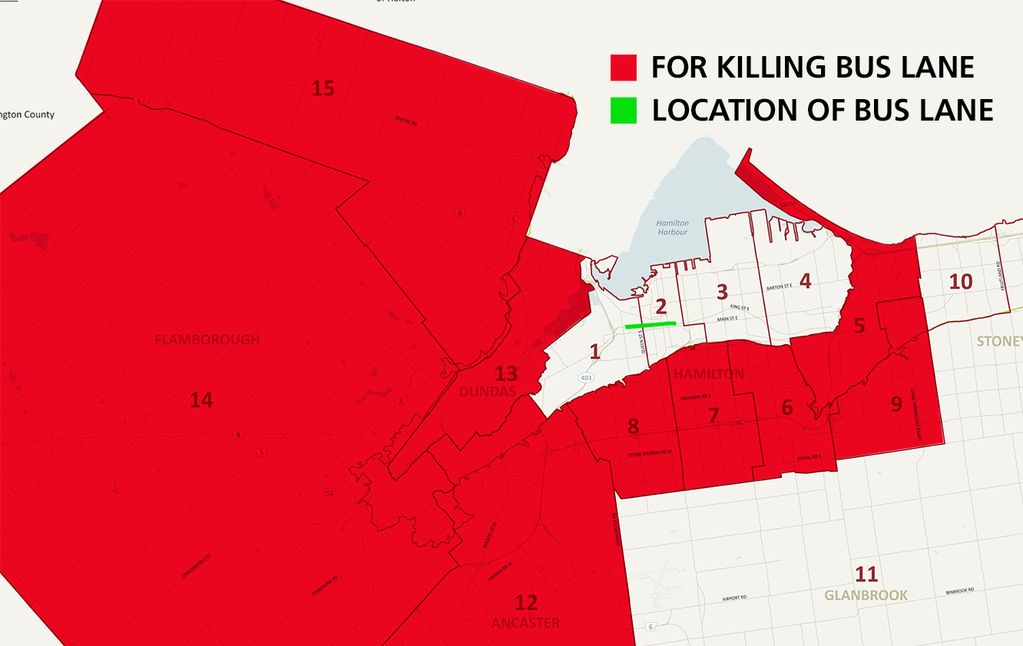 Vote to kill bus lane (Image Credit: Alistair Morton)
Then a week later it briefly seemed like things were finally moving on the file as Mayor Eisenberger left a meeting with Premier Kathleen Wynne stating that the province would fund 100 percent of the B-Line LRT.
But the Premier then followed up by noting that no specific commitment to LRT had in fact been made, and that the province would fund whatever option we decided.
Then, in March, council added a request for $300 million for new buses and a $200 million bus maintenance facility as part of a ten-year strategy to build ridership in preparation for rapid transit.
Besides coming totally out of left-field, the ten-year strategy has us in the paradox of arguing we need to increase transit ridership in preparation for rapid transit, all the while noting that ridership will not meaningfully increase until we have rapid transit.
Furthermore, the Mayor warned that this motion could be construed by the Province as an implicit willingness to defer the B-Line LRT, which by all accounts it has been.
Finally, the most recent development is that we are now deferring the rapid transit file to a Citizens' Forum to re-examine plans and decide on the best way forward, though terms of reference have not yet been decided.
The Province Moves On
In the time we have been dithering here, LRTs have been funded in Waterloo, Ottawa, Toronto, and now Mississauga and Brampton. And with the release of the new provincial budget, things really couldn't be more clear.
Basically, all indications from the province have been: Look, we will fund a project, just get your sh-- together Hamilton.
Given the complete lack of consensus surrounding the rapid transit file from council even with 100 percent funding, I can't say I blame them.
Just look, we have the 'Bad':
Councillor Rob Pasuta of Ward 14 in Flamborough says he opposes LRT even with full capital funding because his residents will end up paying to operate it: "as far as I'm concerned, we still need to wait and see if there's money."

Councillor Doug Conley of Ward 9 wants a transit system that benefits everyone, and he doesn't think LRT does. "It's 13 kilometres and it doesn't even take care of a lot of stuff we want to take care of," he said. "The LRT doesn't serve everybody."
Hey Doug, fun fact: the B-Line serves your ward! Check the maps further down.
And the Ugly:
Councillor Arlene VanderBeek: "My husband collects train sets. I can tell you that the train and the track are the cheapest part, and that's just toys. That's not the reality of transit for this city, which is so important."
While I am sure Councillor VanderBeek read the Rapid Ready LRT report front to back since taking office, she apparently missed this bit about utility costs being considered part of the project:
Preparatory Works: Includes the removal of existing pavement surfaces along the corridor for the construction of the guideway, relocation of signs, signal heads, controllers, etc. Also includes cost estimates to remove/relocate/install all structures for municipal services (water, sanitary & storm water) and the relocation of infrastructure for hydro, communications and gas.
Ward 5's Chad Collins is particularly incredible as the B-Line LRT would actually travel to his ward.
Councillor Chad Collins of Ward 5 ... doesn't want LRT even with full capital funding. Investment in GO Transit is a safer bet, he said, and he worries about the implications of LRT funding on improvements to the rest of the transit system.
Because why support rapid transit for thousands of riders when you can fight for rapid transit for hundreds?
[Collins] has become a vocal opponent since the fall election, saying his residents don't want it and that it will hurt business. He also took an active role in killing a two-kilometre downtown bus lane seen as a precursor to LRT. He said on Monday that the Eisenberger and Wynne news didn't sway him.
Apparently immune to irony or the consequences of his position, he continues to press the province for information on funding for a project he doesn't support:
@Kathleen_Wynne thank you for investing in Ontario municipalities, however can you please confirm what you've allocated for #hamont?

— Chad Collins (@Chad_Collins5) April 23, 2015
And
:
I don't know why they wouldn't just say "here's $900 million for Hamilton." I don't understand how all other communities have made submissions, and we've put in our submission and we still don't know.
Break the Cycle
How to get beyond this confusion? It is time to break the cycle. What follows is a high-level work plan for rapid transit in Hamilton.
Now normally the prudent thing to do is let the city's Rapid Transit staff do their jobs, but, well, who might they be?
Understand the Parameters
To start, let's look at some parameters informing my thought process.
Assumed Capital Funding
Our first parameter is an assumption of about $1 billion in available funding for Hamilton. It could be less, it could be more, no one knows.
But other regions and municipalities have secured that amount or more, and our present ask is for about $1.1 billion between the B-Line LRT and ten-year transit strategy.
The province, of course, has not committed to any amount. But I think the point is if we can come up with a solid business plan, they will fund it.
Emphasis on Regional GO Connections
When the mayor left his meeting with premier Kathleen Wynne, she noted that whatever project we build, the province would like it to connect to their new GO station on James North.
This is a reasonable request - a large chunk of the provincial budget for transit is focused on regional connections, and our two GO stations are urban and parking constrained, so using transit to feed them is entirely logical.
GO Service Adjustments
That said, there appears to be a renewed focus on the Hunter Street GO Station from the province.
The Bratina years were marked by a focus on attaining all-day two-way GO service at the James North GO Station by 2015. The station is on track to open, and the recent provincial budget process has revealed that electrified, all-day, two-way and 15-minute Regional Express Rail (RER) service would come to the Lakeshore West line, but only to Burlington GO station.
Instead, Hamilton would get four trains a day at James North and hourly service between the existing Hunter Street GO station with more trains during peak hours.
We're clearly left a bit out in the cold on the electrification and 15-minute service front. This is understandable, given the revised timeframe to implement RER and the fact that Metrolinx does not yet own track beyond Burlington GO.
It's disappointing nonetheless, especially considering the ambiguity surrounding RT in Hamilton. But the point is, there seems to be a renewed emphasis on the Hunter Street GO station as the primary connection point between Hamilton and the rest of the region, and this will have to be taken into account.
Rapid Transit Benefits
I will assume we are all well-versed in the potential benefits of rapid transit in Hamilton. If not, it is worth a re-visit to the city's old LRT website.
Note that the problems I have previously raised with such assumed benefits is the idea that they will accrue to Hamilton by virtue of LRT when instead they rely on supportive policy and planning (see below). Anyone who assumes LRT is a 'magic bullet' is kidding themselves.
Regional Planning
The province of Ontario is the de facto regional planner for the Greater Golden Horseshoe, and in my opinion they're largely doing a good job of it.
For Hamilton, the Greenbelt provides a boundary to urban sprawl, and the province has designated nodes and corridors in which we are to intensify to ensure the city grows in a responsible manner.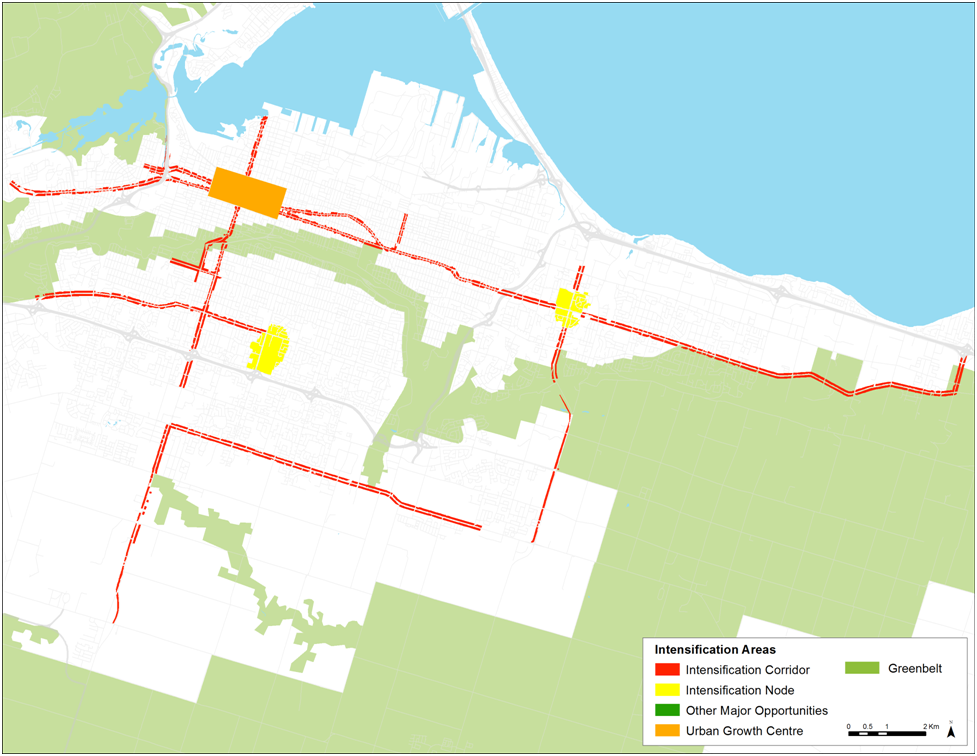 Hamilton intensification areas
While we have paid lip service to the notion of nodes and corridors, I argued in a previous RTH article that we have yet to take any real action to ensure higher-density, mixed-use, multi-modal, and pedestrian friendly growth occurs in these areas.
Given how serious the province is about growth planning, I suggest we come around to these ideas and implement them into policy. And do it now, not just contingent on provincial dollars.
Political Constraints
One of the first rules of Political Science is that the decisions of governments are partly outcomes of the institutions that made them.
In our case here, amalgamation made us a single-tier municipality. Like the City of Toronto, this means there is no second-tier regional municipality looking over us like the Region of Waterloo, Halton, Peel, York, or Durham.
The cynic in me has come to believe that this governance structure is in many ways incompatible with sensible long-range transit planning.
Essentially, with only ward councillors, the only voice for the whole city is the mayor, and given limits on mayoral powers in Ontario, he is just one voice among many on council.
In contrast, regional governments represent the best interests of the region as a whole. In the case of Waterloo, for example, LRT is being led by the regional government, which provides a layer of isolation from the intensely localized demands of municipal ward councillors.

Waterloo Regional reurbanization corridor
In Toronto, we can see how single-tier government produces divides along urban and suburban lines, resulting in projects like the Sheppard and now Scarborough Subways, vastly overbuilt for their suburban contexts while higher-order transit in the downtown goes sorely needed.
And just when you think progress is being made, another election cycle jettisons the previous plan.
In Hamilton, things are arguably even worse. Compared to Toronto's urban and suburban divide, we are amalgamated with urban, suburban, and rural areas! Is it any wonder we cannot effectively plan and implement future visions of this city in increments longer than four-year election cycles?
Spectator editorial cartoonist Graeme Mackay recently ran a startlingly accurate cartoon that sums up the state of transit planning in Hamilton, where the fiefdoms of ward councillors trump planning for the best interests of the city as a whole: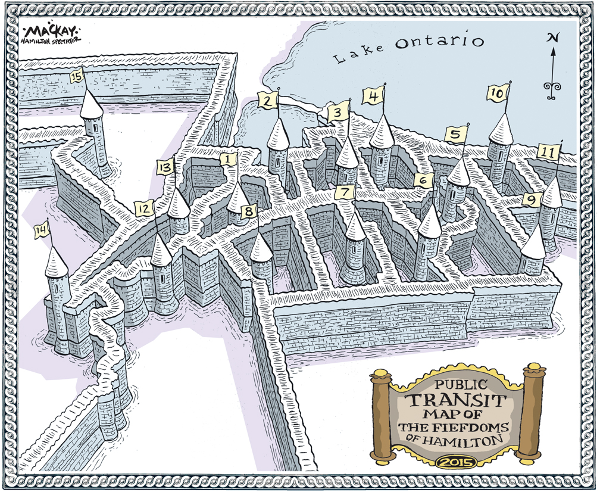 Public Transit Map of the Fiefdoms of Hamilton, 2015 (Image Credit: Graeme MacKay)
Given that this is the only government we currently have, our choices are: A) design rapid transit in accordance with these constraints; or B) de-amalgamate and go back to a Hamilton-Wentworth regional government.
I guess we could do both, but given my time on this earth is finite and I would like to be riding rapid transit sometime here in the near future, I proceed from an assumption that we've all chosen answer A in the short-term.
For 'Rapid Transit Planning in Hamilton 2.0,' this may mean working with a keen eye to how decisions are made by designing a compromise that can reach more parts of the city.
As the options later will demonstrate, bringing more areas of the city into the conversation may be able to generate increased support for rapid transit.
Still, bringing more wards in may not change the opinions of councillors like Chad Collins who oppose LRT even when the current plan traverses their ward.
Here this likely comes down to more fundamental issues of world view wherein despite potential benefits, rapid transit may be seen as a threat to an automobile-oriented status quo.
Also worth keeping in mind: in 2007, Dalton McGuinty made a promise for two LRT lines in Hamilton, one that many have raised in frustration with our current state of affairs.
But there is one problem with this promise: the areas in which the lines would travel still didn't vote for him. While we have Ted McMeekin, Hamilton has consistently voted in members of the opposition in the downtown and central and east mountain provincial ridings.
Now let me stress that I don't believe for a second that the province is not governing in the best interests of all of Ontario. But as a thought exercise, it might be worth starting from the assumption that if the governing Liberals are going to pour $1 billion into a NDP stronghold, there better be a good business case.
Ridership and Density: Business Case Confusion
The B-Line corridor is already relatively dense and in my analysis, compares quite favourably with other LRT lines around the region. Note that the particular dataset we are using for employment under-represents employment at McMaster, which should be quite high.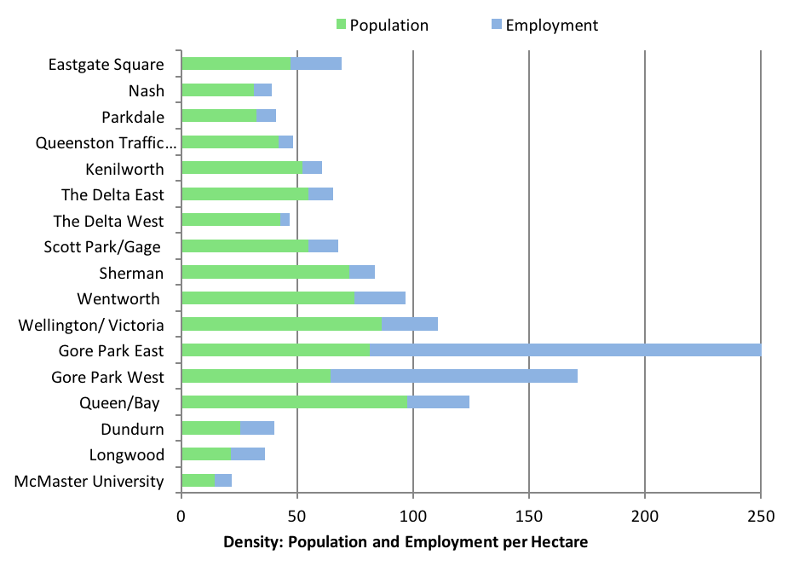 Density: population and employment per hectare, B-Line corridor
As for how such density translates into ridership, two seemingly contradictory estimates along the B-Line LRT have come out, and it is hard to understand just what is going on.
First, Rapid Ready argued that on day one, at 1,000 daily boardings per km of track, Hamilton's LRT would achieve levels of ridership comparable to LRT peers in the base case, and an absolutely stellar doubling of ridership to 2,000 as a day-one high estimate. By 2031 we would be on par with Edmonton.
Looks good, right? However, poring over the numbers that informed this chart (Appendix A of Rapid Ready, which themselves come from the 2009 IBI Group HSR Operational Review), the assumptions seem wonky and are based on the LRT taking different proportions of ridership from different bus routes, and I am not sure how daily boardings was derived.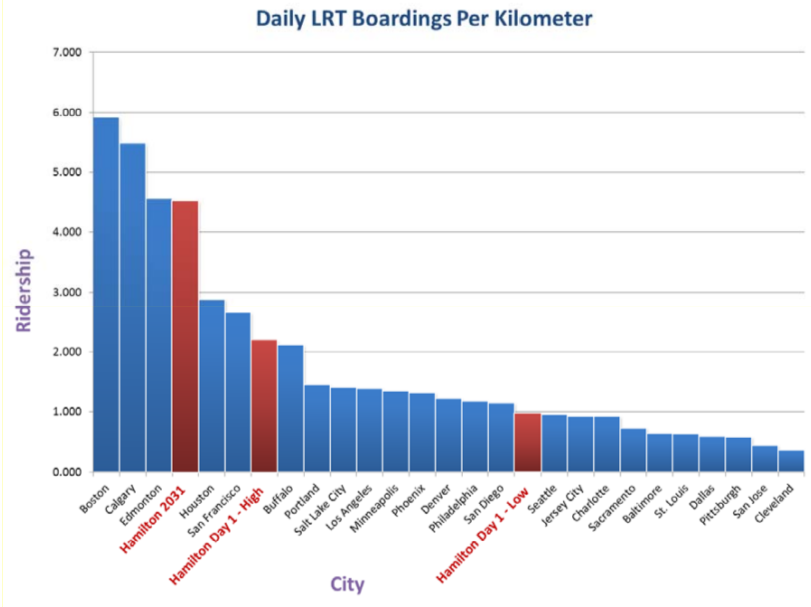 Daily B-Line LRT Boardings per Kilometre
This year, an opposite take came out from David Dixon's 10-year transit strategy presentation, where using the metric of passengers per peak hour, it was noted we actually have pretty dismal ridership along the corridor, barely worthy of BRT let alone LRT.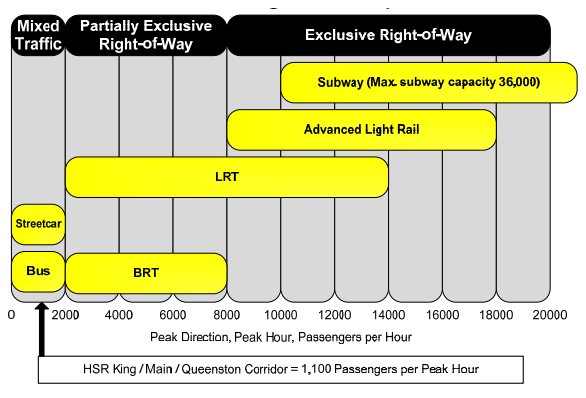 Chart: appropriate transit mode at various peak passenger levels
So what's the deal? Is the B-Line LRT, or any rapid transit for that matter, a non-starter along the corridor?
Again I have no idea if Dixon's numbers make sense, where they came from, how long of a corridor they are averaging over, and whether they are based on the same 2009 by-hand counts conducted by the IBI group. Furthermore, they always seemed odd to me as a frequent user of buses along the corridor, where I regularly encounter this: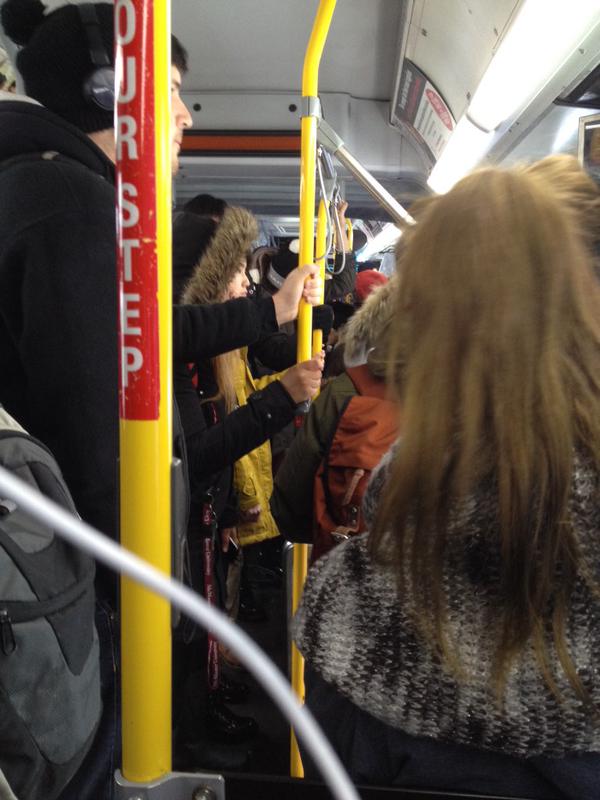 Not enough ridership!
Looking for some numbers that made more sense, I re-estimated where we stand relative to our LRT peers. Using the 2009 full-year ridership numbers for the 1-King, 5-Delaware, 10-B-Line, and 51-University buses in Appendix A of Rapid Ready, I assumed all these lines would be incorporated into the new B-Line rapid transit.
Unlike the city's estimates in Rapid Ready, I left out the Stoney Creek lines and assumed no additional by-choice riders would be attracted. This results in a little more than 8.5 million annual riders along the corridor. Numbers for other cities are from 2014.
Where do we fall compared to yearly ridership totals for other LRT systems? Are we that dismal?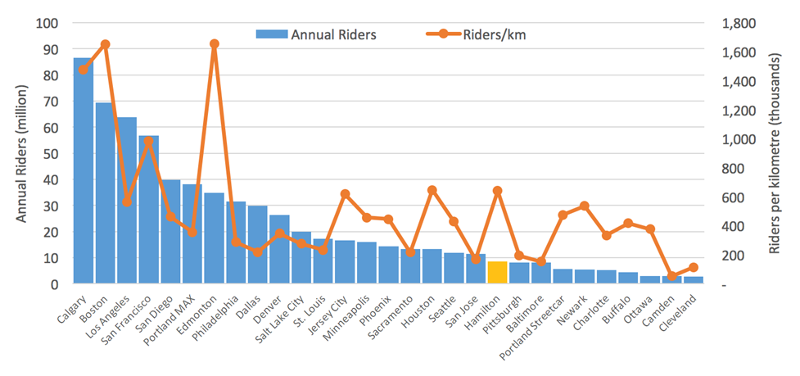 Annual riders and riders per km for various cities
Well, the B-Line RT would fall about 20th among all 29 US and Canadian LRT systems, somewhere between San Jose and Pittsburgh. Not bad.
But this of course is an absolutely meaningless statistic, as many cities have much larger LRT systems and thus can attract more riders. Normalizing it by the length of each system provides a standardized view of annual ridership performance. Sorting by this, the results are telling: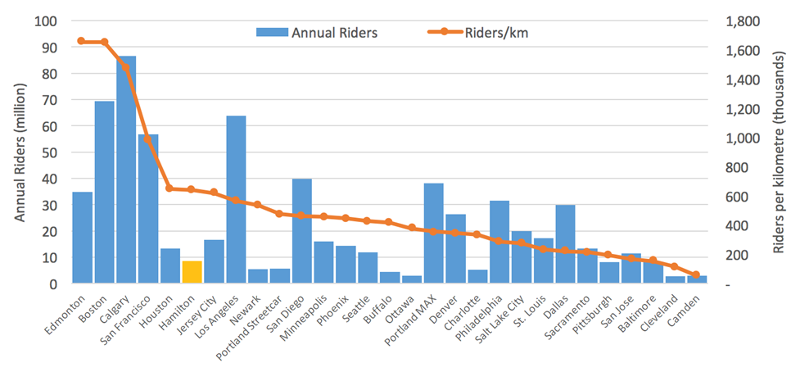 Riders per km and annual riders for various cities
Here, assuming a 13.4 km rapid transit corridor from planning documents, Hamilton's B-Line corridor boasts the sixth-best ridership per kilometre.
Sixth-best. Absorb that for a minute.
Never mind smaller peers like Charlotte or Minneapolis, that is better corridor ridership performance than cities like Los Angeles, San Diego, Dallas, and even LRT poster-child Portland.
And this is just base ridership from 2009, which is before the McMaster U-Pass came into effect.
As for what that means for Dixon's ten-year transit plan numbers, either the IBI Group's counting kids were wrong, or some more explanation is needed.
Decide on an Alignment and Technology
The next task is to decide on an alignment and the transit technology to serve it. The way I see it, we have a few options.
Option 1: B-Line LRT with Spur
First is the B-Line as LRT.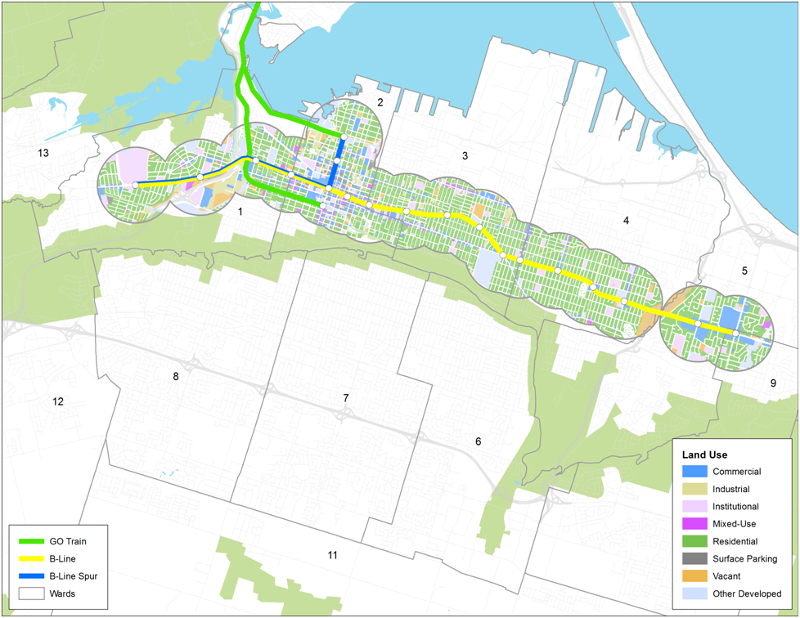 B-Line LRT
The strengths of the B-Line are the corridor itself - high ridership, medium-to-high density, and many important trip generators along the line, from the downtown core to McMaster, the stadium, and Eastgate Square.
A new spur also connects the B-Line to the James North GO station as recommended by the province, though the Hunter Street GO station still lacks a direct connection.
Tight urban context along James Street and the International Village mean the LRT most likely runs in mixed-traffic like a streetcar. Using King for the LRT also allows automobile traffic in the eastbound and westbound directions to continue to use Main and Cannon respectively.
Compared to buses, LRT technology also maximizes the potential of the corridor to attract new riders and economic development, so long as the other steps related to supportive planning outlined later in this document are followed.
Downsides from a single-tier municipality point of view are that the B-Line only has stations in 6 wards - 1-5 and 9, which has resulted in some arguing that it does not benefit the whole city.
Still, the conditions along the B-Line mean LRT can be a home-run for Hamilton. If we are going to build one piece of infrastructure, this is clearly it.
But if we are really going to press reset on the rapid transit planning process in Hamilton by way of a citizen's panel, it is worth considering some of our other potential options.
(Sidenote: we could, and probably should convert Main, King, and Cannon to two-way traffic, but I don't see a cost-effective way of doing that as part of this project, given the massive costs involved in re-engineering the Highway 403 ramps. And they were just re-constructed. So unless there is a better idea, I think they will have to stay for now. Also, I don't think they are necessarily incompatible with urban and pedestrian friendly environments; many pedestrian-oriented cities have one-ways and work just fine. Instead, given our constraints, more complete streets and less parking downtown through TOD (see below) should be viewed as another way to solve the localized problems associated with these streets.)
Option 2: B-Line and A-Line BRT
The second option is BRT. For the B-Line, BRT has all the same parameters as Option 1 above, minus the extra kick that comes from the intangible (but proven) 'sexiness' of LRT, as well as higher operating costs from lower capacity and additional corridor pollution from diesel buses.
Nevertheless, we can't diminish the fact that BRT can provide exemplary rapid transit service and does so in many cities around the world.
But given the parameters we are working from, I see no reason to go to a BRT-only B-Line, aside of course from cost savings for the province. If we are going to build one corridor, it should be LRT.
I do however support the B-Line as BRT, conditional on also constructing the A-Line at the same time. If we can get two lines of BRT for the same capital expenditure as it would take to build just the B-Line as LRT, that would be an interesting proposition: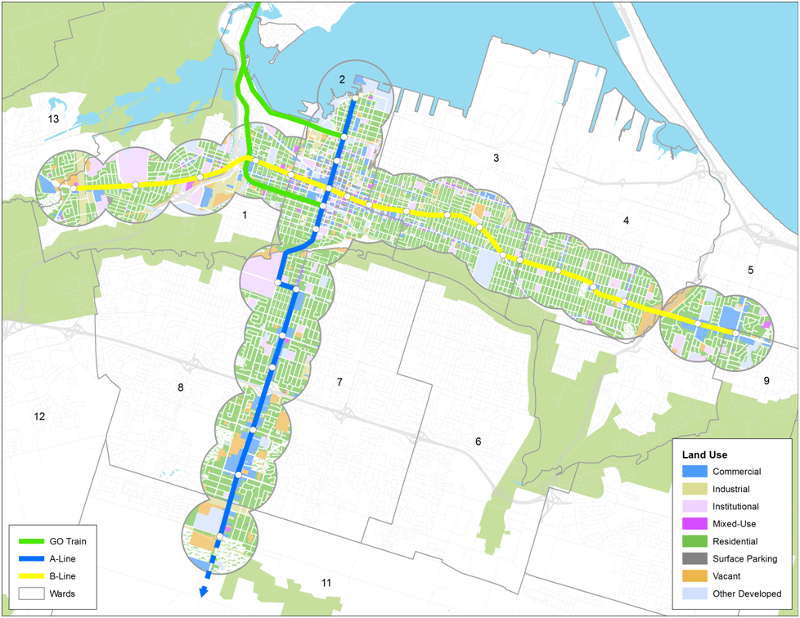 B-Line and A-Line BRT
Such a plan achieves many goals: the B-Line works from its strengths in the lower city and could potentially be built right to Dundas.
To facilitate a shift in parking, I have extended the line westward one stop where park-and-ride service could be provided in the hydro lands west of McMaster. Similar park-and-ride roles in the central and east end can be played by sharing parking at the stadium on non-game days and at Eastgate Square (more on this below).
The A-Line, on the other hand, connects to both GO stations, the airport, Mohawk College, and the new developments that are slated to occur on the waterfront.
However, ridership on the A-Line is significantly lower than that of the B-Line, meaning headways will be longer to keep the service more cost-effective.
Note that while here I have the A-Line extending to Twenty Road, which is essentially greenfield, it would most likely stop at Rymal Road with only periodic service to exurban areas and the airport until demand grows.
But as a blank slate, greenfield also provides an amazing opportunity: master-planning this station area as a suburban TOD community integrated with the A-Line can create a sorely-needed anchor node and demonstrate our vision for creating more sustainable suburban development in the future.
Also worth noting, the Mountain Transit Centre storage yard is just a little bit further down the road, so A-Line buses will likely already be going there anyhow.
The A-Line in tandem with the B-Line can also impact congestion, something many here have cited as their primary lack of interest in B-Line transit.
One of the worst bottlenecks in our transportation system is at the intersection of the Lincoln Alexander Parkway and Highway 403 in the AM and PM peak, and many travellers are using this route to travel to jobs in the downtown and the west end.
Rapid transit and park-and-ride facilities can shift some of this demand to transit, potentially relieving some of this congestion.
To summarize, what emerges from this option is the start of a network of rapid transit across the city, the benefits of which can outweigh the downsides of BRT. And from a local political perspective, the addition of A-Line service brings more wards into the conversation, particularly those on the mountain.
There is precedent for such action. With the help of the province and Metrolinx, York Region is presently active in constructing two full dedicated-lane BRT lines (37 km at a provincially-funded cost of $1.4 billion) branded as 'VIVA Rapidways', and aside from tracks the service can be similar to LRT: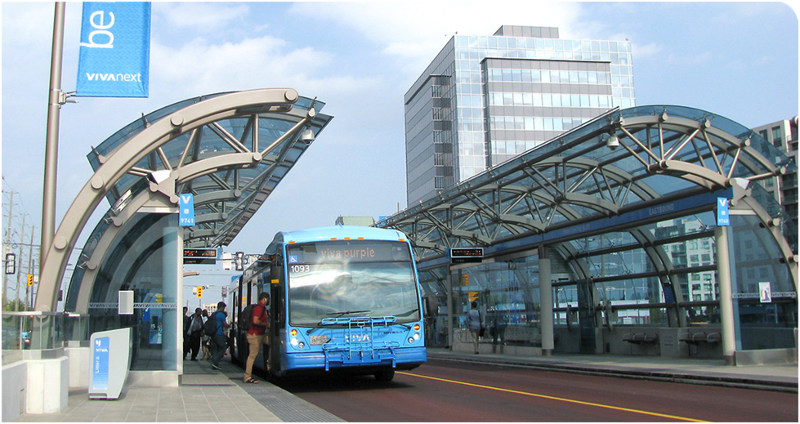 VIVA BRT rendering
In terms of cost, the Metrolinx King-Main Benefits Case estimated the cost of the full B-Line BRT as $220 million in 2010. Assuming the A-Line is similar, this suggests both could be constructed for less than the $750-850 million cost of the B-Line LRT.
Furthermore, what is confusing about all of this is that our additional $300 million ask to the province tacked on to Rapid Ready - for 25 new buses and a storage facility - is basically asking for the key pieces of BRT, but without any actual rapid transit planning. For comparison's sake, Metrolinx estimated we would need 36 buses for the B-Line BRT.
Option 3: A- B- and C-Line BRT
If we are really going to go the multiple-line BRT route, I think this is the option we should press for: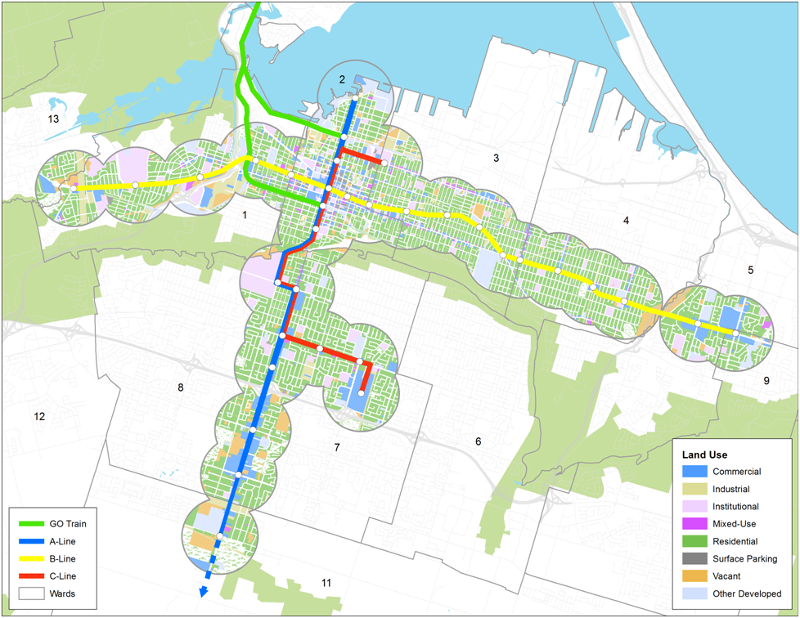 B-Line, A-Line and C-Line BRT
Call the lines whatever you want - red, yellow, and blue, 1, 2, and 3, or A, B, and C (something better than BLAST?). With only a few minor changes, we can maximize the potential of the A-Line corridor by sharing it with additional service to Limeridge Mall (which is designated as an Intensification Corridor in provincial and local planning) and Hamilton Health Science's growing hub of medical activity around the General Hospital on Barton Street.
The greater demand that results from these connections would also allow headways on the main trunk of the A- and C-Lines to be increased.
If Option 2 above leaves money to spare compared to the B-Line LRT, this option is both cost-effective, maximally-connected, and hopefully politically appealing for residents and council.
And lest you think I am making it all up, the core of this option was outlined on Page 34 of the original Rapid Transit Feasibility Study (PDF) - I have just added a no-brainer spur to Barton and moved it and the Limeridge link to a separate line.
Option 4: Hybrid Model
As a final option, let's consider a hybrid model that builds both the B-Line as LRT and the A-Line as BRT.

Phased B-Line LRT and A-Line BRT
The phased option for LRT along the B-Line corridor has existed for some time, and was given prominent billing in both the Metrolinx King-Main Business Case Analysis and its cover letter [PDF].
But I would again argue that by omitting stations east of the Queenston Traffic Circle, savings on LRT should be used to build the A-Line BRT. Express or traditional bus service can connect the remainder of the B-Line corridor to the LRT. Stations west of McMaster and at Twenty Road can also be omitted if need be.
It makes sense from a cost perspective - in the Metrolinx BCA, the phased LRT has a cost of $655 million, leaving $345 million from our hypothetical $1 billion to fund the A-Line as BRT. From that, I would argue that if there is enough money left, we should do the phased B-Line LRT and both the A- and C-Lines as BRT depicted in Option 3.
Even if it is just the B- and A-Lines, this whole plan is a good compromise: LRT where it can have the greatest day-one impact, and the A-Line to connect it to the mountain, Mohawk, both GO stations, and the waterfront.
And the plan still reaches a number of wards, though 5 and 9 lose their stations. But as noted in the introduction, their councillors never wanted them anyway.
Option 5: Bare-Bones Phased LRT
One last option to be considered is the least ambitious of all: LRT from McMaster University to the James North GO Station. Note the original plan detailed below was for McMaster to James Street - I have amended it to reflect the premier's emphasis on a GO connection.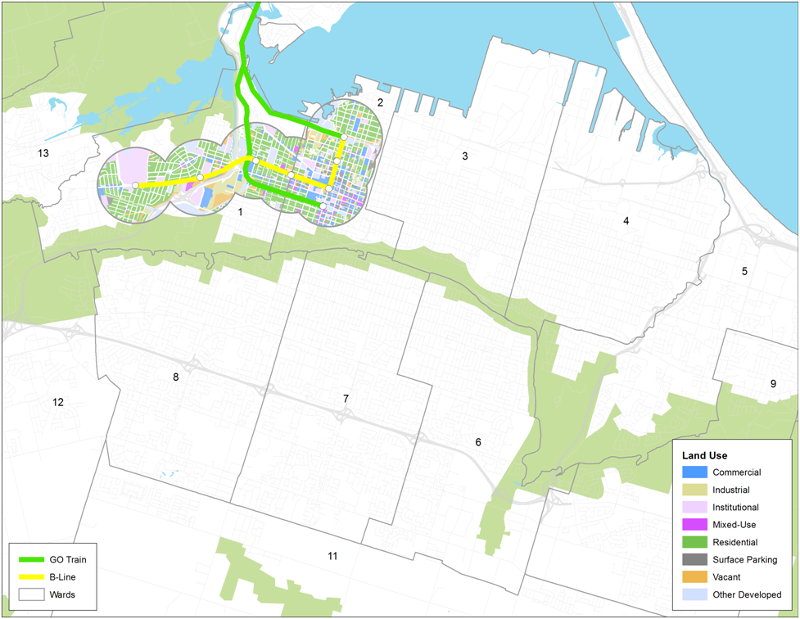 Bare-bones phased B-Line LRT
It may seem like this is a non-starter given the parameters I was basing this discussion around, but the idea has had some traction in the past. This is primarily seen in Jill Stephen's 'secret' memo in 2010, where talks were underway with Metrolinx to build this section of LRT in time for the 2015 Pan Am Games. To paraphrase the text:
We also spoke about the Pan Am/Para Pan Am Games and how that could factor into the decisions around rapid transit in Hamilton. John (Howe) introduced the idea of a hybrid decision and we discussed how Pan Am could be a catalyst for a funding decision ... We then spoke about the construction critical path ... This is when the statements about a phased LRT system for Hamilton were made. The phased system would run from McMaster to James Street and be in place in time for Pan Am.
If only... But as Jill's memo goes on, it is apparent that this plan fell by the wayside in favour of providing Hamilton with $3 million to design and engineer the B-Line LRT while waiting for further action. Said action has still not occurred in the 5 years since.
Despite its limited ambition, if it came to a matter of phasing, we could still do this in tandem with a B-Line BRT on the rest of the route and an A-Line BRT to MacNab transit terminal and gradually build out the rest of the network from there.
Enact Supportive Planning
Picking route options is the fun part, but this is where things get serious. Any choice must be supported by planning and policy. Non-negotiable. And the sooner you enact them (in advance of RT because we still presently have regular 'T'), the better.
Transit-Oriented Development
Planning for higher density, mixed-use, and pedestrian friendly development on Complete Streets is what we need to solidify the case for rapid transit here in Hamilton and to ensure it maximizes its return on investment.
It is easy to look at the successful examples of other cities with LRT such as Minneapolis, Portland, Charlotte, or Calgary and assume things here will be the same.
But the major conclusion from our 2012 LRT report for the city was that to achieve such success, rapid transit needs to be supported with complimentary land use and transportation planning to promote transit-oriented development (TOD).
Here is a picture worth a thousand words in explaining TOD around an Edmonton light rail station:.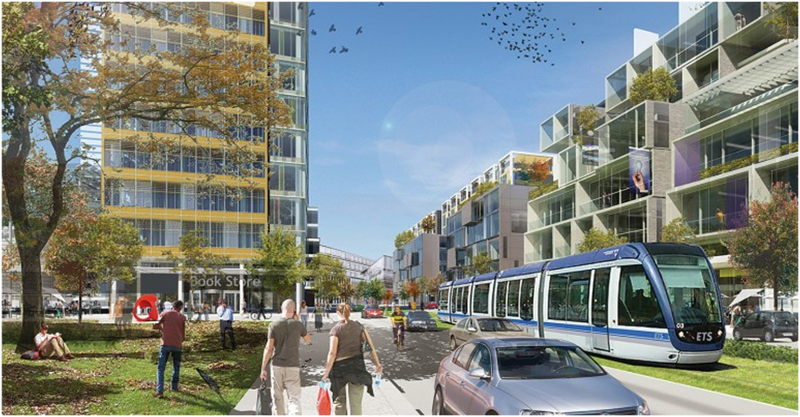 TOD around Edmonton LRT station
I have written about this in the recent past in an article lambasting the city for focusing on only one-half of the symbiotic relationship between transportation and land use in the Transportation Master Plan Review Review, so I won't repeat the core arguments here.
I will point out that our competitors have taken this aspect seriously: Brampton and Mississauga are both actively engaged in corridor planning with Brampton about to implement zoning changes to make TOD a reality, and Waterloo region has an aggressive growth strategy that heavily emphasizes intensification alongside its ION LRT.
In recent US examples, those that receive federal funds for LRT must engage in TOD planning. So comparing expected results here against those cities while not doing TOD ourselves is going to lead to disappointing results.
Transportation Demand Management
Shift parking supply from the downtown core to transit stations.
There are many policies that can be adopted to alter transportation demands, such as time-of-day and distance-based fare pricing, and I outlined many of them in our MITL LRT report (PDF). For now I want to just reiterate the issue of parking.
In an earlier article, I produced this depressing map showing that ¼ of the surface area in our downtown core was is dedicated to parking.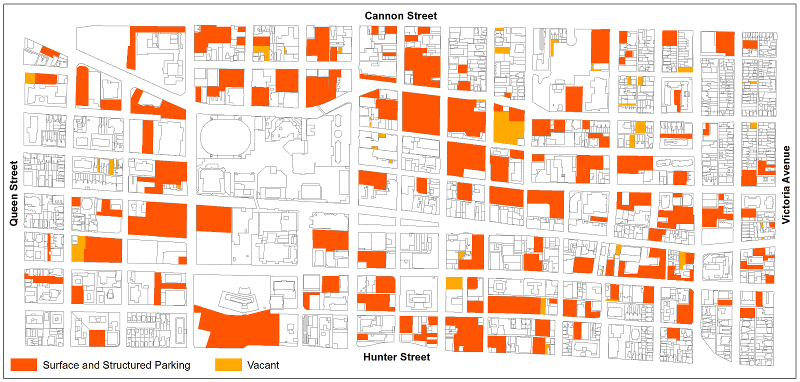 Downtown Hamilton Parking (click image to view larger
In the interest of producing a larger and more diversified tax base, this trend needs to stop and more productive uses of this land need to be found.
Astonishingly, the MMM Group recently determined that we need greater parking supply, and the CBC reports that City staff are in preliminary discussions to build more parking in the downtown core.
Thankfully, rapid transit can be a fundamental tool for shifting parking supply outside of the downtown core.
This is the exact strategy used by Calgary, and as the ridership numbers above have shown, this has paid off handsomely. The city has a vibrant downtown and actually boasts a transit mode share for downtown trips greater than 50%, which is unheard of.
To accomplish this, park-and-ride lots can be created at key rapid transit stations like my addition of a station west of McMaster in Options 2-4. Parking can also be shared among existing developments, such as Eastgate Square and at the stadium on non-game days.
Still, the wealth of cheap parking downtown means this strategy may not work in the immediate term. But swaths of vacant land and the zoning measures above should lead to greater development in the downtown core, reducing parking supply there and driving up the cost of spaces that remain, which in turn should lead to greater rates of utilization for park-and-ride facilities and ultimately increased transit ridership.
Integrated Transit Service Network
Rapid transit presents an opportunity to create a hierarchical network of rapid, express, and local transit that can improve service across the whole city.
There is a crucial opportunity to view rapid transit as the backbone of a redesigned transit system that can benefit the entire city. But this was a major factor not championed by previous planning efforts in Hamilton, resulting in many arguing that the B-Line only improves transit along its small corridor and does nothing for them in outer areas.
This should be incorrect as buses on the rapid transit route can be reassigned. However, the Rapid Ready report took the view that in addition to the B-Line LRT, the 1-King, 5-Delaware, and 51-University buses would actually continue to operate alongside the LRT.
This should not be the case moving forward, as B-Line rapid transit can accommodate these riders.
Existing bus routes need to be re-aligned to act as feeders to the rapid transit corridor. In the case of LRT this can mean freeing up buses to travel on other routes.
Furthermore, these routes can also be redesigned to act as either express or more local routes. This is the exact tactic adopted by the Region of Waterloo, where a system of local buses feed into express routes that then feed into the ION LRT.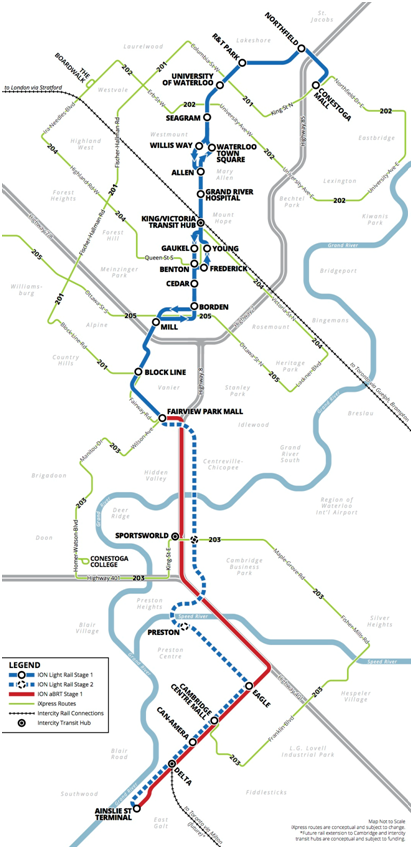 Waterloo ION LRT route and feeders
The end result would mirror something like this map conceptualized in the Rapid Ready report.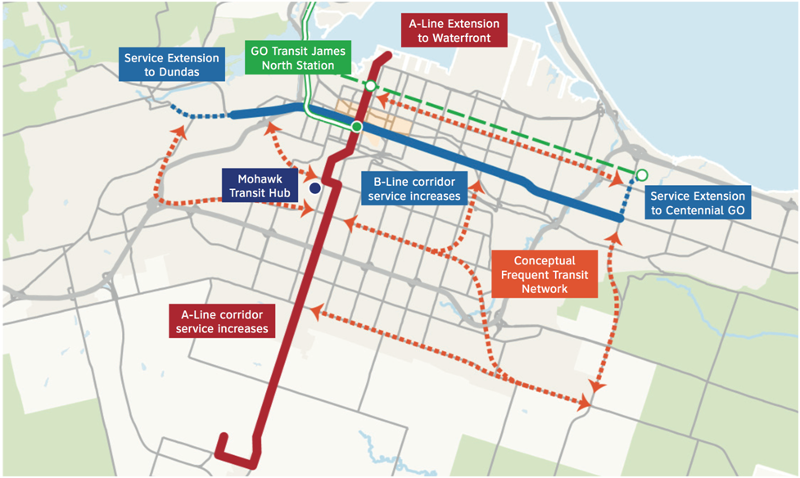 Rapid Ready BLAST network
Essentially, no matter which option we choose, this means using rapid transit as a catalyst for creating the rest of the BLAST network as express bus services to support it.
Contribute Local Funds
This is where things get interesting, and before you immediately balk, hear me out. To show the province we are serious about transit and jump to the front of the pack for funding, we should contribute local dollars to the project.
This can mean city funds, but a better strategy is to solicit external funding from other parties that benefit from rapid transit.
Around the world, many transit agencies have been proactive in using the benefits of transit to secure contributions from external stakeholders, whether through private-sector construction of transit stations that would provide their developments with thousands of new potential customers, to monetary contributions to help see a project come to fruition.
In Detroit, for example, that city's M-1 LRT project is actually being led by a consortium of private-sector companies.
As a Hamilton example, rapid transit connections can save Hamilton Health Sciences and McMaster from having to acquire additional land to build parking. Realizing this, an argument can be made that they could in turn contribute use some of these savings to contribute to the project.
The same goes for the city - shifting parking demand outside of the downtown can save the city from building the costly new structured parking garage the MMM Group said we will need in the near future at a cost of $20-23 million. Dedicate these tangible savings to rapid transit.
Outside of external private and public-sector stakeholders, meaningful local contributions can also be raised through land value capture.
Everyone likely has heard about how LRT can increase land values (not magically but with supportive policy). Metrolinx estimated that the B-Line LRT could produce total property value uplift of $144 million, while BRT could produce uplift of $77 million.
As part of my thesis, I revisited this type of analysis. Using 2004 parcel-level assessed values (all we could access), I inflated them to 2014 values using Teranet's Hamilton house price index.
From there, I developed a few uplift assumptions. The first assumed no supporting policy - just the B-Line LRT. Depending on the station, this could raise values for residential properties by 3-4%, condos 3-5%, commercial 3-7%, and vacant 4-7%. These rates declined over distance to reach zero at a distance of 550 metres from a station.
The second assumed a two-way street conversion that increases the value placed on transit accessibility, as well as some TOD land use planning that begins to create a more vibrant downtown and constrain parking supply. Together these measures increase uplift to a maximum of 8% for some properties. Higher rates can certainly be achieved through more aggressive policies, but let's see the exercise through.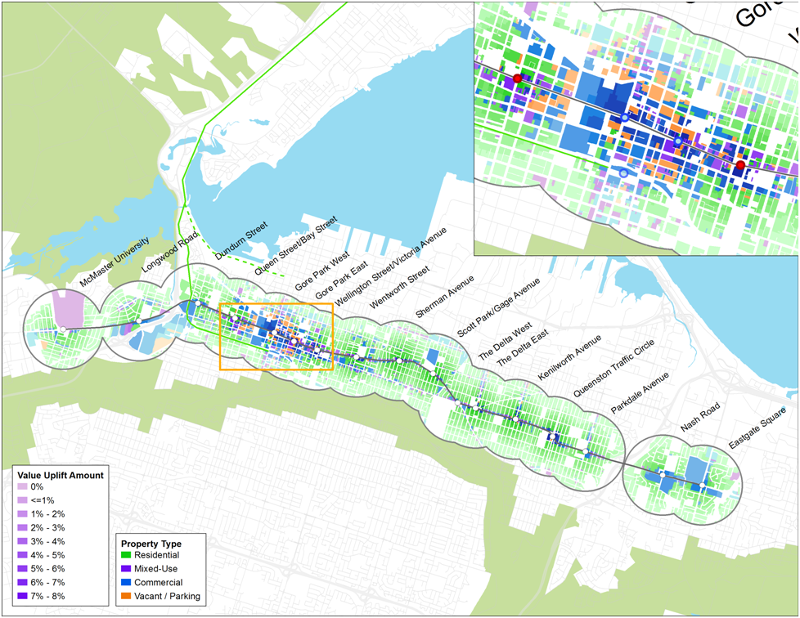 LRT value uplift
The end result of these scenarios is total land value uplift of $89.71 million and $158 million respectively. These numbers are just estimates based on some broad planning assumptions, so it is just illustrative of what we could shoot for. But similar uplift amounts have been seen in other LRT station areas around North America.
From here, the question is really what to do with these increases in land and property values. Assuming the total amount collected by the city remains the same, the nature of municipal taxation is such that any increases in values, and thus increased taxation in one area, should be offset by lower taxes somewhere else.
Basically, higher land values that result from the public investment just result in greater profits for private homeowners.
Tax-Increment Financing provides a way to capture the increases in land values that come from rapid transit directly and use them to pay for the project. Essentially, a TIF district is created around a new station encompassing properties that benefit from the project.
Any increases in land value caused by the project - the tax increment - are then dedicated to a special fund for a defined period of time to pay off any debts incurred by the project, after which the full taxable assessment of these properties is released back into the city's general tax base.
This process is depicted below.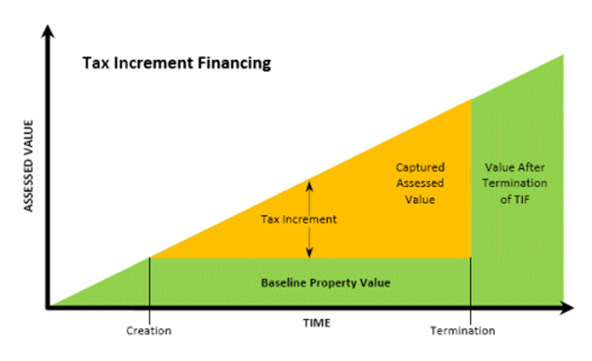 Tax increment financing
With this understanding of the potential for TIF districts to generate local revenue and the ways in which we can increase this revenue through TOD planning, there is a rationale for exploring the imposition of TIF districts to raise local funds for rapid transit in Hamilton.
Much the same as John Tory is attempting to do for the SmartTrack project in Toronto. Special Assessment Districts and joint development on city-owned land can also capture value, but these are topics for another day.
The point is, these tools are out there, we just need to get past our stubborn refusal to think outside the box. In order for TIF districts to work though, land values must increase from the project, so it is in our interest to pursue planning measures to ensure rapid transit generates the maximum possible return on investment.
Understand PPP Construction and Operations
One additional area I want to cover concerns the construction and operation of rapid transit projects in Ontario as Public-Private Partnerships (PPPs or P3s). This is the Alternative Financing and Procurement model followed by Infrastructure Ontario.
Essentially, it means that a rapid transit line in Hamilton will be designed, built, and potentially operated and maintained by a private sector company.
The private partner finances the project itself, helping to ensure that the project is built on time and within-budget. The public sector then pays for the project over a period of time, typically 30 years.
This is how LRT projects are proceeding in Waterloo and Ottawa, and to some extent Toronto. In Toronto's case, I believe they negotiated to have TTC employees operate the Eglinton LRT.
Below is the payment schedule for the Ottawa LRT, where $2.1 billion is to be paid to the PPP provider from 2011 to 2048 as project milestones are achieved.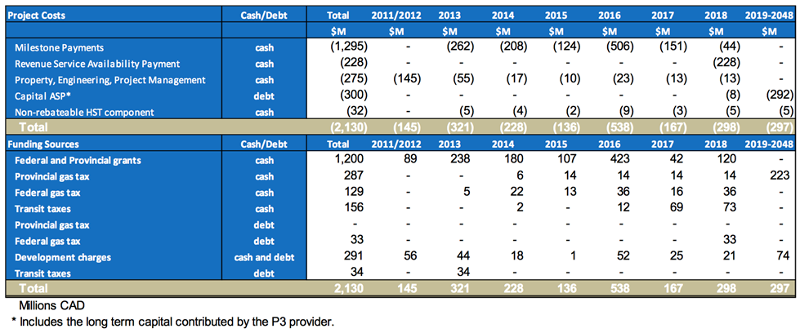 Ottawa LRT repayment schedule
This type of arrangement will almost certainly be the case here, and is why the current B-Line LRT is designed to a state of 30% - the private partner finishes the design and constructs the project. To my knowledge, this characteristic of the project has never been raised locally.
Essentially, there is the potential that the HSR will not operate the line, though it will be integrated with local service, and looks like this can be negotiated. Furthermore, it may be that if the city were to contribute local funds they could be paid out over a long period of time.
Again I am unsure how this would all come together for rapid transit in Hamilton, but it is worth looking into the implications of this model in greater detail.
Get Serious about Data Collection
There are two types of policymaking - evidence-based and opinion-based. When you don't collect data for policy formulation and policy evaluation, you cede the discourse around a project to opinions.
Of course, data does not always lead to evidence-based policy, as some councillors may still vote against projects even if their own survey indicates support for it.
But the point is, we need to do a better job locally of collecting information for policy evaluation. This is particularly important for pilot projects like the bus lane, Cannon Street bike lanes, complete streets, or urban changes that are sure to draw the ire of suburban councillors.
For transit, I am unsure whether our buses have them or not, but automatic passenger counters have existed for a long time and can provide accurate counts of bus ridership.
If, like was the case with the IBI Group's HSR Operational Review, manual counting using some people with clickers is really all we still have to base our long-range planning on, this is completely absurd and needs to change.
Any investment in rapid transit will need to demonstrate it is a worthy one, so please - make sure we are getting the right data going forward.
Get some Rapid Transit Planning Staff
Finally, get some rapid transit planning staff, or at least give whoever is doing it now greater power and visibility.
To make RT 2.0 in Hamilton work, greater public engagement and communication is required and more planning needs to be done to make a solid case going forward. This includes having the rapid transit project lead to actual changes in land use planning, preferably sooner rather than later.
I think accomplishing this will mean removing the RT file from the institutional behemoth that is Public Works and creating a rapid transit and associated TOD planning office where it should be: Planning and Economic Development.
The project is too big, too important, and too potentially transformative to be considered merely transportation infrastructure.
We have a ton of work left to do in Hamilton to really get rapid transit off the ground and ensure whatever we build achieves maximum return on investment. All of this demonstrates to the province that we are serious.
Conclusion
How to conclude? It is readily apparent that the state of confusion in Hamilton is real and that we are soon to forward the issue to a citizen's panel for further study. Part of the problem is ambiguity from the province, but given how we've handled the file locally, I can't blame them.
How to fix it? A few years ago we wrote in the MITL report that LRT in Hamilton would be a long, challenging, and potentially costly process and later I got called out for another piece arguing LRT would be no magic bullet.
But this is the story in basically every city, and we have no reason to expect otherwise here. 30 cities around North America have built LRT systems, and in no case was it a magic bullet for all their ills. I'd like to think we've learned something from the Detroit People Mover and the monorail on 'the Simpsons'.
In that report and other works since then, I have tried to point out that the planning process here was already lacking, and going into RT blind on issues such as transit-oriented development would lead to potentially sub-optimal results. It is intended to be a call to action: Look, if we are serious, start doing these things.
Now I am no supreme authority on rapid transit. But the budget has prompted me to collect all these thoughts in one place in the hope that they can help contribute to snapping ourselves out of this confusion.
To move rapid transit forward here will take work, vision, and political will. It will be difficult. It may even be impossible given that our single-tier municipality seemingly guarantees that long range planning occurs according to four-year election cycles.
One hope is the citizen's panel process, where it may very well be that the best project (LRT) gives way to a more pragmatic one that can work within the constraints of our existing system of municipal government. On the other hand, if the current project survives, it will be all the better from going through this process.
But whether it be it LRT or BRT, I hope the steps outlined here will be considered. Some may be particularly appealing for council, like choosing a new alignment.
But if the provincial budget has given us a wakeup call, we need to do all of these steps to end up with a project that is planned for success locally, and one that is so thought-out and in line with provincial objectives that they cannot hope to ignore it.
Across Ontario, other cities are doing these things, creating a solid business case for their projects, and are having them funded.
Like them, we need to harness and re-invigorate the rapid transit planning process and send a strong message to the province that we get it, we want to stop sprawling and start intensifying in a serious way, we're all in on your vision for the region and are willing to act on it.
We just need the right tools for the job and rapid transit is essential for achieving our future as an ambitious city.
But on the other hand, if we look at things and decide it is too much work, that we are the status-quo city, that is fine too. At least the confusion will end and we can all watch as our tax dollars go to transit projects in other cities.
Post a Comment
You must be logged in to comment.