Dangerously High Vehicle Speeds Recorded on Hunter
The fact that half of all drivers exceed the speed limit and maximum speeds of 70 km/h were observed at all times of the day indicates that we do have a very serious and dangerous speeding issue here.
By Nicholas Kevlahan
Published June 11, 2015
this article has been updated
For two weeks from May 18 to May 31, 2015, the City of Hamilton had a mobile speed radar and display mounted on Hunter Street just east of Park Street.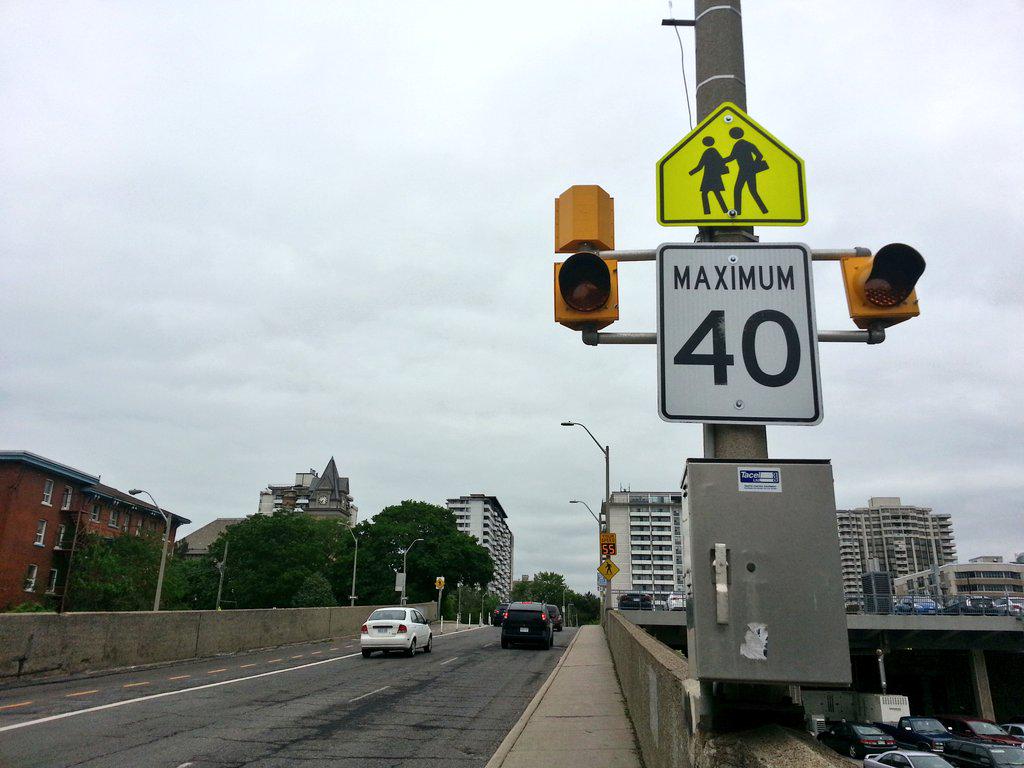 Speed limit (foreground) and speed limit radar (background) on Hunter (RTH file photo)
On request, the City provided a high-level summary of the results via an image of a table listing the total number of recorded cars for each five-kilometre range of speeds.
Here is the table, with daily average and percent of total added:
Hunter Radar Summary

| Speed (km/h) | Total | Daily Avg | % of Total |
| --- | --- | --- | --- |
| 1-5 | n/a | n/a | n/a |
| 6-10 | 1,673 | 120 | 2.26% |
| 11-15 | 2,290 | 164 | 3.10% |
| 16-20 | 2,926 | 209 | 3.96% |
| 21-25 | 4,912 | 351 | 6.64% |
| 26-30 | 5,638 | 403 | 7.62% |
| 31-35 | 6,612 | 472 | 8.94% |
| 36-40 | 13,981 | 999 | 18.90% |
| 41-45 | 18,205 | 1,300 | 24.61% |
| 46-50 | 12,152 | 868 | 16.43% |
| 51-55 | 3,780 | 270 | 5.11% |
| 56-60 | 1,417 | 101 | 1.92% |
| 61-65 | 307 | 22 | 0.41% |
| 66-70 | 63 | 5 | 0.09% |
| 71-75 | 22 | 2 | 0.03% |
| 76-80 | 3 | 0 | 0.00% |
| Total | 73,981 | 5,284 | 100.00% |
David Ferguson, a Transportation Manager in the Public Works Department, added a few more details:
The average 85th percentile speed was 49 km/h. The 85th percentile speed is the speed that 85 percent of motorists are driving at or below.

The average speed was 38 km/h.

Maximum speeds in excess of 70 km/h were observed during every time period.

The largest number of vehicles - 18,205 - were recorded driving 41-45 km/h.
This stretch of street is adjacent to the YWCA, which includes both a seniors' centre and a daycare. It is also next to Central School and close to the affordable seniors' residence at 155 Park Street South.
For these reasons, this stretch of Hunter Street has a posted speed limit of 40 km/h. The speed limit begins just west of James Street South.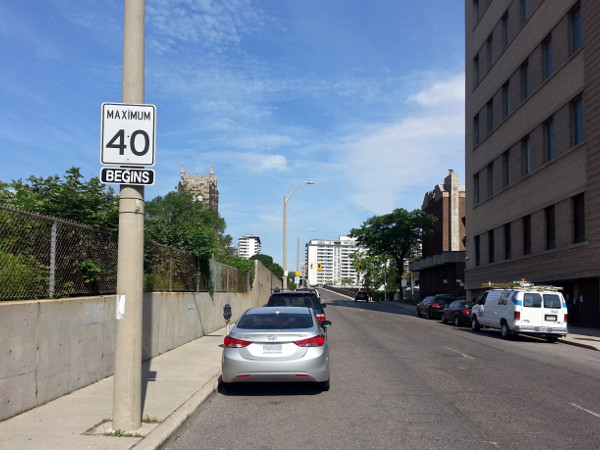 40 km/h speed limit starts just west of James (RTH file photo)
Dangerous Speeding Issue
The fact that half of all drivers exceed the speed limit and maximum speeds of 70 km/h were observed at all times of the day indicates that we do have a very serious and dangerous speeding issue here.
According to Ferguson, Hamilton Police Service has been provided with the radar data "for enforcement." This is welcome, and it would be great if they could have Central School students handing out the tickets, as they did on Bay Street a few years ago.
However, enforcement is at best a band-aid for a street that encourages dangerous speeding through its design. As in the case with far too many Hamilton streets, we should not be surprised to observe highway speeds when our streets are engineered for highway speeds.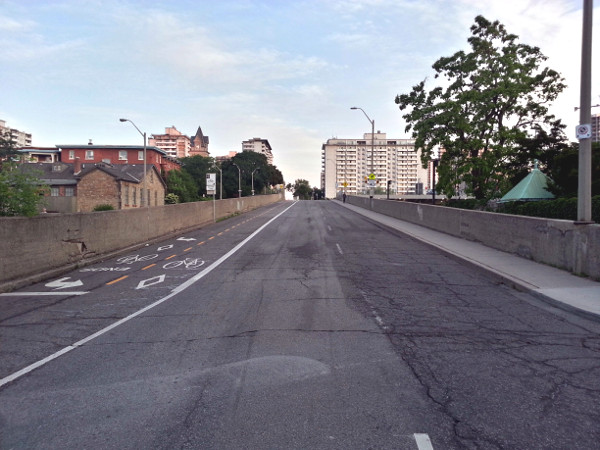 Hunter Street: highway speeds on a street designed like a highway (RTH file photo)
The City should look at implementing significant traffic calming measures here, including physically narrowing the lanes, adding speed humps before the intersections and installing a pedestrian-activated crosswalk at Hunter and Park.
Another option to consider is two-way conversion. This stretch of Hunter carries just 5,284 westbound cars a day on average, which is a moderate level of average daily traffic for a single lane and can easily be accommodated with a single lane of traffic. The second lane can be repurposed as an eastbound lane.
Vulnerable Road Users
There is a lot of pedestrian traffic across Hunter Street, including a large proportion of senior citizens and young children, particularly Kindergarten-age children crossing between the YWCA daycare and the school twice a day.
Seniors and young children are the most vulnerable road users. They are the most susceptible to injury in a collision, and they are over-represented in collision casualties and fatalities.
There is now a pedestrian-activated crosswalk on Hunter at MacNab, which provides improved crossing access and may serve to reduce dangerous speeding. Note that this crosswalk was installed only because it was proposed by the Durand Assembly as a project in the 2013 Ward 2 Participatory Budget process and the community voted to fund it.
However, due to the lack of sidewalk on the south side of Hunter and the unusual geometry of the adjacent TH&B tracks, that crosswalk is not always a feasible alternative for pedestrians who want to cross Hunter at Park.
The fact that half of all drivers were exceeding the speed limit and maximum speeds of 70 km/h were noted in every time period clearly indicates that the City has more work to do to redesign Hunter Street to be safe and inclusive for all road uers.
Related:
---
Update: updated to note that the speed limit changes to 40 km/h just west of james and to add a photo of the "40 km/h Begins" sign. You can jump to the added paragraph.
Post a Comment
You must be logged in to comment.