City to Install Parking-Protected Bike Lanes on Charlton, Herkimer
Next month, the City of Hamilton plans to install parking-protected bike lanes on Charlton Avenue West and Herkimer Street between Dundurn Street South and James Street South.
By Ryan McGreal
Published August 17, 2015
Next month, the City of Hamilton plans to install parking-protected bike lanes on Charlton Avenue West and Herkimer Street between Dundurn Street South and James Street South.
In an email to Ward 2 Councillor Jason Farr, members of the Durand Neighbourhood Association (DNA) and Raise the Hammer, Public Works Alternative Transportation manager Daryl Bender confirmed that staff are modifying the design of the bike lanes, which were originally supposed to be installed in late 2014, and will have the modified design completed by the end of August.
Staff plan to meet with Councillor Farrr and the DNA in early-mid September to review the new designs.
Last September, signs appeared on Herkimer and Charlton advising that bike lanes were to be installed in October.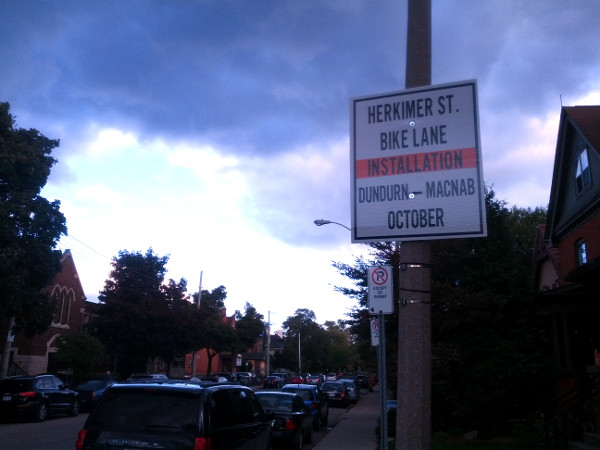 Herkimer Bike Lane Installation sign, October 2014 (Image Credit: Kyle Slote)
Durand resident Kyle Slote contacted Councillor Farr to ask for more details about the designs and was advised that the City was planning to narrow the existing automobile lanes and install painted lanes on the right side of each street that would run through the "door zone" of curbside-parked cars.
On Herkimer, the eastbound bike lane would start at Locke Street and end at MacNab Street rather than extending from Dundurn to James. Shared-use bike sharrows would be painted between Dundurn and Locke.
On Charlton, the westbound bike lane would start at James and end at Locke.
None of the intersections would be treated with bike boxes to facilitate left turns.


Old design for Charlton and Herkimer bike lanes
Neighbourhood advocates objected to the design, arguing that the bike lanes should be physically protected - for example by locating them to the right of the parallel parked cars - and the intersections should include bike boxes for safer left turns. They also argued that the lanes should connect with the existing bike lanes on Dundurn Street South.
In response, the City put the installation on hold pending more consultation with the Ward 1 and 2 Councillors and representatives of the neighbourhood association to resolve the safety issues.
A working group struck by the DNA came up with a design for parking-protected bike lanes that would fit on Charlton and Herkimer and shared it with staff earlier this year.
In addition, cycling advocate Kevin Love presented research from the New York City Department of Transportation which concluded that parking-protected bike lanes significantly increase ridership while reducing crashes, collisions and injuries to all road users - cyclists, pedestrians and drivers alike.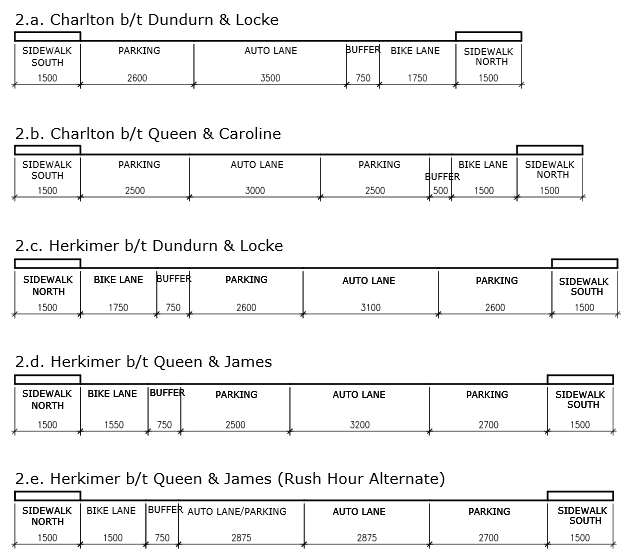 Proposed redesign for Charlton and Herkimer bike lanes
As of this past April, staff were working on updated design drawings but could not provide a target date for installation.
Earlier this month, in response to a follow-up query from RTH contributor Jason Leach, the City responded by confirming that a new design for parking-protected lanes is imminent.
According to Bender, staff will install the Charlton and Herkimer lanes after painting bike sharrows on Queensdale Avenue, and then installing bike lanes on Cannon Street on between Gage Avenue and Britannia Avenue (connecting Cannon Street to the Pipeline Trail).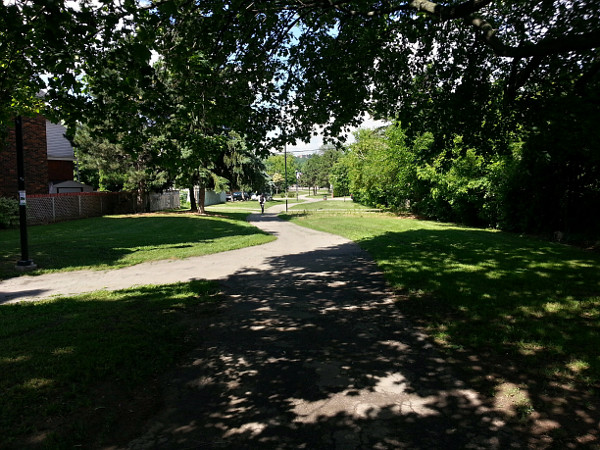 Pipeline Trail (RTH file photo)
The design for the bike lanes on Charlton and Herkimer has not been finalized and is not yet available for preview.
Post a Comment
You must be logged in to comment.