Ferguson/Coleman Incident Reaches Canadaland, Boing Boing
There is nothing like the perspective of an outside third-party report to demonstrate just how freaking absurd this whole fiasco has been.
By Ryan McGreal
Published November 17, 2015
Yesterday morning, national journalist Jesse Brown of CANADALAND posted a podcast interview with Joey Coleman about the never-ending debacle of an aftermath to the February 26, 2014 incident in which Ancaster Councillor Lloyd Ferguson grabbed and shoved Coleman in the public lobby of City Council Chambers.
There is nothing like the perspective of an outside third-party report to demonstrate just how freaking absurd this whole fiasco has been.
If you are not sure why this issue hasn't gone away yet, I highly recommend listening to the podcast, which does an excellent job of delving into the background and context between Ferguson and Coleman.
That context includes an altercation earlier on the same day when Ferguson left his seat in Council Chambers and argued with Coleman so loudly that the Chair had to call for order.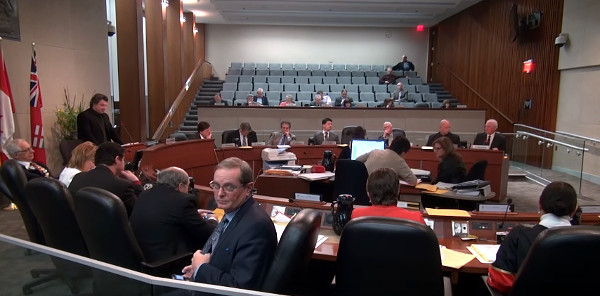 Ferguson turning to glare at Coleman (Screen capture from YouTube video)
Coleman had just tweeted that the "accountability and transparency" Sub-Committee, which had just been renamed the Governance Sub-Committee, was meeting at the same time as another meeting. Ferguson replied to debate the point and then got up to confront Coleman face-to-face at the Council meeting.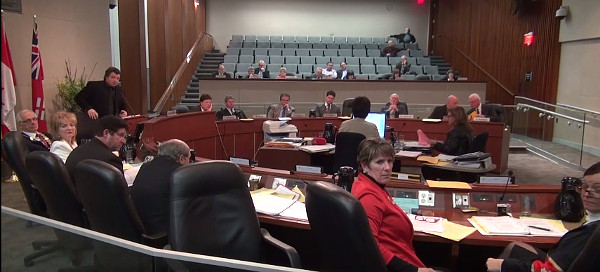 Several councillors turning to look at argument between Ferguson and Coleman (Screen capture from YouTube video)
Ferguson was the chair of the Accountability and Transparency Sub-Committee while it spent years dragging its feet on establishing a Lobbyist Registry, and Coleman had to fight constantly to receive notice of upcoming meetings, agendas and minutes.
That was also the committee which established the office of the Integrity Commissioner, who would go on to investigate the incident between Ferguson and Coleman and submit a widely-criticized report that didn't bother to interview anyone other than Ferguson.
The report found that Ferguson had violated the Council Code of Conduct but he shouldn't face any reprisals because it had been a long, hard day and Ferguson thought Coleman had "eavesdropped on private conversations" - you know, in the lobby of City Hall on the way to a press conference.
Issue Still Not Resolved
While Hamilton's daily newspaper wants everyone to just get over it, already, the issue is nowhere near resolved. Coleman has since faced a steady campaign of obstruction and bullying from City staff, who complained that he was covering too many meetings and accused him of "hacking" the city website because he was using the public RSS feed to see when staff posted new public reports on public meetings.
Coleman was banned from using the City's internet connection under a City Website Acceptable Use Policy that prohibits anyone to "reproduce, publish, copy, link to, frame, tag, embed, merge, modify, recompile, license, distribute, sell, store in an electronic retrieval system, download (except by the browser of a single user) or transmit, in whole or in part, in any form or by any means whatsoever" any website content without "prior written permission" from the City.
Just to be completely clear, simply by linking to a page on the City website and quoting part of the Acceptable Use Policy, this very article is in violation of the policy.
That policy was supposed to have been updated back in 2011 and staff insisted at the time that it had never been enforced, but that didn't stop Council from agreeing at an in camera meeting to ban Coleman under its Kafkaesque terms.
Wider Ripples
The fiasco has already been the subject of a documentary film, and other observers outside the City of Hamilton are starting to pay attention. This morning, the story appeared in Boing Boing, a popular culture, technology and politics blog, and if you're still not sure whether this story has legs, read the opening paragraph by author Cory Doctorow:
Hamilton's the kind of city where half of City Hall says they've been bullied at work, where the "accountability" committee charges you $100 to make a complaint and proposed that it would only investigate if you are never quoted in the press on the matter, and where city policy prohibits linking to its website without written permission.
Are you cringing yet?
I can't stress this enough: the stuff we deal with on a daily basis in Hamilton - from deranged politics to councillors engaging in twitter wars to five-lane expressways blasting through the heart of the downtown core - only seems normal because we're steeped in it.
I have a feeling this story is only going to keep snowballing, especially since there is actually a surveillance video of the incident itself, the publication of which has been appealed to the Ontario Office of the Information and Privacy Commissioner.
That is at best a stalling tactic, since there are absolutely no legitimate privacy implications to publishing a video of an incident between a Councillor and a journalist that took place in the public lobby of Council Chambers at City Hall, for crying out loud.
I can already hear John Oliver's take on a future episode of Last Week Tonight - the story practically writes itself. "Do you remember when we talked about the Canadian election and there was that candidate and school board trustee who made a penis joke about a Nazi death camp? Well, you won't believe what else they've been up to in Hamilton, Ontario!"
Post a Comment
You must be logged in to comment.