Notice of Motion to Put Aberdeen on a Road Diet - Updated
Ward 1 Councillor Aidan Johnson is bringing a motion to review Aberdeen Avenue for a complete street redesign to today's General Issues Committee meeting.
By Ryan McGreal
Published November 18, 2015
This article has been updated.
Ward 1 Councillor Aidan Johnson brought a notice of motion to today's meeting of the General Issues Committee (GIC) to direct staff to review Aberdeen Avenue between Queen Street and Longwood Road for the purpose of implementing a complete street redesign.
I can't link directly to the notice of motion because the city's committee meeting website is broken-by-design, but it's item 10.3 on the agenda.
Normally, a notice of motion must be presented to a committee one meeting prior to the meeting where it is actually introduced for consideration, but Councillors have the option to waive the delay and introduce it immediately. However, the vote to waive the delay failed on a tie vote (votes need 50% + 1 to pass).
Voting with Councillor Johnson were Ward 2 Councillor Jason Farr, Ward 3 Councillor Matthew Green, Ward 4 Councillor Sam Merulla, Ward 5 Councillor Chad Collins and Mayor Fred Eisenberger. Not surprisingly, Ward 8 Councillor Terry Whitehead led the opposition.
The vote was not to defeat the motion itself but rather to defeat the request to introduce it without waiting. Councillor Johnson will still be able to introduce the motion next month at the December 2, 2015 GIC meeting.
In support of this motion, Councillor Johnson will be presenting a comprehensive report [PDF] prepared by the Aberdeen Road Diet Community Task Force, a working group of the Kirkendall Neighbourhood Association.
Aberdeen Avenue
Aberdeen Avenue is designated as a minor arterial road that connects the Beckett Drive (Queen Street Hill) Escarpment access with Highway 403, passing Locke Street South and Dundurn Street South along the way.
Aberdeen is 13 metres wide from curb to curb and is currently designed with two wide lanes in each direction, running just inches from the narrow 1.5 metre sidewalks.
The street carries 18,000 vehicles a day, most of it cut-through traffic passing through the neighbourhood. Because there are two lanes in each direction, drivers can pass each other at dangerously high speeds with no physical or space buffer from the sidewalks.
Yet Aberdeen also carries significant pedestrian traffic on those inadequate, unprotected sidewalks. An estimated 234 students walk along Aberdeen to and from Westdale Secondary School each day, in addition to Kirkendall residents walking to the McMaster Innovation Park on Longwood Road.
The road surface is in poor condition, so pedestrians face the additional prospect of getting soaked by splashing water on rainy days.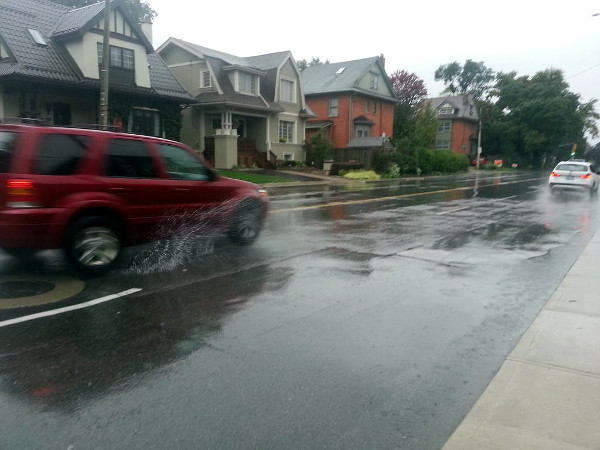 Aberdeen Avenue on a rainy day (RTH file photo)
But with just 18,000 vehicles a day, Aberdeen is an excellent candidate for a "road diet" - a street redesign in which some roadway width is repurposed to encourage walking and cycling while still allowing through traffic to proceed at reasonable, safe speeds.
There are a number of possible designs the City can undertake to make Aberdeen safer for everyone without preventing cut-through drivers from using it to get to their destinations.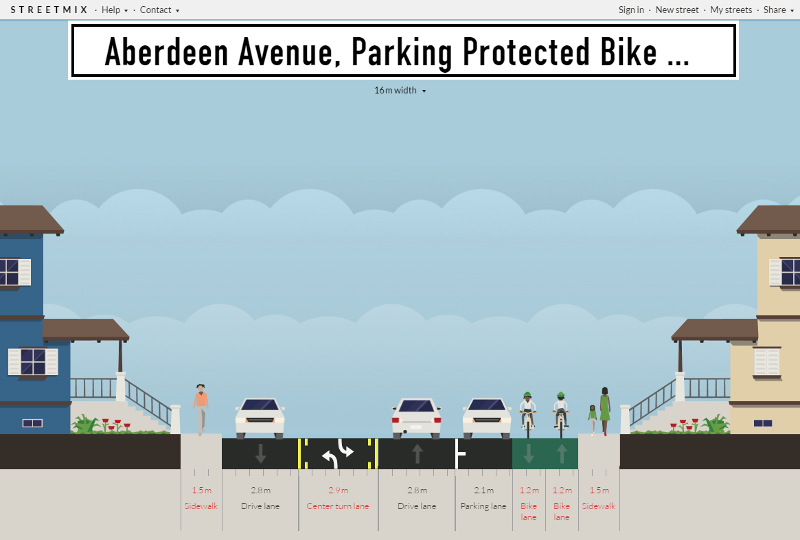 Streetmix: Aberdeen Avenue with curb parking protected cycle track
Easy Fix vs. Politics
This should be a no-brainer for the General Issues Committee and Council to approve. The street is terrible for local residents in its current configuration, there is popular local support for a complete streets redesign, the proposed changes are inexpensive to implement, and the street can be made safer for all road users without restricting cut-through traffic. It's a textbook win-win.
However, Ward 8 (West Mountain) Councillor Terry Whitehead has already signalled that he will oppose any change to Aberdeen, because some of his residents use the Garth Street/Beckett Drive/Aberdeen Avenue route to get to Highway 403 and West Hamilton instead of taking the Lincoln M. Alexander Parkway, which connects directly to Highway 403.
Whitehead has gone on Twitter on multiple occasions to debate with residents about the need to make Aberdeen safer and more inclusive, claiming that traffic congestion on the route is already unacceptable and that a road diet on Aberdeen would introduce unacceptable delays for his constituents.
However, Beckett Drive is only one lane in each direction and carries over 20,000 vehicles a day - more than Aberdeen. The only slowdowns during rush hour are for turning movements at the intersection of Queen and Aberdeen, and keeping Aberdeen two lanes wide does nothing to speed up those turns.
Queen Street
For northbound traffic, the fact that Queen Street is one-way southbound north of Herkimer forces everyone who wants to proceed northwest to turn left onto Aberdeen.
The traffic signals on Queen are synchronized, so "platoons" of high-speed traffic roar south at regular intervals, interrupted by stretches of emptiness. I took the following photo of Queen last week during afternoon rush hour: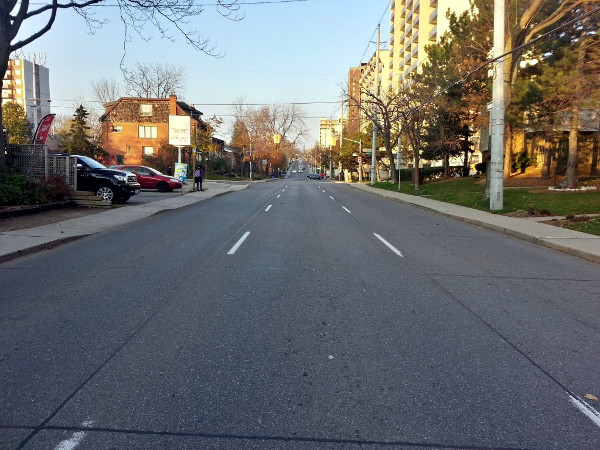 Queen Street South during afternoon rush hour
This is a profound waste of scarce and expensive roadway.
It is ludicrous to suggest that converting Queen to two-way would somehow produce an unacceptable level of service for people driving vehicles.
If Queen was a normal two-way street, drivers heading northwest on Beckett would have the option to proceed north on Queen, alleviating the backup in the left turn lane onto Aberdeen.
Stanley Avenue
It would also alleviate the cut-through traffic roaring down residential Stanley Avenue, the last street before Herkimer that allows left turns off Queen for northbound vehicles.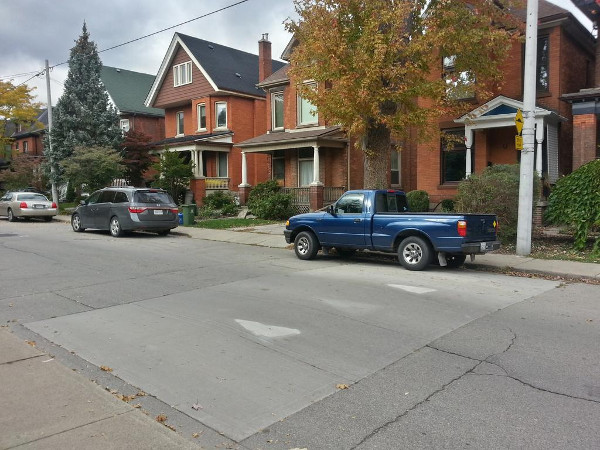 Stanley Avenue speed hump (RTH file photo)
The City has had to implement a No Left Turn during morning rush hour and install speed humps on Stanley to try and control the rat-running, which is an avoidable side-effect of keeping Queen one-way.
Garth Street
Meanwhile, at the top of the Escarpment, Garth Street is such a racetrack that Hamilton Police Service routinely sets up speed traps to try and deter speeders.
I was on Garth last week during afternoon rush hour and marvelled at how fast and free-flowing the traffic was. I took the following photo: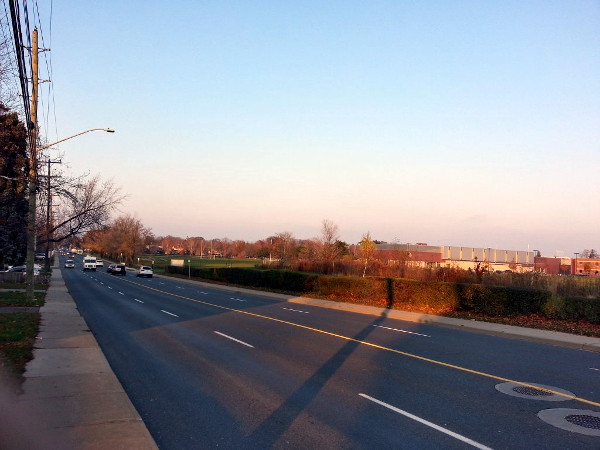 Garth Street during afternoon rush hour
Instead of trying to block Ward 1 from making one of its streets more safe and inclusive, Whitehead should be focusing his efforts on improving the safety and inclusiveness of his own ward streets. The biggest problem on Garth is not congestion, it's dangerous speeding!
Harmful Expectations
Hamiltonians have an unreasonable expectation that we should be able to race above the speed limit in free-flowing traffic at all times of the day, even during rush hour. Pampered by the synchronized Green Wave, we are outraged when we encounter a red traffic signal. Having to take a foot off the gas pedal is denounced furiously as "gridlock!"
It would be adorable if it wasn't also responsible for so much harm. Hamilton is the second-most dangerous city in Ontario for pedestrians, and particularly the most vulnerable pedestrians - children and senior citizens.
That in itself should be enough to galvanize our leaders into action. This is substantially the same council, after all, that voted to make "the best place in Canada to raise a child" a core part of its Vision Statement.
Another part of the Vision is to be "the best place in Canada to engage citizens", so it will be interesting to see whether Council supports this community-driven initiative to make Aberdeen a better street for everyone who has to use it.
Text of the Motion
Here is the text of Councillor Johnson's notice of motion:
NOTICE OF MOTION

General Issues Committee: November 18, 2015

MOVED BY COUNCILLOR A. JOHNSON

Full Review of Aberdeen Avenue from Queen Street to Longwood Avenue, respecting the Safety and Operational Characteristics of the Roadway

WHEREAS, concerns have been raised by area residents with respect to pedestrian and bicyclists safety along Aberdeen Avenue from Queen Street to Longwood Avenue;

THEREFORE BE IT RESOLVED:

That staff be directed to undertake a full review of Aberdeen Avenue from Queen Street to Longwood Avenue, respecting the safety and operational characteristics of the roadway; with a focus on improvements to meet the request for a more Complete Street and pedestrian friendly design, including consideration for a road-diet, and the recommendations put forward by the Kirkendall Neighbourhood Association Working Group regarding Aberdeen Safety and Road Improvement, and report to the Public Works Committee.
---
Update: updated to add a link to the report [PDF] prepared by the KNA Aberdeen Task Force.
strong>Update 2: Normally, a Councillor needs to submit a notice of motion 30 days in advance (i.e. a notice this month to bring the motion forward next month), but Councillors can vote to waive the waiting period and consider the motion right away.
At GIC today, the vote to waive the 30 day delay was defeated on a 6-6 tie, which means Councillor Johnson needs to wait until next month's GIC meeting to introduce the motion itself.
Post a Comment
You must be logged in to comment.