Why We Ride Our Bikes
The car culture is a dead-end model, and as long as this is entrenched in our collective systems and heads it will continue to bear tragic deaths.
By Walter Furlan
Published December 06, 2015
I am writing in relation to Mr. Jay Keddy, who was killed riding his bicycle in Hamilton last week. Mr. Keddy was riding home from his job as a kindergarten teacher at Prince of Wales School, riding up the escarpment on the Claremont access.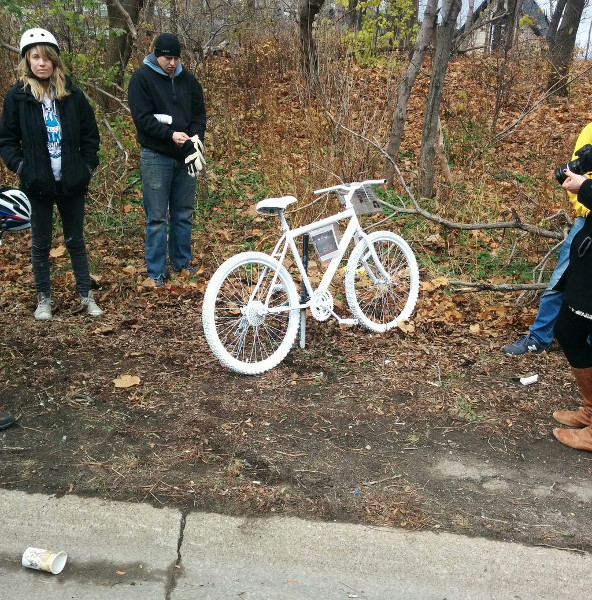 Memorial 'ghost bike' for Jay Keddy (RTH file photo)
I am the same age that Mr. Keddy was.
Several times this year, my two sons and my partner have ridden our bikes up the Claremont to Mohawk College, where the boys attend, riding past the very spot where Mr. Keddy was killed.
I ride my bike to work here on Barton Street and as much as possible all year long.
My partner, Liz, rides her bike to work from our house to the Fairclough building in downtown Hamilton. She rides nearly every workday all year long.
We have neighbours who store their bikes in our garage and ride their bikes all year long. They are a family with three small girls, whose mother rides her bike to school where she teaches small children. She taught at Prince of Wales school last year.
This summer, they rode as a family from Hamilton to St. Mary's, Ontario. One night this past summer, I saw the three girls as they rode their bikes back from a neighbourhood outdoor movie night. They were dressed in their pyjamas.
I was also past chair of the Hamilton Cycling Citizen Advisory Committee. We asked the City for a dedicated, protected and separated bike lane up the Escarpment. We advised that the bike lane should go on the Claremont Access as there was plenty of excess road capacity available on this road.
This request was turned down by City staff.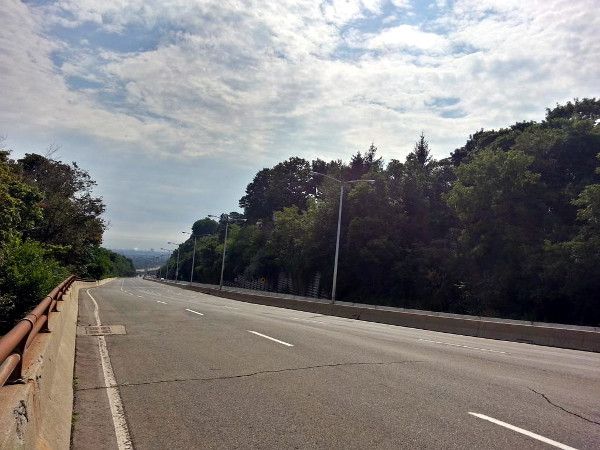 Claremont Access (RTH file photo)
Why do we ride our bikes? We are all interested in an ecologically sustainable world, a world where we recognize the negative impact that humans have on our world.
The car culture has to slow down on both a symbolic and a real level. It cannot continue to drive the way we organize our world. It's a dead-end model, and as long as this is entrenched in our collective systems and heads it will continue to bear these types of events.
This incident has shaken me. We all need to deal with this now.
Adapted from a letter to Council.
Post a Comment
You must be logged in to comment.