City Needs to Clear Bike Lanes
The York Boulevard curb lanes have been cleared of snow for decades, but now that they are bike lanes, they have become snow dumping grounds.
By Jason Leach
Published January 07, 2016
Hamilton experienced the first significant winter weather of this season in the week between Christmas and New Year's, with an overnight storm starting December 28 that dropped a few centimetres of snow and some freezing rain on the city. City workers and contractors were busy clearing all major streets on December 29, but something strange happened on York Boulevard: the curb lanes, which were recently converted to bike lanes, were left covered in piles of snow and ice.
Only the "space buffer" between the bike lane and the next vehicle traffic lane was left clear. The following photos were taken on December 30, two days after the storm.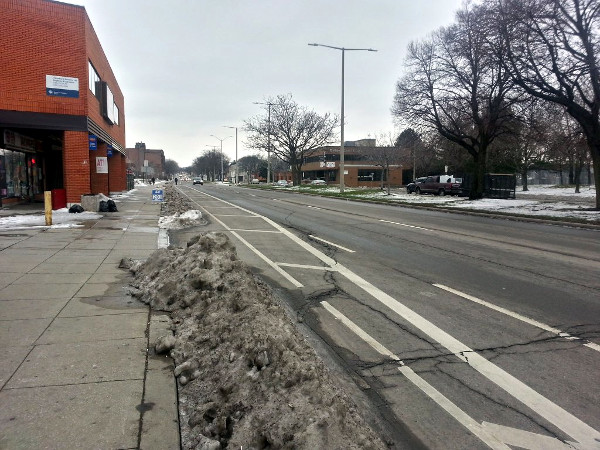 Snow and ice blocking bike lanes on York (Image Credit: Ryan McGreal)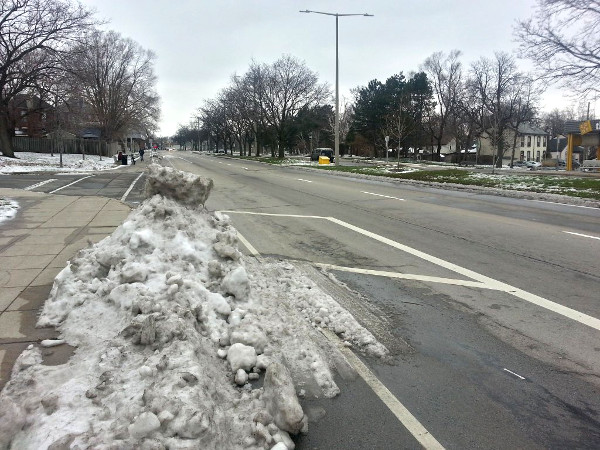 Snow piled high on bike lane (Image Credit: Ryan McGreal)
When these were vehicle lanes before the bike lanes were added, you can be sure they were cleared of snow so people could drive on them. But now that they're bike lanes, we leave them covered in piles of snow and ice.
Farther east, where there is no buffer, the bike lanes were still piled with snow.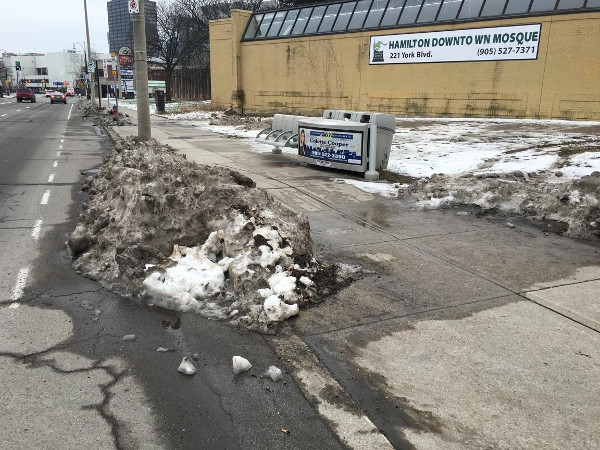 Snow and ice blocking York bike lanes (Image Credit: Jason Leach)
In some cases, it was just piled up close to the intersection, like this bike lane-blocking pile at York and Hess: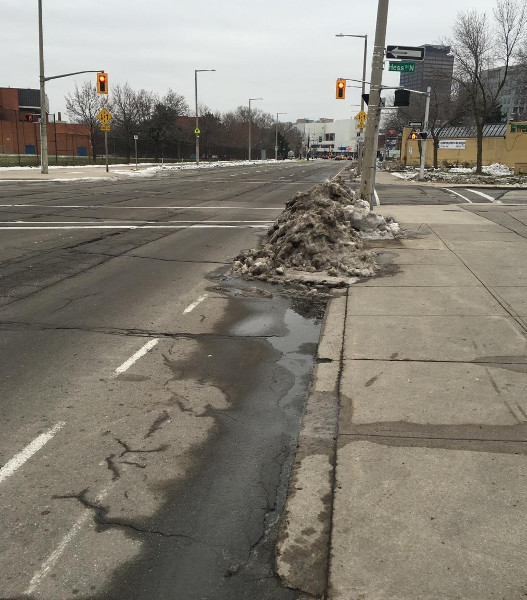 Ice pile blocking bike lane on York at Hess (Image Credit: Jason Leach)
Interestingly, east of James where York changes to Wilson and there are no bike lanes, the curb lanes were cleared of snow and there were no ice piles left to block the lane. Instead, snow was piled on front lawns and the corners of parking lots.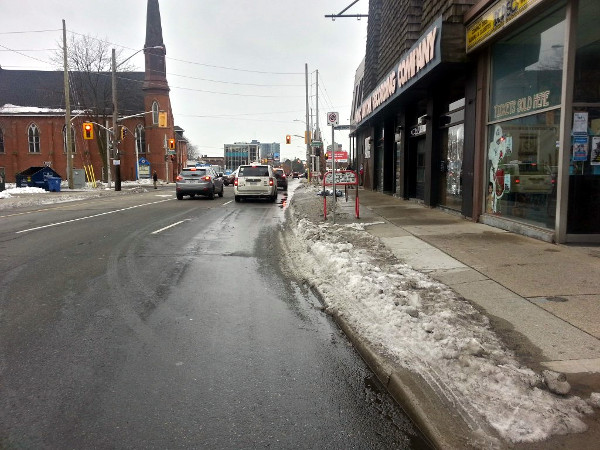 Curb lane cleared on Wilson east of James (Image Credit: Ryan McGreal)
Now, with a four-day stretch of mild/wet weather approaching, I'm wondering if we can finally get the bike lanes around the city cleared of the ice mounds that have been sitting on them ever since the December 28 storm.
More cold weather will be on the way next week, and if we don't remove these piles of ice, they will freeze solid again.
Ever since York Boulevard was converted to a six-lane highway in the 1960s, all the lanes were plowed as a matter of course. Now that the curb lane is a bike lane, snow-clearing crews are piling snow from bus stops and parking lots into the bike lanes. This is unacceptable.
But as noted, once you cross James Street on Wilson, heading east, there are no bike lanes and magically bus lanes and parking lots were cleared with no piles being left in the curb lane.
I was personally hoping that a Bobcat would clear all of our bike lanes, which would result in these piles being placed on the painted buffer along York. This would be fantastic to have a long row of ice banks to temporarily protect these bike lanes from traffic.
We currently have something like that on the Hunter Street bike lanes, which are a full lane wide and can accommodate a pickup truck with a snowplow but don't have any physical protection from the vehicle lanes, aside from a few knockdown sticks just east of MacNab Street.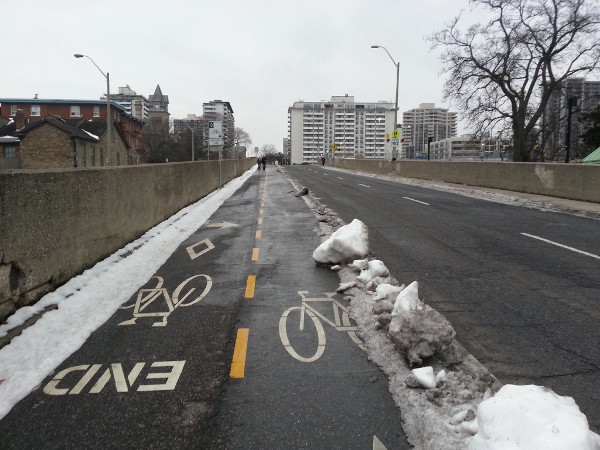 Hunter Street bike lanes protected by ice piles (Image Credit: Ryan McGreal)
I would hope that staff can be directed to clear all major transportation lanes the same way - not just the ones that house moving cars, or parked cars.
With files from Ryan McGreal
Post a Comment
You must be logged in to comment.