Old Wentworth Street Transportation Centre May Become New LRT Facility
The appeal of WSTC is that it already exists and is centrally located. The downside is the complexity and cost of converting it to rail use.
By John Thompson
Published February 18, 2016
This is an unusual story of a bus garage/shop/office complex that opened for business 26 years ago, on June 23, 1990 and closed a little over ten years later, but may reopen as a light rail vehicle (LRV) facility.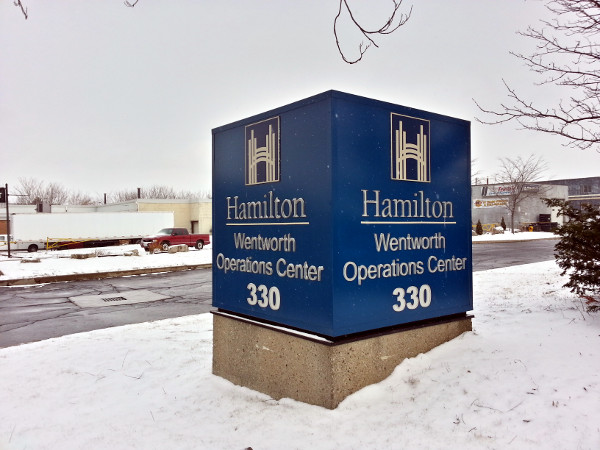 Wentworth Operations Centre, 330 Wentworth Street North (RTH file photo)
In the 1970s, it had become evident that the HSR's sole bus/trolley coach facility, the former streetcar complex at King Street East and Wentworth Street North, was hopelessly overcrowded and outdated. Replacement, therefore, was vital. Bus storage and maintenance space, as well as that for office staff, was woefully inadequate for the growing system.
The three principal buildings comprised: a main shop building from the late 1920s; a former carhouse, circa 1910; and an office block at 18 Wentworth Street North, also from the ca. 1927 era. Maintenance of both diesel buses and trolley coaches was performed at Wentworth Street.
History
Since the early 1950s, housing development to the south, on Hamilton Mountain, had been growing rapidly, and HSR service was increased concurrently. Thus, by the 1970s, the need was obvious for a garage on the mountain to reduce non-revenue (deadhead) mileage as well as provide an up-to-date maintenance and storage facility.
Several sites were investigated. The criteria included extra space for future expansion; ease of access; and a location remote from development, to avoid complaints of noise and fumes.
A location on the west side of Upper James Street (Highway 6), about a mile south of the-then city limits at Rymal Road, was selected. Ten of the Mountain bus routes and a few of the lower-city routes would be based here. Construction began in 1982 and was completed by early 1984.
The Wentworth complex continued in operation, as it was needed not only for trolley coaches but also most of the lower city diesel bus routes. However, its days were numbered, as planning began for a new garage in the general area. The new facility had to be close to one of the three trolley routes, for obvious reasons, and preferably in a central location to minimize deadheading to route termini.
After some searching, the choice fell on a mostly vacant industrial property about a half mile north of 18 Wentworth. Eight separate land purchases were necessary to assemble the required 16 acre site; the main purchase was that of the former National Sewer Pipe Manufacturing Company.
Challenging Construction
Construction of the garage, which began in June 1988, proved challenging, as part of it was sited on filled land: the old Sherman Inlet. Thus, a grade beam structure, supported on piles driven deep into quicksand to bedrock, was required for 20 percent of the floor area over the old inlet, which had been 35 feet deep. Therefore, the concrete slab floor in this area was extra thick.
Steel frames supported brick and block exterior walls; the upper portions of both garage walls were covered with steel siding.
The complex included a two-story office structure, a bus storage garage with space for 160 forty-foot buses, and a maintenance repair garage for both diesel buses and trolley coaches. Sixty-foot articulated buses, which HSR was planning to buy, were provided for, as four of the lifting hoists could accommodate them.
The Wentworth Street Transit Centre (WSTC) was situated approximately mid-way between Wentworth Street and Birch Avenue. Buses entered the garage on the east side, from Birch, and departed on the west, via Wentworth.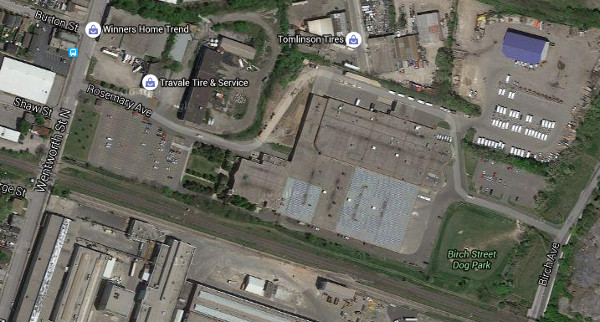 330 Wentworth Street North, overhead view (Image Credit: Google Maps)
It was, of course, necessary to erect trolley coach overhead wires northward along Wentworth and Birch to the garage. However, as a cost-cutting measure, the HSR did not install overhead in the garage itself; instead, coaches were pushed in and out with heavy-duty trucks. This rather awkward arrangement lasted for just two years, as the trolleys were abandoned in late 1992.
The garage contained an electronic/electrical shop, where trolley coach motors and controls were overhauled. There was also a line crew shop.
Light Repair Shop
New Wentworth was set up as a light repair shop. Engine and transmission and heavy body repairs continued to be performed at Mountain. Some painting and body work, as well as brake repairs, lubrication, tire repairs, cleaning, washing, fuelling, etc. were carried out at Wentworth.
The garage could accommodate 20 rows, eight 40 footers per row, for a total of 160 buses. However, no more than 100 buses were ever assigned here; the garage was built for the future. At this time, HSR also operated 15 60-foot articulated diesel buses.
The two-storey office complex provided space for all of the HSR administrative functions, including Purchasing, Revenue Control, Safety Service and Adjusters, Marketing and Customer Services, Human Resources, Planning, Telephone Information, Engineering, and Computer Systems. There was also, of course, a traffic office (Dispatch) for Operators, as well as executive offices, meeting rooms, storage, a cafeteria, and employee exercise room. Sufficient parking was available for all WSTC staff.
The final cost was $25 million, and the WSTC entered service in late 1989. The life of the WSTC proved surprisingly short, however: just over ten years.
The facility had been planned in the 1980s partly on the basis that ridership, and the corresponding bus fleet, would grow significantly in the mid-term. However, this did not happen. HSR overall ridership has remained relatively stagnant until fairly recently. In addition, after the demise of the trolley coaches, it was no longer essential to have a division close to those routes, or so it seemed.
Operations Consolidated
A consultant's report was commissioned on the question of garage space. Among its findings was a recommendation that it would be more efficient and economical to consolidate operations at Mountain Garage. In addition, the City Water Works Department was coveting WTSC as a storage and maintenance facility for its trucks.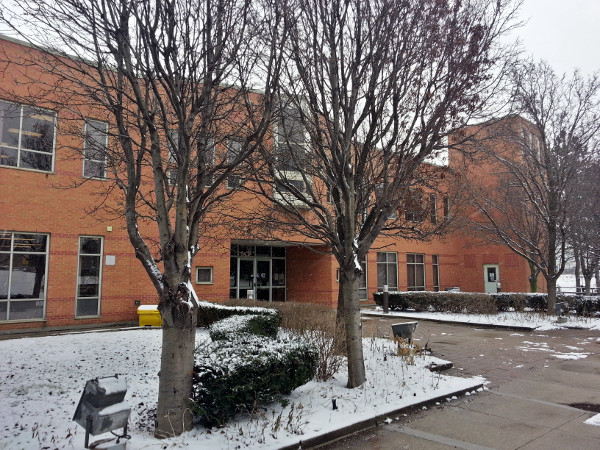 Current City facility at 330 Wentworth Street North (RTH file photo)
The decision was made to close New Wentworth, although most maintenance equipment was left intact. The last HSR buses departed on June 24, 2000.
Some HSR office employees, such as Planning, and Marketing and Customer Service, were transferred to Mountain Garage, where additional office space was built to accommodate them. Other staff members from WSTC were transferred to City Hall.
The drawback, of course, to closing WSTC as an operating facility has been that buses for the lower city routes must deadhead an average of at least five miles to enter service. This is very costly, not only in terms of fuel and vehicle wear and tear, but in staff salaries; Operators are "on the clock" from the minute they sign in at Mountain Garage, and thus drive their buses for at least half an hour without collecting any fares.
Since 2000, as well as the city works trucks, the DARTS disabled transit buses have been stored and maintained at 330 Wentworth. In addition, GO Transit buses serving Hamilton routes have been cleaned and fuelled here for years. GO, however, is moving out to its new Waterdown Garage.
HSR's bus fleet has been growing steadily in recent years, to the point that Mountain Garage is at capacity. The building could be expanded, although this would be a very costly solution.
During the past few years, consideration has been given by the HSR to reopening WSTC as an operating division for lower city bus routes.
However, there is a joker in the deck: the recently-approved Hamilton crosstown LRT line, which, of course, will require a storage area and shop. About 15 low floor LRVs will provide service.
LRT is Coming
The WSTC is one of three locations being considered for LRT purposes, the others being West Harbour and Frid Street. The appeal of WSTC is that it already exists and is centrally located. The downside is the complexity and cost of converting it to rail use.
For example, the garage floor might need to be strengthened, especially in the area over the inlet, to support 90-foot long LRVs. The roof may have to be raised to provide space for the overhead wires and maintenance platforms. Inspection pits would need to be excavated.
In addition, the shop would have to be redesigned and rebuilt for streetcars, with all of the related maintenance functions. The yard area on the east side of the garage might require expansion to allow for ladder tracks.
Speaking of trackage, about half a mile of access track would be required north from King Street. The most logical access point would be via Birch Avenue, which is grade separated from Canadian National's busy Toronto-Niagara Falls line that skirts the southern side of WSTC; Wentworth is hampered by having a level crossing.
From King, the access track could presumably proceed north on Sanford Avenue to Wilson Street; east to Birch Avenue; and north to Cannon, where the tracks could swing onto the power line right-of-way to the carhouse entrance. The irony is that most of this route was former HSR streetcar trackage until 1951.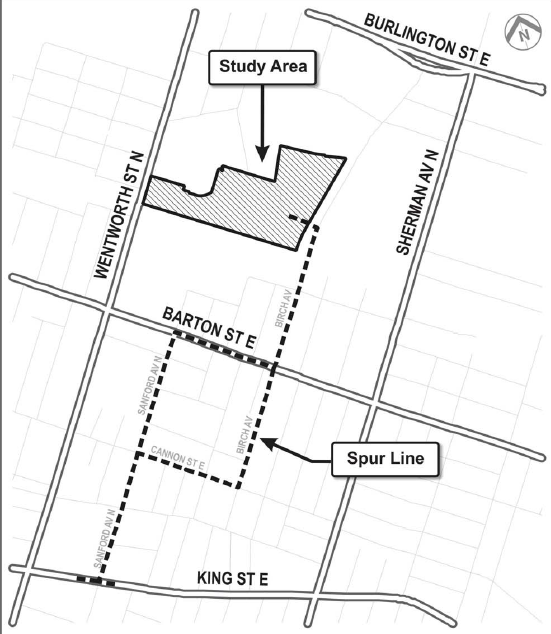 2012 staff recommendation for spur line to Wentworth facility
The operational benefit of WSTC would be its location at the approximate centre of the LRT route. The other potential sites are in the city's west end. It could also have a railway siding for delivery of the light rail vehicles from the manufacturer.
The decision for the location of the LRV complex will likely be based on feasibility and cost. The latter could be a very important consideration, as Metrolinx has announced a firm cap of $1 billion for the Hamilton LRT project.
The location will likely be finalized this year, as construction tenders are to be solicited by 2018, with construction starting in 2019. Completion of the LRT is scheduled for 2023 or 2024.
If the Wentworth Street property is selected for conversion to an LRV facility, it would be a rare case of a bus garage being converted to rail instead of the other way around. We certainly live in interesting times.
Post a Comment
You must be logged in to comment.