Expensive Transit Subsidizing Cheap Parking
The City sets both parking rates and the transit rates, as well as taxpayer funding levels for roads and transit. Money spent on roads, or subsidizing artificially cheap parking, is money that cannot be spent on transit.
By Nicholas Kevlahan
Published February 25, 2016
Today's Hamilton Spectator editorial on parking rates is very disappointing.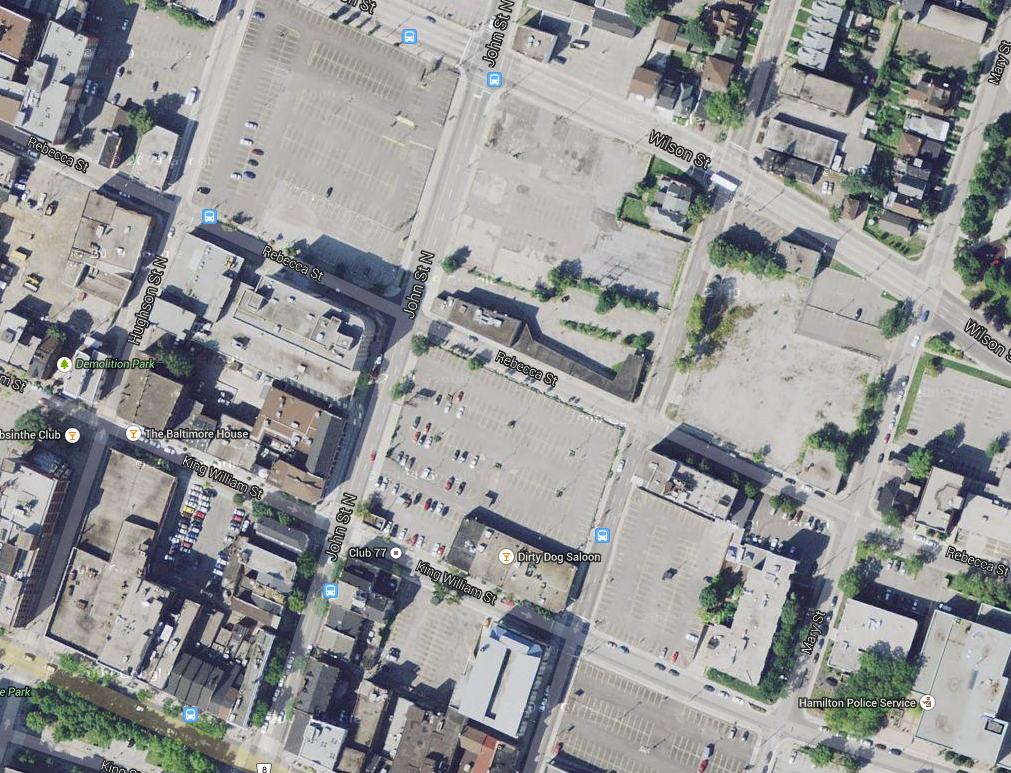 Overhead view of parking in downtown Hamilton (Image Credit: Google Maps)
The editorial starts by making the straightforward observation that since Hamilton has the lowest downtown parking rates of any city in Ontario (and maybe Canada) there is room to raise them. But it then claims that it is "unrealistic" to think that increasing parking rates would lead more people to choose the HSR, because it "just isn't a convenient or suitable option for many".
It adds that we shouldn't expect people to take HSR downtown "until public transit does become a credible alternative".
This is a dubious argument for both economic and social reasons.
Straightforward Economics
First, the economic argument that increasing parking rates would encourage more people to take transit is straightforward and convincing. As long as a monthly parking pass is cheaper than a monthly bus pass, it just doesn't make economic sense for someone who could take HSR not to drive.
Why should people pay more to take the bus and leave their car at home? At the very least, monthly parking needs to be significantly more expensive than a monthly transit pass - say, $120 for a parking pass compared with $95 for a transit pass - so transit users don't lose money taking the bus. Instead, monthly parking passes are as low as $80, so driving actually saves commuters money.
Likewise, at $2.75 a bus trip, a return trip for three hours of shopping costs a single person $5.50. Parking for three hours on the street costs only $3.
If more than one person is travelling, transit is prohibitively expensive. A family of four could easily spend $13 more taking the bus than driving!

HSR buses at James and Hunter (RTH file photo)
Another point is that extremely low parking meter rates mean that we can't have convenient options like paying by credit card or topping up the meter by cell phone like other cities. They just don't generate enough revenue to make parking convenient.
Maybe making paying for parking convenient would attract more people to shop downtown than ultra-low rates. It is much worse to be hit with a ticket than to pay a few extra dollars for a night out.
Substandard Transit
But the most insidious thing about this editorial is that it tacitly accepts that 20 million transit rides are taken annually on a system so bad that no one with an alternative would voluntarily choose it.
That's a lot of people using a system so terrible that it would apparently be unfair to impose it on the rest of us! Shouldn't the article be arguing forcefully for big transit funding increases to bring our substandard system up to snuff?
So far, the only big improvement, LRT, is being funded 100 percent by the Province.
Furthermore, low parking costs and high driving rates obviously do have a direct impact on the quality of our transit system. The City sets both parking rates and the transit rates, as well as taxpayer funding levels for roads and transit.
Money spent on roads, or subsidizing artificially cheap parking, is money that cannot be spent on transit.
Transit Riders Subsidizing Drivers
Refusing to put more tax dollars into the transit system - while increasing user fees - and keeping municipal parking rates below market value effectively means transit users riding an inferior system are subsidizing drivers.
Another example of transit users subsidizing drivers is that Hamilton, unlike every other similarly-sized city, spends almost all its gas tax money on roads instead of on transit.
The fact that transit users are often poorer than drivers, and that the highest transit taxes rates are paid by the poorest residents, just amplifies the unfairness.
Add to this the fact that Hamilton's policy of area rating for transit - again, unique among similarly-sized cities - further concentrates the inequality in transit funding vs. roads funding. It also makes it politically difficult to improve transit in the suburbs since the full cost is borne by the local residents.
How is HSR ever going to become a "credible alternative" throughout the city under these conditions?
Dismal Transit Growth
Keeping parking rates lower than bus fares creates an economic disincentive for residents to ride the bus. When fewer people ride the bus, there is less revenue and less political support for improvements to the service.
Council's solution - to try to fund future service improvements entirely out of fare increases - is doomed to failure for simple economics. The HSR may actually have lost passengers in the past year, after the City dramatically raised transit fares in the name of improving service.
It's not surprising that HSR has by far the worst growth in ridership, as Hamilton CATCH recently noted: a dismal five percent over the eight years from 2006 to 2014, compared to the next worst, St. Catharines, at 22 percent and the best, Brampton, at 101 percent.
It's important to understand that when HSR ridership drops as a result of fare increases, this demonstrates that at least some people who are taking transit do have alternatives.
And there are clearly lots of people who could easily take transit but choose to drive. Of my neighbours who work at McMaster, about two-thirds take transit or bike and one-third drive.
If the Spectator wants to keep driving cheap and convenient until we have a first-class transit system, we'll be waiting a very long time. In the meantime, there are tens of thousands of Hamiltonians who use HSR every day, despite the fact that it would apparently be unfair to expect anyone with an alternative to use it.
Post a Comment
You must be logged in to comment.