Remembering Workers' Memorial Day in Hamilton
April 28 is Workers' Memorial Day, also known as International Commemoration Day for Dead and Injured, when Hamilton is scheduled for a Day of Mourning ceremony at City Hall.
By Jonathan Lambert
Published April 19, 2016
Next Thursday is Workers' Memorial Day. Since 1970, April 28 has been a day of remembrance and action for workers killed, injured, disabled or made unwell by their work.
The truth is that workers around the world earn wages in conditions that are absolutely disastrous. On April 24, 2013 in Savar Upaila, Bangladesh, 1,130 workers were killed and another 2500 people were seriously injured when the Rana Plaza eight-story garment factory complex collapsed.
International media reported that cracks had been identified in the building, which caused a temporary evacuation, but the building's owner and managers interfered and forced workers back into the building.
Hundreds of workplace fatalities occur in Canada every year. As reported by CBC News, for the years from 2000 to 2012 the yearly average number of workplace fatalities in Canada was 972.
Recently, a 25-year-old construction worker named Olivier Bruneau died on the job. On March 23, 2016, while working in Ottawa, he was struck by a 12m-long hunk of ice. According to the Global Construction Review, this tragic event occurred less than two months after a similar but non-fatal incident had happened to Bruneau's colleague at the same work site.
In Hamilton, in February 2016 Hamilton police reported that a man died following an industrial accident at 381 6th Concession, according to the Hamilton Spectator. The 49-year-old man had been on a ladder operating industrial equipment.
According to statistics presented by the Canadian government, one in every 68 employed workers in 2010 was injured or harmed while at work. These statistics include only the injuries or harm that resulted in formal reports and worker compensation, but the data also show that work injuries occur in very diverse industries.
On March 2016, for instance, a postal worker employed by Canada Post was injured when a community mail box fell off its concrete base, sending her to hospital. "It fell right on top of her, breaking her glasses, hitting her head and her right shoulder was injured," reported citywire.ca.
But workplace hazards do not only take the form of physical factors such as ladders and machinery, chemicals such as pesticides and poisonous gases, and adverse ergonomic conditions that result in repetitive strain injuries.
Workplace hazards also impact psychosocial factors that involve the mental and emotional wellness of workers. Experts such as Emmanuelle Brun and Malgorzata Milczarek describe how these psychosocial risks include feelings of job insecurity, overwork, and imbalance between work and life.
Workplace bullying, discrimination, and sexual harassment also negatively impact the mental and emotional well-being of workers.
Under the Canada Labour Code, employers are required to protect the health and safety of workers on the job, and employees have rights and responsibilities, including the right to be informed of known and foreseeable workplace hazards, the right to participate in identifying and correcting work-related health and safety issues, and the right to refuse.
For many people, improvements in workplace safety have come about by the efforts of the labour movement and the organizing of workers and activists. For instance, in 1974 uranium miners in the Elliot Lake district became concerned about high levels of lung cancer and silicosis. The miners went on strike. Over health and safety conditions, the government was forced to appoint a Royal Commission, which led to over 100 recommendations for health and safety in workplaces.
Hamilton in particular has an especially strong history of labour activism. For example, in early 1872 a Hamilton meeting launched the Nine-Hour Movement, which quickly spread across Ontario and into Quebec, calling for a reduction in the standard ten-to-twelve hour workday. As a result, workers organized into what became known as Nine-Hour Leagues. According to historians such as Craig Heron at York University in Toronto, these Nine-Hour Leagues were among the first working-class political organizations in Canada.
The Nine-Hour Leagues held public meetings to promote the advantages of shorter workdays, and to engage the compliance of employers.
The leaders and participants in these leagues emphasized that shorter workdays contributed to improved citizenship and more time with families.
The Nine-Hour Leagues also organized for direct action. They formed an organized strategy for a round of general strikes in Ontario that were to begin in Hamilton in May 1872. Although the general strikes did not occur as planned, they did lead to Prime Minister John A. MacDonald's introduction of Canada's first Trade Unions Act, which exempted trade unions from the liability to common-law conspiracy charges. Although far from ideal, and even though the Nine-Hour Leagues had been broken, the 1872 Trade Union Act can be seen as a major breakthrough for the Canadian labour movement, because it removed criminal associations with union activism.
Later in 1872, as described by Heron, Nine-Hour League leaders met in Hamilton to form one of the first organizations in Canada to promote worker's interests across local and industry borders. In 1872 they called themselves the Canadian Labour Protection and Mutual Improvement Association, but a few years later changed the title to the Canada Labour Union.
Focused on politics, it declared: "to agitate such questions as may be for the benefit of the working classes, in order that we may obtain the enactment of such measures by the Dominion and local legislatures as will be beneficial to us, and the repeal of all oppressive laws which now exist" (quoted in Heron, 2012).
Shortly thereafter, in 1881 the first local assembly in Canada of the Holy and Noble Order of the Knights of Labor was formed in Hamilton. According to Desmond Morton at McGill University, this organization was influential in the development of new ideas about worker organizing. In contrast to the traditional craft unionism, the Knights offered much greater inclusive membership. Although certainly reproducing the racism and sexism of its era, the Knights were against blacklisting and discrimination, and would offer membership to all who claimed to earn their living by the sweat of their brow.
The Knights of Labor were especially significant because of their broad intellectual influence. In particular, with the action of the Knights, the labour press was revived in Canada. William H Rowe, for example, who founded the Hamilton-based Palladium of Labor gained widespread support with the Knights of Labor.
Alternative media currently addresses the injustices of what is called the 1%. Likewise, nineteenth century media such as the Palladium of Labor addressed the wrongs of those social groups acquiring great wealth off the hard labour and marginalization of others.
"We have endeavoured to enforce the doctrine," Rowe reported in Hamilton media, "that as labor is the source of all wealth, no man is of right entitled to what he does not earn in the sense of giving positive value for it, and that the plea of acquiring something for nothing, by which so many speculators, usurers, land-grabbers and other classes of idlers live on the labor of other classes, is a fraud and a wrong to those by whose toil they subsist" (quoted in Morton, 2007).
But Hamilton is also known for the direct action of its workers and citizens. For example, in the mid-1960s a violent wild cat strike broke out in Hamilton at the Steel Company of Canada. In the face of widespread job insecurity, picket lines grew to about 3,000 workers on the first night of the strike.
Corporate managers were unable to enter the plant, and picketers even stopped a freight train. Cars were smashed up and set on fire as angered strikers assaulted police and their own union officials, and voted down a settlement negotiated by their leaders. According to Morton (2007), this strike led to a Steel Company agreement that made the Hamilton men the best-paid steelworkers in the world.
Hamilton is also well known for the impressive Day of Mourning Monument that faces north on the corner of Main and Bay. Created by sculptor Paul Cvetich and unveiled in April 1990, the monument features a life-sized, bronze figure hanging by the fingertips from a large steel wall.
A dedication is inscribed on a metal plaque located at the base of the sculpture: "Dedicated to those workers who have been killed, injured or have suffered occupational illness at work."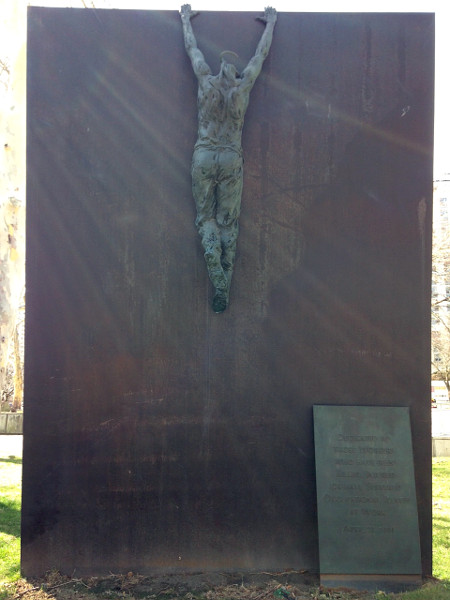 Day of Mourning Monument at Main and Bay, Hamilton. Sculpture by local artist Paul Cvetich.
This year, on April 28 in Hamilton, a Day of Mourning ceremony will start at City Hall, 71 Main Street West, at 5:30 PM. The Workers Health and Safety Centre reports that Sari Sairanen, a National Health and Safety Director and Unifor member, is the ceremony's guest speaker.
Post a Comment
You must be logged in to comment.