The Digital City
It's time we built a Hamilton-wide wireless network.
By Adrian Duyzer
Published December 13, 2006
By creating or even just encouraging a Hamilton-wide wireless network, Hamilton City Council could stimulate the economy, improve quality of life, save Hamiltonians money and lay the groundwork for a new, high-tech city focus.
If City Council doesn't see things this way, however, it can still happen with some innovative technology applied at the grassroots level.
Proponents of technology are always making fantastic promises, most of which never come to pass ("you'll have more free time!"), have negligible impact on our lives ("surf the net - on the beach!"), or are just plain stupid ("you'll fly to work!").
The Internet, however, has truly delivered. Here's some of what a city-wide wireless network could achieve for Hamiltonians.
Surf the Net - Anywhere!
Surfing the net on the beach is unappealing to Hamiltonians, because most of us think people who work done while they're on vacation should rethink their priorities.
Accessing the Internet from coffee shops, parks, bus stops, buses and home is different. Why work from an office if a nearby park has everything one needs to get work done, which for many people is just a laptop and an Internet connection?
Rethink Your Telephone
Voice-over-IP (VoIP), the technology that allows telephones to work over the Internet, is having a tremendously disruptive effect on the major telecommunications companies.
I should know: frustrated with expensive bills from Bell Canada, I signed up to Cogeco's VoIP telephone service a few months ago. Now I pay just $40 per month, no matter how many long distance calls I make in North America (unfortunately for Bell, CRTC regulations prohibit them from competing on equal terms against cable companies and other providers, but that's changing soon).
This service isn't available everywhere, but a city-wide wireless network would change that.
Screw the Cell Phone Companies
If that sounds harsh to you, clearly you don't have a cell phone.
I have one from Telus. Opening my bill is like being the cork when someone peels the wrapper off the top of the wine bottle: I'm not sure exactly what's coming, but I know it will be painful.
The problem is that my usage never fits my plan for very long. When I go over my allotment of minutes one month, I grit my teeth and change my plan to accommodate more minutes for the next one.
Then I'll barely use my phone that month. I'll end up paying for 400 minutes and only using 100.
The last time I changed my plan I asked if a different kind of plan was available, one that adjusted itself automatically to my usage. After all, the hydro company doesn't expect me to predict my usage of electricity each month and then ding me when I'm wrong.
There is no such plan at Telus. With so little competition in the Canadian market, why should they bother?
There are just 20 carriers in the country, only three of whom are national, compared to five national carriers in the US and another 180 smaller companies. Canadians can't even keep their phone numbers if they switch carriers, a situation that isn't changing until March 2007 and then only in big cities.
That could all change with city-wide wireless. Imagine a cell phone that used VoIP technology to connect to Hamilton's wireless network instead of cellular towers. Goodbye, Telus. I won't miss you.
The Digital City
Free Internet for low-income families. Free Internet for schools. Cheaper utility bills for businesses and consumers.
Reliable, affordable, universal Internet service. A city with a progressive, high-tech reputation.
Other cities are seeing the possibilities. Toronto's new network goes live on December 31. Supplied by Toronto Hydro Telecom, the new service will blanket six square kilometres downtown with high-speed wireless Internet access at speeds "at least ten times faster" than competitors Bell, Rogers and Telus.
Vancouver is thinking about it. Fredericton, New Brunswick did it, and they credit their free, city-wide wireless network, Fred e-Zone, with spurring "unprecedented" development activity and employment growth.
Unlike just about every other kind of infrastructure development, Hamiltonians don't have to wait for City Council to see the light and build the network for us. We can actually build it ourselves.
An organization called FON that boasts of being the "largest WiFi community in the world" has a truly do-it-yourself approach to creating broadly available wireless networks.
FON provides cheap, subsidized wireless routers (the components that broadcast and receive wireless Internet signals) to members of the FON Community, which FON dubs Foneros.
Foneros connect the routers to their broadband Internet connections, thus making wireless Internet freely available to other Foneros. In return, they get free wireless Internet wherever another FON access point is available.
FON's interactive map reveals that many cities in the US and Europe are covered in FON access points. Unfortunately, FON isn't available yet in Canada, although there's a handful of registered Foneros in Toronto and Hamilton already.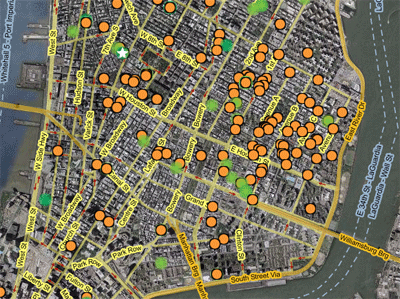 New York bustles with Foneros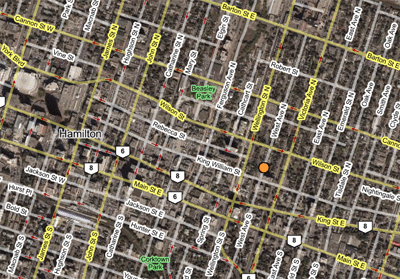 Hamilton's lone Fonero
Whether FON or another type of grassroots wireless Internet service is the way to go, it's nice to know Hamiltonians have options if City Council isn't willing to take the initiative. In the meantime, why not contact your councilor and let them know what you think about a city-wide wireless network in Hamilton!
Post a Comment
You must be logged in to comment.