Edmonton's Major LRT Push
LRT is a perfect fit for Hamilton, but we must not forget to ensure high-density development at these nodes, as Edmonton is doing.
By Thom Oommen
Published July 07, 2008
Edmonton has a head start on Hamilton. They've had light rail transit (LRT) for 30 years and are expanding their system right now with ambitious plans for the future.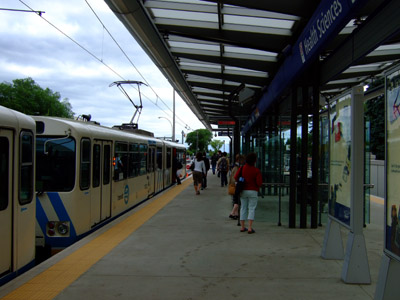 LRT in Edmonton
You'd think the oil boom in Alberta would mean more roads and more cars as if the party would never end. Yet Edmonton is wisely planning for the coming low energy future now by investing in public transit.
All you have to do is visit the south side of Edmonton and you'll soon realize that the city is making a significant investment in LRT. They have committed $675 million to a southern extension that's due to open in stages between 2008 and 2010.
That's quite a price tag for a mere 7.5 kilometres of track and four new stations, but it's one they are happy to pay.
Not stopping there, plans are being developed to spend another $600 million for a further southern expansion and $180 million on extending the northeast section of the main line.
These are dwarfed by $1.7 billion plans to take LRT from the university out to the mighty West Edmonton Mall and beyond. Public transit is clearly a priority for the future of the city.
Planned Route
Distance (km)
Budget ($ millions)
South Extension
6.5
600
Northeast Extension
3.5
180
West Extension
~10
1,700
Northwest Extension
Currently in early stages of planning process
Read Edmonton's detailed plans by area:
South [PDF]
Northeast [PDF]
Currently Edmonton has a single line of LRT carrying 36,000 passengers daily between the city's northeast, downtown and the university on the south side of the North Saskatchewan River. Construction of the 12.59 kilometre route commenced in 1978 and has been slowly expanded on over the years.
Trains normally travel at 70 km/hr and have the right of way where they cross roads; in many areas trains travel underground. Edmonton expects to completely replace its 30-year-old fleet of trains by the end of 2009.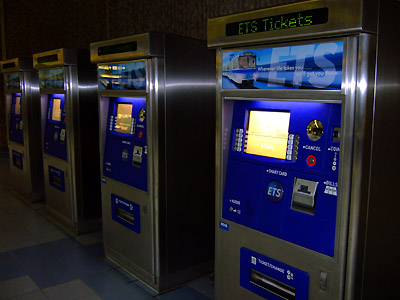 Edmonton LRT ticket vending machines
Investing in long-lasting infrastructure and vehicles that last at least thirty years will benefit the city's bottom line. With low operating costs and a fast and efficient system, there is no question of expanding the system and the City of Edmonton is dreaming big, something Rob MacIsaac has urged Hamilton to do.
Hamilton Can Learn from Edmonton
While Edmonton clearly has the jump on us, Hamilton can learn a lot from the northern city.
In Edmonton's planning documents, the first consideration involves what the city calls "Sustainable Land Development Philosophy". Included in this first priority is economic development.
In Edmonton, LRT plans must encourage economic growth. As such, new LRT lines target existing employment areas including industrial areas in the northeast of the city.
Tied to this economic stimulation is a focus on developing and reaching high-density residential areas. As such, in one case, a planned LRT development in the city's northeast would pass through a brownfield site in an area called Gorman.
Unlike in Toronto, where many subway stations open into low-density development, Edmonton wants to place LRT stations where there is the potential for intensification. This in turn has economic development implications as new businesses can spring up to serve this burgeoning community.
LRT a Perfect Fit for Hamilton
Through the Transportation Master Plan, Hamilton envisions development along nodes and corridors, making LRT a perfect fit. We must not forget to ensure high-density development at these nodes, as Edmonton is doing.
Perhaps a lesson from Edmonton is to target an LRT line where there is space to grow, such as along Barton Street, with its high ridership combined with run-down buildings and numerous brownfield sites.
Though Hamilton is only getting started in this area, Edmonton continues to sell LRT to its citizens. This has created a buzz and palpable excitement. LRT is always in the news in Edmonton.
Furthermore, the LRT planning process seems thorough and transparent. Project documents are all available online and citizens are consulted and their concerns addressed.
Despite numerous people, including myself, condemning Hamilton's sprawlmindedness (Aerotropolis, Winona Blob, Waterdown), Hamilton is nowhere near as sprawled as Edmonton. This gives us a distinct advantage in developing a compact LRT system.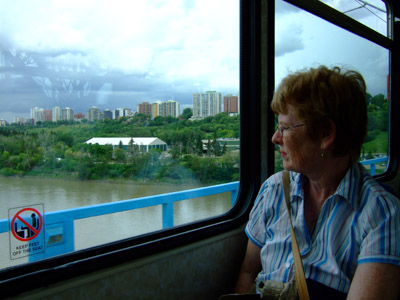 View from inside Edmonton LRT
In addition, high-density areas such as the entire length of Mohawk Road, downtown and around Eastgate Square should be targets for LRT lines.
What about presenting Rob MacIsaac with three potential LRT lines, one running the length of Mohawk Road, one running from McMaster University to downtown to Barton and along to Eastgate Square and one from downtown up the Claremont Access to Mohawk Road via Mohawk College? Seems ambitious and smart enough to me.
Post a Comment
You must be logged in to comment.