Downtown Update
Just a quick run-down on recent events and initiatives in the Hammer.
By RTH Staff
Published July 07, 2008
Rapid Transit Survey
The public works department wants your opinion on rapid transit in Hamilton.
At the public works committee meeting that recommended moving the city's rapid transit initiative to phase 2 with an emphasis on light rail (subsequently approved by council), some councillors expressed concern that the outpouring of public support for light rail may not be representative of the city as a whole.
In response, staff recommended a public opinion survey to get more public feedback. Fill in the survey online:
Rapid Transit Plans for Hamilton Survey
You can also pick up a paper copy of the survey at city of Hamilton offices, libraries, municipal service centres and the HSR ticket office at the Hamilton GO Station.
Please make sure to take a minute and add your voice. Council needs all the encouragement it can get to commit to such an ambitious project and follow it through to completion.
That's Fine!
Hamilton is increasing its parking fines to match the provincial average. The new fines take effect starting July 7, 2008.
EP = Early Payment
SF = Set Fine
New Parking Fines
Type of Offence
Old EP
New EP
Old SF
New SF
Exceed Paid Time
$12.00
$19.00
$18.00
$24.00
Parking where Prohibited in Signed Area
$20.00
$26.00
$30.00
$33.00
Stop within 6m of a crosswalk
$50.00
$60.00
$75.00
$75.00
Park In a Fire Route
$20.00
$80.00
$75.00
$100.00
Stop In a Fire Route
$50.00
$80.00
$75.00
$100.00
Double Parking $50.00
$60.00
$75.00
$75.00
Honestly, you're better off just riding a bicycle.
It's Alive. It's Aliiiiiiive!
You've probably heard by now that LIUNA accepted the Lister Block deal at the last minute.

Scaffolding surrounds the Lister Building
It remains to be seen whether this will turn out to be an expensive but worth-it investment on the city's part or another gift-wrapped present to a local property developer. The final price tag could be tens of millions of dollars higher than the $25 million reported in the press.
Watch this month's H Magazine for a more in-depth analysis by local heritage advocate Graham Crawford.
Aerotropolis: Will it Fly?
Forget climate change. Never mind rising oil prices and suffering airlines. Don't worry about provincial concerns over the city's methodology. The city is hell-bent on going ahead with its plans to rezone over 3,000 acres of prime farmland around Hamilton International Airport to provide industrial greenfield sites for future employment growth.
On Tuesday, July 8, join Michael Desnoyers of Hamiltonians for Progressive Development in a public meeting about the city's airport employment growth district.
It starts at 7:00 PM and will be held at the FRWY Cafe, 333 King St E at Wellington.
Wal-Mart Approved on Employment Land
While the city is busy insisting they need industrial employment lands, council continues to give it away to residential and big box developers. The Spectator's intrepid Nicole MacIntyre has the scoop:
Two major commercial developments, which had been stuck in planning limbo for months, recently crossed a major hurdle by receiving city council endorsement despite opposition from city staff.

Mady Development plans to build a $85-million power centre on a greenfield at Fifty Road and the QEW in Stoney Creek.

Just down the highway, SmartCentres is planning a $100-million development on a former scrapyard at the corner of Centennial Parkway North and South Service Road.
Our favourite line is from Councillor Chad Collins, who believes a sprawling one-storey warehouse with stapled-on signage and a vast parking lot will provide an aesthetically pleasing gateway into the city. "I've always thought it was so important to change the view from the QEW."
Hamilton: Toronto's biggest suburb.
Investors Stinting on Stinson?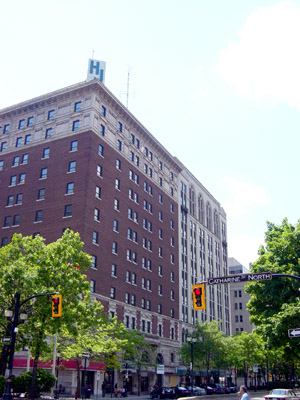 Royal Connaught Hotel
The deal to buy the Royal Connaught for $9.5 million and begin redeveloping it was supposed to close on June 30, but Harry Stinson is still negotiating with vendors representative Tony Battaglia to put it together.
They're not saying what has held up the deal, but clearly both have an interest in making it work: Stinson to get back on his feet after declaring bankruptcy over 1 King West in Toronto, and Battaglia to unload a property that his consortium is just not prepared to renovate.
Gore Closer to Pedestrianization Plan
After Mayor Fred Eisenberger suggested pedestrianizing Gore Park to make it more like a European public plaza, the various stakeholders started to weigh in with their suggestions, concerns and fears.
Now it looks like they've settled on a modified plan to close the south leg only and leave the north leg as a westbound thoroughfare. Because this is Hamilton, Downtown BIA president Kathy Drewitt is still worried about the loss of parking spaces on the south leg (because, y'know, there's not enough parking downtown).
However, the fact that the initiative has gotten as far as it has says much about the changing momentum in the city. Even Drewitt acknowledges, "We can see what we have right now isn't working."
New Bike Lanes on North Service Rd
If your idea of a scenic ride is scooting along the QEW, this is the route for you! Public works unveiled new bike lanes on the North Service Rd in Stoney Creek on July 4.
The secret to a successful bike network is continuity - the bike paths must be continuous and link the entire city together. We're not there yet, but the city has made a lot of progress since bringing in Daryl Bender, the alternative transportation project manager.
This is an important link for Stoney Creek, which is seriously deficient in bicycle-love. It connects to the Waterfront Trail and links Confederation Park to Fifty Point Conservation Area.
"This is another step forward to enhancing Hamilton's extensive cycling bike and trails system," said Bender in a press release. "This 12-kilometre addition brings our inventory of on-street bike lanes to more than 100 kilometres."
Bike Racks on GO Buses
Speaking of bicycle-love, GO Transit has installed bike racks on the GO bus connecting Hamilton with Aldershot GO Station and the QEW Express bus between downtown Hamilton and Union Station in Toronto.
GO has also added an express bus from Stoney Creek to Aldershot.
Look Before You Leap
Into the lake, that is. The city of Hamilton regularly tests its eight beaches for bacteria and posts notices if it finds dangerous levels. You can also visit the city's Beach Water Quality website. As at this writing, only Bayfront beach has a No Swim warning.
Hamilton 182.5 Project
The Hamilton 365 Project has reached an important milestone: the half-way point. The brainchild of local photographer Larry Strung, the project has taken on a life and dynamism of its own.
To see a work in progress in print form, visit HIStory + HERitage Gallery on James North to see an installation. A great time to do this would be the Friday, July 11 James North Art Crawl.
Post a Comment
You must be logged in to comment.