Three Inconvenient Things
There are three nasty sources of air pollution very close to home that nobody seems to recognize as a problem.
By Ted Mitchell
Published November 04, 2008
It seems that a day doesn't go by without hearing something about air quality. We now know that this is not just a nuisance problem. People die prematurely from air pollution, and research has shown the effects are oddly enough more on the heart than the lungs.
In residential areas, it is easy to be complacent because in general, air quality is pretty good for much of Hamilton. But there are three nasty sources of air pollution very close to home that nobody seems to recognize as a problem.
These are:
Off road and old diesel engines
Wood burning stoves and fireplaces
Small engines
Now it is true that each of these sources is a small proportion of total pollution. But they are heavy hitters, ranking off the scale on a per mass basis. You could call this concept 'specific pollution', and it could be referenced to mass or energy content of fuel, power or heat output.
But let's not get too technical. We are really talking about pollution per person, and responsibility for that pollution.
To contribute more than your fair share of pollution, you can't be more guilty than by hiring a diesel backhoe to move some dirt around (the politically correct term is "landscape"), light a cozy fire after dinner, or blow some leaves and 2-stroke smoke around the yard.
Each of these is to a Hummer what a Hummer is to a bicycle. And all of them are entirely legal and off the radar of politicians.
Proximity
The air quality index (AQI) is determined by measuring the concentration of pollutants in monitoring stations located around the province. They tend to be on the second or third story roofs of buildings, away from any nearby pollution source such as a busy intersection or an industry.
What they measure is an artificially low average that doesn't pick up point sources or mobile sources. But your lungs do pick up this pollution, especially when you spend time on a road or sidewalk. Or in your own back yard.
Diesel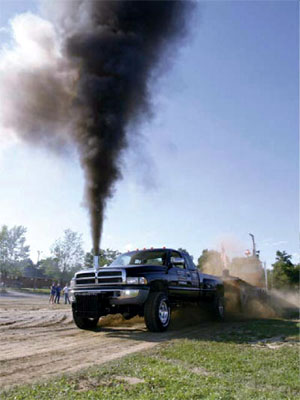 Photo redit: Fourwheeler.com
On-road diesel engines are undergoing a renaissance as a consequence of technology and regulation.
Particulate matter (PM) often comes with a subscript like 2.5 which refers to particle size in microns: smaller (fine) particles are more harmful to people. Diesels are the major source of fine PM in most areas without nearby heavy industry.
Diesel particulate is made of tiny particles of soot, with organic compounds stuck to them which deliver their characteristic smell. Some of these polycyclic organics are carcinogenic, but research has yet to determine how much this contributes to health effects.
Unfortunately, old diesel engines seem to last forever. This is a problem if public policy relies on fleet replacement to produce air quality improvements.
The other hole in regulations is off-road engines, which do not need to meet the same standards as their on-road counterparts. In fact the Canadian regs for 2008 permit about 26 times the PM emitted in an off-road diesel as compared to a similar engine in a heavy truck.
Since off-road diesels show up regularly in densely populated urban construction sites and residential areas, there is no argument for this lax exemption except maybe lobbying of the EPA from the usual suspects.
Wood Smoke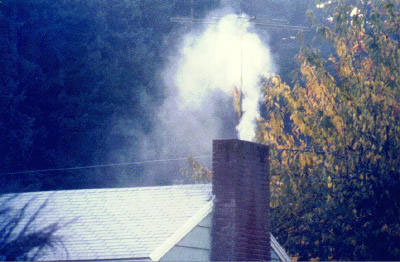 Photo credit: ECY
Cigarettes do not cause cancer because they are a vice. Nor is nicotine carcinogenic. What causes cancer are many of the polycyclic aromatic hydrocarbon products of incomplete combustion.
Wood smoke is chemically similar to tobacco smoke, and should be assumed to be carcinogenic. The few human health studies that exist, from third world countries, show that wood / biomass smoke is comparable to cigarette smoke in carcinogenicity.
Canada continues to ignore the US EPA's 1993 regulation requiring all new stoves and fireplaces to be clean burning. These certified stoves are typically 10-20 times cleaner than conventional wood burning devices.
During the February Upwind/Downwind Cconference, I spoke to an Environment Canada rep at their stove demonstration 'burn trailer'. He related a story about a woman who repeatedly complained about a neighbour's constant, choking wood smoke infiltrating her house. After several visits from the fire department and a court injunction, the stench stopped.
A few months later, she was talking to her neighbour. "No hard feelings, but thank you for stopping the smoke, it was really bothering me."
"But I didn't stop."
"What? But there's no more smoke!"
"I got a certified stove installed."
The difference really is that big.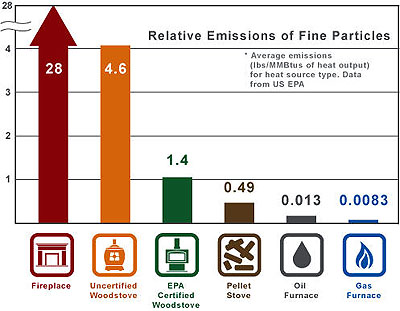 Relative Emissions of Fine Particules (Image Credit: EPA
So with this technology readily available, it is puzzling why Canada still hasn't adopted this regulation for new wood heating units. There is however, extensive educational information online. How Canadian.
If nothing is done to retrofit existing units, or put some sensible restrictions in place, we are in for many stinky winter days for decades.
Ironically enough, some of the worst local air quality in Hamilton is not in the downtown but is caused by wood smoke in pretty little rural hamlets such as Mineral Springs. All you need is a wind-sheltered area, and a couple of homes heated frequently with damp wood and a rarely cleaned chimney and presto, downtown never smelled so clean.
Small Engines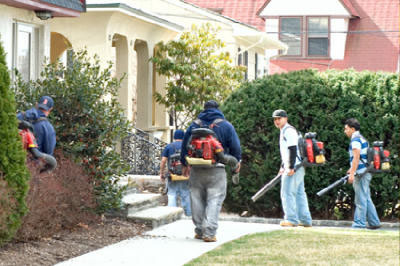 Photo Credit: Baristanet
Recently I was engaged in an argument about pollution from on-road motorbikes. Regulations permit much higher emission concentrations than cars. The big difference between clean and dirty motorbikes is due to one thing – fuel injection, or the lack of it.
The other guy's argument was sure they have higher emission concentrations, but these bikes have small displacement and get better gas mileage so that cancels out the effect. As is turns out, motorbikes cannot be 'drive-clean' tested, so the argument could not be settled factually.
But there is one easy, overlooked test that combines emission concentration with displacement and mileage: when behind a vehicle, use your nose. If it stinks more, it is polluting more. What you smell is mostly hydrocarbons, but those are a surrogate for other harmful pollutants as well.
Speaking of stink, you can find small engines where there are green lawns. Their emissions remain essentially unregulated. Two stroke engines were the workhorse of Eastern Bloc countries.
The plastic Trabbi, once a symbol of the failure of Communism, contains the same engine technology that is now one of the darlings of the big box consumer set. They are cheap, stinky, noisy, and everywhere.
Progress?
So much of Canadian environmental regulations are frustrating because they are complicated, expensive, generate understandable opposition, and are so ineffective compared to what is easily possible.
I believe it is time to start changing this sorry state of affairs, because health and quality of life are integral to a civilized society.
The obvious, responsible place to start is in our own back yards.
Further reading
AQHI. The Air Quality Health Index is a work in progress, and combines the pollutants NO2, Ozone, and PM. It is intended to be used like the UV index.
Local forecast is now available for Burlington.
Diesel Emission Standards. Note the mixed metric/US 'engineering units' are generally incompatible and require some conversion.
Post a Comment
You must be logged in to comment.