Oil Price Volatility and Economic Chaos
With a carbon tax, tougher energy efficiency regulations and incentives for innovation in energy production and conservation, we may not be too late to stay ahead of the coming permanent decline in oil production.
By Ryan McGreal
Published January 08, 2009
Syndicated columnist Gwynne Dyer closed his sobering January 2, 2009 piece on US President-Elect Barack Obama's challenges with the following observation:
In January 2008, oil reached the $100-per-barrel mark for the first time. In mid-July it touched $147 per barrel; and by late December it was back down below $50 per barrel. This extreme volatility is exactly what is predicted by most models when we are at or near "peak oil," and it is entirely possible that we are there now. If not, we will certainly be there within a decade.
While oil prices rose steadily over the past several years according to the predictions of peak oil theory, the skeptics, naysayers and deniers scoffed and derided the theory and its proponents as a gaggle of cassandras. (Of course, in the original Greek myth, Cassandra's curse was that she could predict the future but no one would believe her.)
When oil was trading at $40/barrel, no one believed the claim that it would hit $60 per barrel. When oil passed $60/barrel, no one believed it would break $100/barrel. When it shot past $100/barrel, no one believed it would get close to $150/barrel.
And when peak oil theorists warned that persistent high and rising oil prices would destroy demand for oil by triggering a major economic recession, no one believed us then, either.
Yet the arrival of that recession more or less on cue has done little to increase the respectability of peak oil in the mainstream media. With the exception of Dyer, who also wrote about it in his December 23 column, no one in the mainstream is even talking about peak oil anymore.
Instead, if oil is mentioned at all by pundits in the context of the economy, it's to express relief that the falling oil prices of the past half-year are giving consumers a break - as if a renewed incentive to buy gas-guzzling, GHG-emitting SUVs is somehow a good thing.
Some commentators have even suggested that the run-up in oil prices was a chimera, the result of either irrational panic or perhaps deliberate market manipulation by speculators, and that oil prices are now returning to "normal".
The problem with this comforting idea is that there simply isn't any evidence to support it.
High Prices: Supply and Demand
If anything, speculators actually helped to smooth oil prices and reduce volatility. Look at this graph from the Library of Economics and Liberty comparing the West Texas Intermediate (WTI) spot price of oil with the inventory levels of crude oil: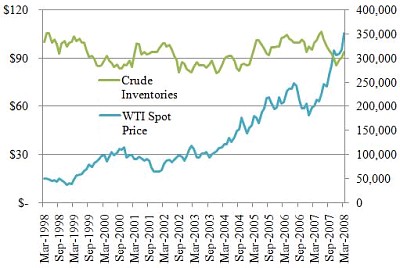 WTI Spot Price compared with Crude Inventories, Mar 1998 - Mar 2008 (Image Source: Library of Economics and Liberty)
If the price increases were due to speculation rather than demand, the higher prices would encourage the oil industry to produce more oil than the market demanded. That, in turn, would lead to rising crude inventories.
This didn't happen. In fact, as oil prices really took off in 2007, inventory levels actually dropped - exactly what we would expect if the price increase was due to rising demand against a tight supply.
In fact, total global demand for oil has grown steadily since the early 1980s, peaking in mid-2008 at a little over 85 million barrels per day (mbpd):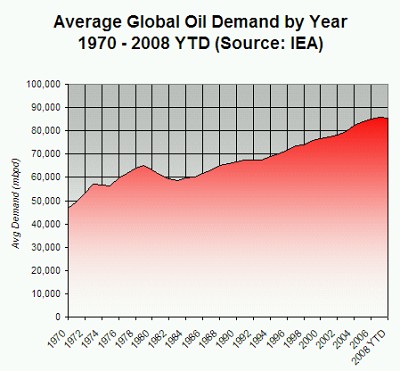 Average Global Oil Demand by Year, 1970 - 2008 (Data source: International Energy Agency)
While global demand has grown steadily, the global supply essentially plateaued in late 2004 and has been flat ever since, with a slight increase in midsummer, when oil prices hit $147/barrel: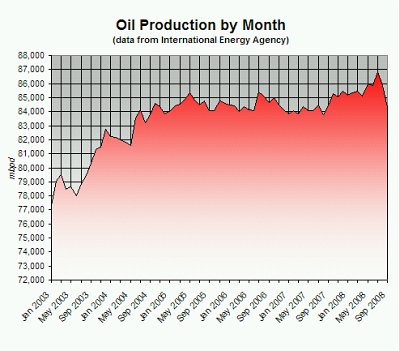 Oil Production by Month, Jan 2003 - Sep 2008 (Data Source: International Energy Agency)
Production has fallen steeply since the midsummer production peak. If we look more closely at 2008 by month, we can see this decline more clearly: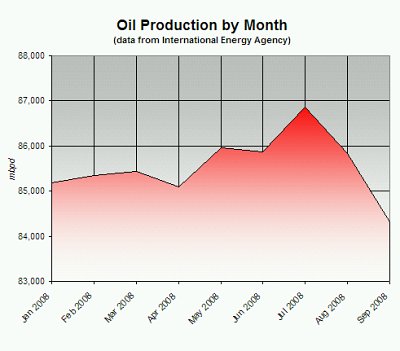 Oil Production by Month, Jan 2008 - Sep 2008 (Data Source: International Energy Agency)
Oil production was over 85 mbpd for the year to date and actually cracked 86 mbpd in July before crashing back down to 84 mbpd by September.
That means it almost perfectly matched demand. Historically, the oil industry has enjoyed a spare capacity cushion of several million barrels per day, with Saudi Arabia acting as the world's swing producer.
The tight coupling of supply and demand, coupled with the movement of crude inventories, tells us the speculators were not just gaming the system to squeeze more money out of it.
Peak Oil in a Nutshell
Peak oil theory is based on the fact that in a given oilfield, the rate of production increases toward a maximum that generally occurs around the point when half the recoverable oil has been extracted. That point is the production peak, and the rate of production declines steadily after that point until all the recoverable oil is gone.
As a result, production of oilfields follows a bell curve.
You can aggregate the rate-of-production curves of several oilfields - say, all the oilfields in a country - to get that country's production curve.
M. King Hubbert, a geologist working for the Shell Oil Company, established this in 1956 when he did a field-by-field analysis of the USA and predicted that American oil production would peak around 1971 and thereafter go into permanent decline.
That, of course, is exactly what happened.
Since then, other researchers have refined Hubbert's methods and applied them to the world to determine a global production peak.
Most studies place that peak somewhere between around 2005 and 2015, but the data indicate that conventional oil production has already peaked, and the very slight growth in overall production is due to an increase in non-conventional oil, like Alberta's oilsands.
However, once conventional oil starts declining in earnest, non-conventional oil will not be able to increase fast enough to offset those declines, let alone continue to increase overall production.
Peak Oil and the "Bumpy Plateau"
The "bumpy plateau" is what happens when global oil production has reached its maximum rate but demand keeps growing: the price of oil rises, then super-spikes (as Goldman-Sachs termed it in an April 2005 projection) due to a rapid increase in the marginal cost of production until persistent high prices have destroyed enough demand to bring it in balance with supply.
What ends up happening, however, is that the price spikes so high that the economy goes into recession and demand falls significantly below the maximum rate of production. Oil prices collapse in response.
Sooner or later, low oil prices help to spur a new economic expansion, which leads growth in demand for oil until once again it approaches the maximum production rate, leading to another price spike and another economic crisis.
It looks very much like we are presently going through the first iteration of this "bumpy plateau".
Bumpy Plateau in Action
Looked at differently, average daily oil production grew by over 2.01 percent in 2003, 3.45 percent in 2004, 1.71 percent in 2005, 1.35 percent in 2006, and 0.99 percent in 2007; and fell by 0.35 percent in the first nine months of 2008.
Assuming the last three months are as soft as September, 2008 year-end will be down 0.75 percent over 2007, which indicates just how steeply production has dropped in the latter half of the year.
I think we'll see an even steeper annual decline in consumption next year as the global recession deepens. Even rosy analysts have been adjusting their projections downward over the past couple of months.
The International Energy Agency (IEA) is among the most optimistic analysts for the long term, and they have steadily revised their time-line for peak oil downward over the past couple of years. Between 2007 and 2008 they went from dismissing peak oil to claiming that it will happen in 2030.
Then, after questioning by British science columnist George Monbiot, an IEA spokesperson recently admitted that their peak oil estimate is actually 2020, not 2030.
Most oil industry analysts believe the global production peak will happen much sooner. Many believe we are in peak oil right now. The evidence from this year certainly supports that hypothesis, but we won't be able to confirm this for at least another few years. If an economic recovery in, say, 2010 triggers another super-spike in the price of oil followed by another economic crash, it will be very difficult indeed to deny what's happening.
Peak Oil and Economic Crisis
We saw this year what happens when we leave it up to the market to regulate supply and demand: crushing price increases that destroy demand by pricing people out of the market and causing generalized economic recession.
In a more general sense, once oil production starts declining, it will be a perpetual race against time to stay ahead of the decline curve - a 20 year mad scramble in the best of circumstances, and an unmitigated disaster if we leave it up to the unregulated market.
A few years ago, Robert Hirsch was commissioned to write a report for the Pentagon on the strategic threats of peak oil. He concluded that it will take two decades of accelerated effort to convert the US economy to a post-peak system. In his words:
Without timely mitigation, world supply/demand balance will be achieved through massive demand destruction (shortages), accompanied by huge oil price increases, both of which would create a long period of significant economic hardship worldwide.
Translation: during the crisis of transition, millions of people will simply be priced right out of the economy, because they won't be able to afford to consume oil.
A do-nothing, let-the-market-work-it-out strategy would be a disastrous way to prepare for the next few decades. Doing this would cause tremendous harm and misery as rapidly see-sawing prices send chaotic, conflicting market signals to consumers that would delay the transition of our economy away from dependence on oil.
Meeting the Challenges Head-On
Despite his acknowlegement of peak oil, Gwynne Dyer is still something of an optimist - he accepts the IEA's 2020 time-line for peak oil. His January 2 warning about oil price volatility ended on a positive note:
[Peak oil] does not necessarily mean regular oil shortages and permanently high prices, because a parallel down-shift may be getting under way in the demand for oil.

The United States is about to get serious about greenhouse gas emissions, and that means that U.S. oil use is going to fall.

A lot of other countries are already on that track, and more will follow. If they all get it right, then oil will be neither scarce nor expensive - and nobody will care much about it anyway.
That's a lot of big ifs, and if the US and the industrialized world don't get very serious about cutting oil consumption, we could still be in for up to two decades of unremitting economic chaos.
At the very least, we need to get serious about some kind of carbon tax that establishes an effective price floor for oil. This would accomplish the following:
Reduced volatility - for businesses trying to plan their operations, stable high prices are easier to deal with than wildly volatile prices.

Induced innovation - As Richard G. Newell et al. demonstrated in an important 1999 study (PDF link), higher energy prices, coupled with product-labeling requirements and energy-efficieny regulation, drive increases in the average energy efficiency of consumer products.

Price Signals for Conservation - With an income tax, the only legitimate way to reduce how much you pay is to sock more money into an RSP or to reduce your income. With a shift to carbon taxation, if you want to reduce the tax you pay, all you need to do is emit less carbon.
Sweden, Finland, Norway and the Netherlands implemented fairly steep carbon taxes in the 1990s, and have enjoyed strong economic growth coupled with falling per capita and overall oil consumption.
This is encouraging. With a robust carbon tax, tougher performance-based regulations for energy efficiency and incentives for innovation in energy production and conservation, we may not be too late to stay ahead of the coming permanent decline in oil production until oil is no longer the foundation of our economy.
However, we'll never get there until we shake off our denial and recognize why our economy is in turmoil. If we let falling oil prices lull us into a new round of SUV purchases and big suburban homes, we will squander our last-ditch opportunity to avoid getting locked into a decaying spiral of economic chaos.
Post a Comment
You must be logged in to comment.