Simple Ideas to Make Hamilton a Safe, Liveable City
Let's all do our part to green Hamilton a little, as well as contacting our elected officials with simple, doable ideas to make our city safe and livable.
By Jason Leach
Published March 19, 2009
I came across a wonderful photo tour from Vancouver outlining a few simple, yet very impacting decisions being made in that city to reprioritize their traffic patterns so that everyone can move about safely.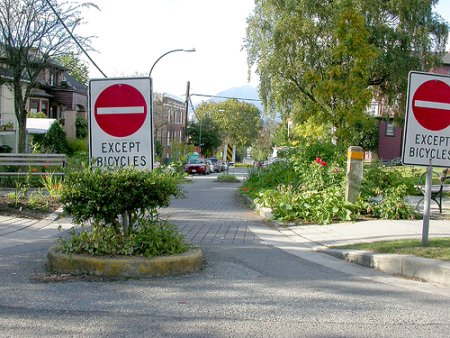 Do Not Enter - Except Bicycles (Image Credit: Spacing)
The 'naked streets' concept is wonderful and I had hoped that we would see more of this in Hamilton with recent projects such as the Bay St streetscaping in front of Copps Coliseum and the upcoming York Blvd plans at the Market.
The following Gastown photo from Vancouver shows that their city administration is willing to make decisions to slow down traffic if it means improving the quality of life and safety for everyone. In Vancouver, pedestrians have the highest priority, followed by cyclists, then transit users, and only then drivers. Every city should set that as a goal, but as we know, most don't, including ours.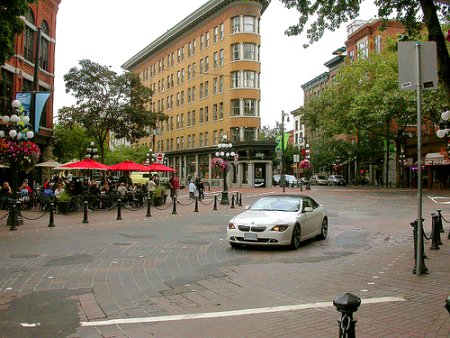 Naked Streets in Gastown, Vancouver (Image Credit: Spacing)
I'm also struck by the wonderful natural beauty that abounds in Vancouver. I've long wondered why we don't have more roadside gardens and community gardens all throughout Hamilton.
Local gardening guru and north end resident Kathy Renwald, recently recommended planting a veggie garden somewhere on the property of City Hall. I think it's a great idea. All throughout Hamilton, especially in the downtown core and lower city, there are opportunities to reclaim drab, concrete space for little pausing gardens, parkettes and green oasis' in the heart of the city.
Jarvis Square along King East is one such spot. Let's not just call it a 'square' and then fill it with cars. Let's turn it into a real square.
Finally, spring is officially here by the time you'll be reading this. Let's not forget about the 'One Big Idea' series in the Spectator a couple of years ago, in which the citizens of Hamilton spoke loud and clear with their choice for one project to focus on in this city. The winner? Plant trees.
I see so many spaces in Hamilton that are begging for trees to be planted. Empty boulevard strips, front lawns of homes and businesses, parks, public buildings, high-rise apartment properties and so on. The city offers a tree planting program with various ways to apply for your tree of choice.
Let's all do our part to green Hamilton a little, as well as contacting our elected officials with simple, doable ideas such as those being used in Vancouver to make Hamilton a safe, livable city.
Post a Comment
You must be logged in to comment.