Culture Ministry Ordered to Release Lister Report
By Ryan McGreal
Published June 06, 2008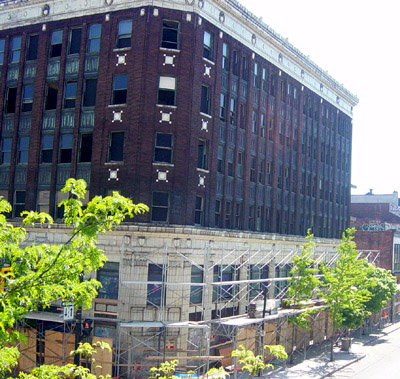 The Lister Building is surrounded by scaffolding (RTH file photo)
Taking up a call first made by Councillor Brian McHattie in 2006, Kieran Dickson, a local heritage advocate, has been trying to obtain a copy of the Ontario Heritage Trust report prepared for the Ontario government on the heritage value of the Lister Block.
The Ontario government refused a freedom of information request on the grounds that the report constituted advice under section 13(1) of the Freedom of Information and Protection of Privacy Act, arguing that breaking confidentiality would produce a "chill" effect on future recommendations by the Trust.
Dickson appealed the decision under section 13(2) of the Act, which lists exceptions to section 13(1):
[A] head shall not refuse under subsection (1) to disclose a record that contains a report of a committee, council or other body which is attached to an institution and which has been established for the purpose of undertaking inquiries and making reports or recommendations to the institution
Senior Adjudicator John Higgins of the Information and Privacy Commission just issued an decision on the appeal, ordering the government to release a copy of the report to Mr. Dickson.
Mr. Higgins argued in his decision that for the purposes of section 13(2), the Ontario Heritage Trust is "attached" to the Ministry of Culture and that its recommendations do qualify as a "report".
Higgins decided further that as per section 23 of the Act, the compelling public interest in the disclosure of the Trust report overrides the need for confidentiality in giving advice.
As Dickson noted in his appeal that the Lister and its fate "have been dominant political issues in Hamilton for years" with widespread media coverage, and have elicited public protests. He concluded:
The people in Hamilton, and indeed the people of Ontario, need to be able to determine whether [Culture] Minister [Aileen] Carroll has followed the advice of the [Trust] in the handling of the Lister Block Affair
The Ministry is required to release the report by June 13, 2008.
Post a Comment
You must be logged in to comment.