Don't Demolish 1880s Durand Houses
By Jason Leach
Published July 15, 2008
With all the attention on Lister and the Connaught these days, a seemingly smaller heritage item has surfaced downtown, involving the city's attempt to purchase two 1880s homes on Charlton West and demolish them so the land can be added to Durand Park.
While I can appreciate the desire in Durand for more park space, I think this is the absolutely wrong way to go about creating it. I have several suggestions and thoughts for the city and Durand Neighbourhood Association to consider on this issue:
First, of all, remember that once these homes are gone, they are gone forever. Home like this will never be built again. The DNA knows that. That's why they formed in the first place ­ to fight the demolition craze in the '60s and '70s that brought us the plethora of towers in the neighbourhood today.
Second, the width of both properties is 32 feet. That's a measly 64 feet plus 140 feet in depth being added to Durand Park. Hardly enough room to get excited over, and certainly not enough to warrant the loss of these beautiful homes.
See for yourself: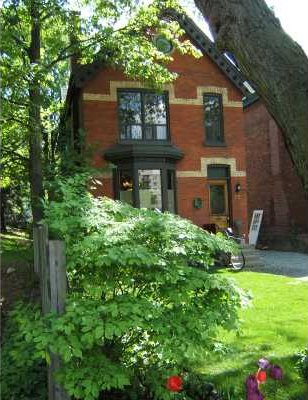 83 Charlton Ave. W. (Source: MLS)
Recently the future of St Marks Church was up for debate at city hall. This building, despite its great past and historic status in Hamilton, has no future.
It's crumbling and just so happens to sit adjacent to another piece of greenspace in Durand, a much smaller piece of greenspace. I love history and historic buildings, so wouldn't it make sense to demolish the one that is already falling down (it's being propped up from behind by huge wooden poles right now) instead of two wonderful homes that have been lovingly restored?
Someone who is a Google Maps expert can figure this out, but it is easy to see that the percentage of land being added onto Durand Park is minimal, whereas the percentage of land that would be added onto the St Mark's greenspace would be considerable.
Parts of the church structure could be designed to fit into the park with gardens, walkways and benches placed around it. It makes sense to me that the Durand Neighbourhood should be excited about adding a second park in the heart of their neighbourhood instead of tacking on a 64x140 piece of land to an already good-sized park.
In his Spectator column, Paul Wilson noted that both homes could have been bought for $230,000 a decade ago. Today that price would be in the $6-700,000 range.
We are finally seeing downtown neighbourhoods rebound after being hollowed out in the '80s. The value of these homes is a great indication of the demand for downtown living increasing.
Surrounding home values are positively affected by homes like this. Anyone who lives downtown knows that it only takes a couple of renovated homes on the block to get the momentum going.
A miniature addition to a park will not have that effect, and the demolition of these homes could actually have a negative affect on surrounding homes.
Destroying beautiful, urban, historic living spaces downtown cannot and will not ever have a good affect on surrounding areas. It is the restoration of homes like this that is drawing people back downtown.
In a perfect world every neighbourhood would have a park like Gage Park and properties like St Mark's would be revitalized and put to good use. In the real world, tough decisions must be made and made right the first time.
If these two homes are destroyed, there is a good likelihood that we'll still lose St Mark's someday. Why not save the two heritage properties that are in great shape and adding great value to Durand while adding a second park in a high-density neighbourhood that could use more than one park?
It may not be perfect, but it's the best of both worlds and adds more quality to this neighbourhood that has already lost far too much of its residential fabric.
Post a Comment
You must be logged in to comment.