Important Meeting on City Hall Renovation
By Dave Kuruc
Published October 15, 2008
The attack on the designated City Hall is underway again. This time, Councillor Lloyd Ferguson is leading the charge to re-clad the building in concrete rather than in marble, which is a designated feature of the building.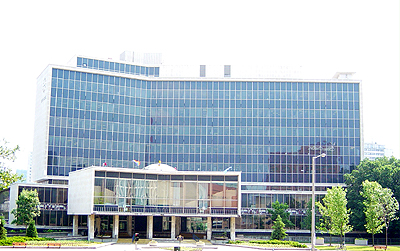 Hamilton City Hall (RTH file photo)
The building is clad in White Cherokee marble from a quarry that is still operating, and still supplying the very same marble that City Hall architect, Stanley Roscoe, personally selected when he designed the building in the mid-50's. The quarry has been operating since 1884.
As recently as noon yesterday (October 14, 2008) Lloyd Ferguson said, "We have never had a quote for replacing the marble." That quote was read into the public record one minute later.
The premium for marble over concrete is said to be between $6 and $8 million. These numbers need to be investigated. So too do the reasons it took until 24 hours before City Council votes on marble or concrete to come up with a cost for marble. It gives neither Councillors, nor the public, time to make an informed decision!
Councillor Ferguson seems to know a great deal about concrete, and very little about marble. After all, by his own admission, he just learned of the costs of marble at noon yesterday. He's the same Councillor who says that a green roof is out of the question. I wonder if he ever got any real estimates about what a green roof might cost.
I urge you to attend the Council meeting tonight where Councillors will be casting their vote either for marble, or concrete. It starts at 7 p.m. in the Albion Room on the 2nd floor of the Convention Centre.
Believe it or not, immediately following this agenda item, Council will be debating Minimum Property Standards for the Maintenance of Heritage Attributes of Designated Heritage Properties Under Parts IV and V of the Ontario Heritage Act. This is a pretty blatant example of do what we say, not what we do.
We need your help to save one of the best examples of mid-century modern architecture in Canada!
Post a Comment
You must be logged in to comment.