Defacing Our City Hall: A Rally to Protect Hamilton's City Hall
By Dave Kuruc
Published November 18, 2008
Date: Saturday, November 22, 2008
Time: 11:00 AM
Location: 71 Main St. W. (directly in front of Hamilton City Hall), Hamilton ON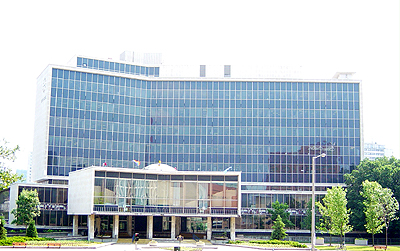 Hamilton City Hall (RTH file photo)
Hamilton City Hall, a municipally designated and internationally recognized example of the International Style of architecture, is in danger of being defaced - forever.
City Council has voted to remove all of the white Cherokee marble from Georgia, and replace it with pre-cast concrete. A compromise to replace the damaged marble with limestone was dismissed as too expensive.
As a result, the well-respected heritage architects, E.R.A., who were to work on the renovation project have resigned in protest over the use of concrete. In response to E.R.A.'s resignation, The Spectator quotes Councillor Lloyd Ferguson as saying, "They are heritage architects, they don't consider costs."
What is at stake is an important and iconic building that is the seat of our local government. It is not an office building. It is a symbol of our City to its citizens, visitors and investors. Only a few years ago, many of these same councillors voted in favour of designating the building as a heritage structure to protect it.
Now they are determined to attack one of the designated heritage elements of the building - its marble cladding. Who knows what other alterations they plan for the interior.
In 1960, the City Council of the day voted to demolish the old City Hall on James North. In 2008, our current Council has voted to deface our present City Hall. Most Hamiltonians regret allowing the destruction of the old City Hall.
Architect Stanley Roscoe considers today's City Hall to be his masterwork. We agree with him. We hope that you will join us in protesting the planned defacing of our magnificent City Hall.
Speakers, special guests and words of support will be shared by Joan Roscoe (wife of architect Stanley Roscoe), Brian Pigott, Graham Crawford (Hamilton HIStory+HERitage) and others.
Local historian Bill Manson, in a recent letter to the Hamilton Spectator, put it well, "The Romans invented concrete and subsequently used this material to construct magnificent public buildings befitting their advanced civilization. The Romans also clad these structures in marble, which the barbarians later ripped off."
A walking tour around the perimeter of the building will follow the speakers. We encourage all photographers to capture the building's beauty and architectural details and to post their images to the Hamilton City Hall Flickr Group afterwards.
Post a Comment
You must be logged in to comment.