Enclosed Forecourt or Glorified Lobby?
By Trey Shaughnessy
Published January 20, 2009
Council has stated they want to have a "wow" factor in the design of the renovated City Hall. Members of Council have decided a glass-enclosed forecourt would add some wow factor.
I thought this meant a glass dome over the forecourt. Big Whoop is more like it.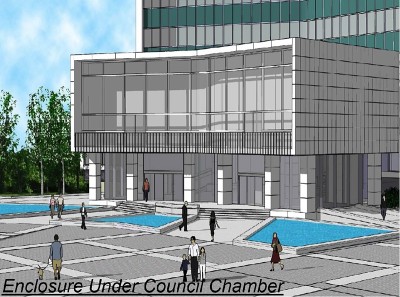 Rendering: Enclosure under Council Chamber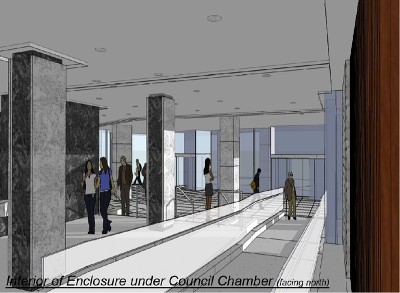 Rendering: Interior of enclosure under Council Chamber (facing north)
This will not add wow. Councillor Chad Collins called it a "glorified lobby", and I have to agree. It is more correctly a "foyer".
Foyer: Architecture

1. An entranceway or transitional space from the exterior to the interior of a building.

2. The area between the outer lobby and an auditorium.
The wow just isn't there. From outside, it's simply a glass curtain wall.
I'm left to wonder how this space will be useful by taxpayers. Will the foyer be left open to the public - for protests, for picnic lunches, for relaxation? Do I meet my friends there, the same way I would use the space in a public park? It is even considered public space?
More bewildering is: when did our councillors become architects? If they want to add wow, ask an expert. Maybe it's just me, but something noticeable, grand and unique is something that would make me say, "Wow, look at that!".
The $2 million would have been better spent on limestone. Perhaps just limestone around the bottom of the building, entrance pillars and such and the upper floors clad with concrete.
Post a Comment
You must be logged in to comment.