Opportunities for Stadium-Oriented Development
By Jason Leach
Published February 20, 2009
As an example of the sort of spinoff development and cooperative work that can be done with an urban stadium, let's take a quick look at a proposed condo development for the Tiffany Block adjacent to the Pan Am stadium site.
Based on the simple sketches of this condo project, I don't think it's too far along in the planning stage, which is a good thing.
You'll notice that this condo development is proposed for the east side of Tiffany Street. Hamilton's stadium proposal (based on previous Commonwealth games proposals) called for a stadium on the west side of Tiffany Street.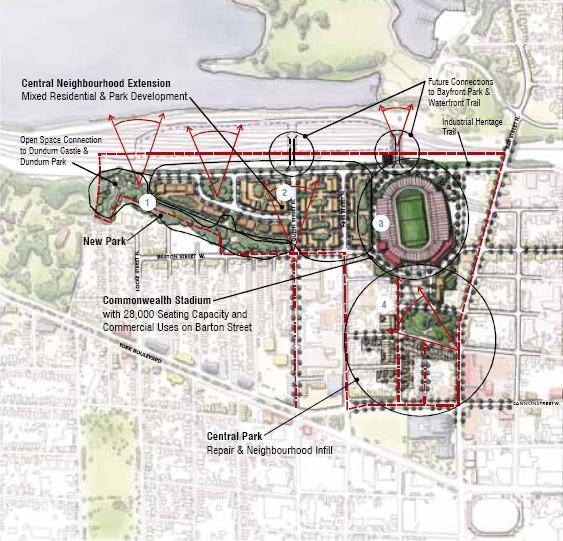 Proposed Commonwealth Stadium Plan
The city would be wise to work with this developer and create a streetwall of shops, restaurants and large patio space along the length of Tiffany Street. Tiffany could be cobblestoned and the east wall of the stadium built with a brick streetwall type of feel perhaps with a sports bar, cafe, TiCat store and more patio space.
Tiffany could become a great pedestrian - friendly street full of life, dining and commerce all year round, not just on event days. Based on the city plan shown above, a pedestrian bridge from Stuart Street would link to Bayfront Park.
Tiffany could become a wonderful pedestrian link from Central Park right to Bayfront Park. An established residential neighbourhood exists around Central Park and to the west and east of the stadium site and new condo developments such as the one proposed here would add more permanent residents.
As Paul Wilson mentioned in today's Spectator, this site is less than a ten minute walk from the proposed King Street LRT stop (presumably at Bay).
It would be only three or four minutes from the A-line stop proposed for James North at Barton St.
Copps Coliseum is only six or seven minutes away, helping to create a sports/stadium district in our downtown core as well as linking to the beautiful waterfront.
New development potential is enormous to the west of the stadium site and would surely take off in no time, especially if the city were to take a lead role in working cooperatively with the proponents of the conceptual condo development at the Tiffany Block, and lead the way in urban in-fill with street shops and a good pedestrian-friendly design that could become a model for future projects in Hamilton.
Post a Comment
You must be logged in to comment.